Boras Tries to Sell Damon to Yanks

... by picking and choosing stats where convenient.



Damon's agent Scott Boras sent the Yankees a booklet entitled "New York Yankees Leadoff Analysis," a three-page statistical look at how much better the Yankees and current leadoff hitter Derek Jeter could be, if Damon were batting leadoff and Jeter went back to the No. 2 hole, where he thrived with Chuck Knoblauch hitting leadoff from 1998 through 2001. The stat pack shows that when Jeter was a No. 3 hitter from 1998 to 2001, his batting average was .331 and his on-base percentage was .398, 25 points higher respectively for each stat from 2004 to last year, when he hit leadoff.

Boras goes on to point out that in the last two years, Damon advanced from first base to scoring position an average of 172 times. Jeter did it just 115 times. And Chuck Knoblauch, the leadoff hitter from 1998-2001 while Jeter hit No. 2? He advanced an average of 151 times.


Yankees manager Brian Cashman was not initially wowed by the information.





"I cannot agree that Jeter is better hitting second rather than first, because he does both very well," Cashman said in an e-mail yesterday.


Damned right, Brian. Essentially, Jeter is essentially the same hitter (minus some natural aberrations) hitting first or second.

What's the most important attribute for a leadoff hitter? Easily, it's the ability to get on base. Let's take a look at who gets on base - or sets the table better. We'll focus strictly on the last 4 seasons since Damon has been in Boston: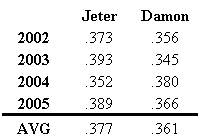 Jeter has a clear advantage. Speed? Damon may swipe a few more bags, but he's aging and speed is usually the first thing to go, Jeter relies more on getting good jumps on steals, and the Yankees don't need a stolen base guy in the lineup lineup. Their career SB% is nearly identical, and as anyone who reads this space often knows, I'm not a big fan of the stolen base anyway.
As for the first to third nonsense? Please. You're talking about a guy who plays in Fenway Park, where balls rattle and the right field fence is shaped like the letter W. It's an apples to oranges comparison.
Also - and I wish there werre a place I knew of where I could verify this statistically - I'l bet Damon got thrown out a lot more going first-to-third, because Dale Sveum never stops anyone. If anyone knows of a place that lists how many times a player was thrown out extending, please let me know (I don't yet have my copies of the 2006 Hardball Times Annual which has an excellent stat called "Incremental Run Percentage" or Bill James Handbook for 2006 which has first to third percentage).
Anyway, the whole point here is as follows:
If the Yankees sign Damon, he's not the best leadoff hitter on the team
Boras is trying to confuse the Yankees with guile and gorilla dust
Cashman isn't biting on that crazy demand
The asking price on Damon is way too high
His defense is slipping as well
Let Boston have him
posted by Mr. Faded Glory @ 3:11 PM 0 comments