Joe West takes on the Media

http://msn.foxsports.com/mlb/story/5010030



"World Series crew chief Joe West defended umpires against criticism of their postseason performance, saying "I think we did just fine...Instead of criticizing the umpires, the media should be thankful," he said in an e-mail to The Associated Press.

"I don't answer any of my e-mails during a postseason event because there is always some irate fan or person who tries to take a potshot at us, and I don't want to have a negative attitude because I'm mad at some guy I don't even know," he said."


Talk about brass balls. You call a terrible series and then crew chief for two more terrible series and then lambaste the media for pointing out howw bad the umpiring is lately? The problem is ince the whole "Regisnationgate" (yes, it is fashionable to throw a "gate" suffix on anything one feels like these days) you have a bunch of inexperienced umpires running the show.

The email comment is made all the more funny thanks to the blurb I saw written about it on the always wonderful soft hands.

You also have to appreciate an article that quotes West as saying how great the umps are that also includes four (4) links to stories about blown calls. Keep in mind a few things concerning these four blown calls:

all in the same post season
all of which, coincidentally (?) involve the same team (Chicago White Sox)

in every instance the missed call helped the same team (the aforementioned Chicago White Sox)
helped said team to win a World Championship

Yet West has the audacity to cry foul that someone may think there's a problem here? Newsflash, cowboy: it's not just the media. I watched most of the post season with others or was talking with people during the games - most of whom were unbiased and fans of neither team, by the way - who called the craptasical unpiring you and your boys in blue were performing while it happened. This isn't second guessing.

The good thing though, Joe, is Angel Hernandez still makes you look like King Solomon when it comes to calling a fair and proper game.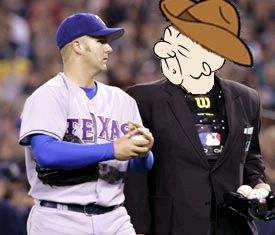 Recent photo of Umpire Joseph West
Labels: 2005 world series, cowboy joe west, douchebag, pics, white sox
posted by Mr. Faded Glory @ 3:37 PM 1 comments