Mike Lupica is a Jackass: Chapter Five
Well it's been a while since I did one of these - which actually used to be the primary focus of my old blog - but I happened upon another article by New York's preeminent jackass. Now as to be fair, I've only read the first two paragraphs so far, so I'll be commenting from a fresh perspective as always. However, let's all bear in mind the typical Lupica gripes:


Loves the Mets and Red Sox. Hates the Yankees.

When the Yankees sign a free agent, it is "George trying to buy a championship."

When the Mets sign a free agent, it is the genius of Omar Minaya combined with ownership "laying it on the line" for their fans.

Randy Johnson is a punk.

Jason Giambi is a cheater and a punk.

Alex Rodriguez is an overpaid, choking punk.

Ok so with that out of the way, let's get to it.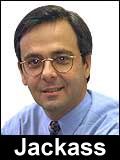 Weight of the World

LOS ANGELES - Here are the most prominent big-ticket Yankees who have not: Mike Mussina, Jason Giambi, Hideki Matsui, Alex Rodriguez. Have not meaning they haven't won a World Series. Have not yet, might not ever. If there is one thing we have learned the past five years at Yankee Stadium, it's that the money all these Yankees make doesn't guarantee anything anymore in baseball.Randy Johnson won somewhere else. Not here. Gary Sheffield won somewhere else. Just not here. Johnny Damon just got here and Carl Pavano, who won with the 2003 Marlins, has never really shown up. Maybe the two of them can make a difference this year.

Ah here we go. Typical Lupica "haha, you haven't bought a championship in years!" garbage.

We constantly talk about the core of Yankees who have. Meaning HAVE won a World Series here: Derek Jeter, Mariano Rivera, Jorge Posada, Bernie Williams. We constantly act as if they are still the Yankees, even if the Yankees haven't won the Series since 2000. It is a nice thought. Except for this one big thing:
The have-nots have them outnumbered now.


Pretty surprising that the number of players on a team for six straight years are outnuumbered by the players that haven't been there as long, I know. You mentioned the Marlins above though and their exciting 2003 victory. You know how many Marlins are still there from 2003? Two. Miguel Cabrera and Dontrelle Willis. The Angels won two full seasons after the Yankees. Who's still there? Only two more players than the Yankees are still on the roster: Brendan Donnelly, Frankie Rodriguez, John Lackey, Jose Molina, Adam Kennedy and Garrett Anderson (and Tim Salmon is trying a comeback, but he hasn't exactly been around). There aren't even that many of the vaunted Red Sox World Champions left anymore.

Guess how many Mets are left from their last championship? Zero. None. I guess we constantly act as if Hernandez and Carter and Knight and Strawberry are still the Mets, even if the Mets haven't won the Series since 1986. It is a nice thought.

Now for the most part, the have-not Yankees have delivered the kind of numbers they were supposed to. Mussina fell off a little bit last year because of injury, Giambi seemed to be breaking down entirely in 2003 before he got big and strong again. Rodriguez became the MVP of the American League last year after a productive but odd first year at the Stadium that ended with Joe Torre finally having to bat him second.

I can't believe I'm going to do this, but I'll defend Joe Torre there. It wasn't Rodriguez's fault that he "had to bat second." That was probably the best position for him to bat. He got more ABs and was an OBP machine, and the Yankees didn't really have a better option.

Matsui has been swell, if not quite the defensive wizard in left we thought we were getting. Called Godzilla, plays like it out there sometimes.

He plays like Godzilla? Meaning what, exactly? Is he attacking airplanes, fighting giant moths or stepping on Japanese fans in the bleachers? What the hell does that mean?

Mussina, in fact, pitching for a new contract, has been one of the great pitching buys in free-agent history. It is usually nuts to give a pitcher, especially a starting pitcher, a contract as long as Mussina's, six years and $84 million. But he has pitched into the last season of that contract, mostly at a high level, even if his playoff record is only one game over .500. When he's been healthy he has pitched and won and for the time being, is pitching at as high a level as he has since he put on a Yankee uniform.

Yep, bring up records. You love that. A guy can lose 1-0 and he's garbage. Mussina has been the best Yankee postseason starting pitcher since he's been on the team. Go ahead, look it up. Statistically, he's easily outdistanced Johnson, Clemens, Pettitte, Brown, Vazquez, Weaver, Wells, etc. I know this because I looked it up and didn't just look at a W-L record.

Only the Yankees have not won a World Series in those five seasons he has already pitched here. They have not won since they paid Giambi the $119 million, a contract they would have done anything possible to get out from under as recently as one year ago. Mussina has pitched in the Series twice. Giambi has been there once, even if he wasn't much help three years ago. A-Rod? You know about A-Rod. He was one inning away from the Series in 2004 before the sky fell on him and everybody else.

Yeah, that's when he choked, right? Odd to mention that here, in the same breath as Rodriguez.

They all knew the deal before they got here, A-Rod better than any of them: George Steinbrenner is not just buying big names and big numbers, he always believes he is buying the championship.

I think he believes he's acquiring the best players possible to make the best team possible. I mean I could be wrong, but my opinion of what Steinbrenner "believes" is just as valid as yours.

We hear now that the Yankees have this crackerjack farm system. We'll see about that.

Who wants to bet the only prospects Lupica has heard of are Phil Hughes and Eric Duncan? You mention Tabata to him and he'd probably think it's a new type of italian sandwich.

Since they stopped winning the World Series, they have considered the rest of baseball their farm system, every time there was another big-ticket guy they wanted.
Carlos Beltran says hello.

Mussina was supposed to be a difference-maker, Giambi was supposed to be a difference-maker after that 2001 World Series, when the Yankees could only produce 16 runs in seven games against the Diamondbacks. A-Rod was supposed to be the ultimate difference-maker, because not only were the Yankees getting him, the Red Sox weren't.

They were difference makers. The difference is that - last year for example - you take away Giambi or Rodriguez and the Yankees don't even make the playoffs.

"These guys could have gotten their money somewhere else," Torre likes to say.
They could have. Torre says he understands the responsibilities of the uniform. So do the new hired guns who show up every year. It's just that the core of have-nots keeps growing, like the payroll. Have not won here.

Yes, every year the number of players there from a specific fixed year in the past that are still on the roster - or still even active in baseball - dwindles. Clemens, O'Neill, Martinez, Brosius, Cone, Mendoza, Neagle, Nelson, Stanton, Tessmer, Watson, Yarnall, Turner, Delgado, Sojo, Kelly, Bellinger, Johnson, Polonia, Spencer, Thompson, Jose, Justice, Canseco, Hill and Leyritz all played for the Yankees in 2000, the last time they won the Series, and yet none of them are active in the majors. But I suppose they should all still be Yankees, because then the "haves" would out number the "have nots." A team with those guys plus Jeter, Williams, Posada and Rivera would win about 30 games. Most started by Clemens.

Maybe this is the year when the old Yankees and the new Yankees finally become one team.

I'm assuming you're only "one team" when you win the World Series?

It used to be you could come here for big money and easy rings, the way Roger Clemens did. Not anymore.

It was never easy rings. For you to say that completely invalidates the efforts of those players who won those four championships, you jackass.

BONUS LUPICA!

If the Yankee pitching goes south this year, does the old man still blame it on Mel Stottlemyre?


No, since he's no longer a pitching coach. Kind of a silly question.

Keith Hernandez should not have said what he said about the Padres' female trainer being in the dugout, and his bosses were right to reprimand him.
But I still like listening to him do Mets games on television, because more and more he shows you why he was one of the smartest players on a ballfield anybody ever knew about.

Uh, the guy won A RING with the Mets. The LAST ring. He should still be on the field!

Can somebody explain to me in a logical and straightforward way why the Red Sox traded Bronson Arroyo?
Did they actually think they had too much starting pitching?

No, they thought they didn't have enough outfielders because they lost Johnny Damon.

Wouldn't it be something if the White Sox won again with both Jose Contreras and Javier Vazquez in their starting rotation?

It would be something, considering both of them mentioned after they left that the great Mel Stottlemyre didn't pick up the flaws in their deliveries.

If Roger Clemens comes out of retirement to pitch for the Yankees or the Red Sox, does that mean he doesn't want to spend as much time with his family this summer as he did the last two?

No, it means he's coming to New York for the money and easy rings.

How come Pedro Martinez never has to inform us that he's only human, the way Randy Johnson did the other day?

It's because Pedro isn't human. He's from the planet Zorzax. Why doesn't Randy Johnson have to inform us why he attacked an old man on the field?

I love watching Johnson pitch, but when did it become our job to give the Big Unit a Big Hug?

No, it's your job to write about sports, and you do a piss poor job of it.

Originally published on April 30, 2006, by a Jackass.

Labels: douchebag, insecure mean-spirited busybodies, jackass, lupica, ring counting, true yankee

posted by Mr. Faded Glory @ 12:05 PM 2 comments