Tomorrow's All-Stars, Today
I've been watching shop.mlb.com for the past week or so, because they always tend to jump the gun on upcoming sales items (who could forget this little nugget of goodness):


(and if you really believe the MLB bullshit that this was actually a "hoax" you need your head examined)


Well, this morning their "Purchase an Ugly and Only used in the Homerun Derby and Not in the Real Game All-Star Jersey" for the AL or NL page was updated, and the "Select a Player" names all changed. Gone was Jason Giambi, in was Chris Capuano.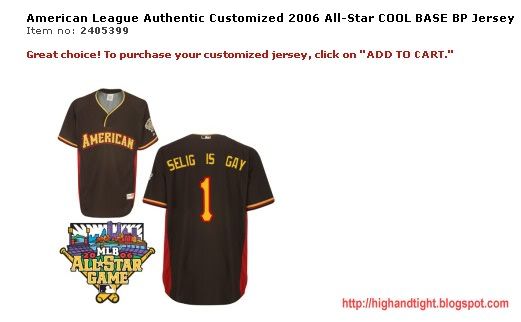 Thanks mlb.com! I agree! It is a great choice!
So much for tomorrow's ESPN All-Star selection show nonsense. Anyhow, without further ado, here are your first 23 AL All-Stars and first 25 NL All-Stars:
NL:
C - Paul LoDuca, NYM
1B - Lance Berkman, HOU
1B - Nomar Garciaparra, LAD
1B - Ryan Howard, PHI
1B _ Albert Pujols, STL
2B - Chase Utley, PHI
SS - Jose Reyes, NYM
3B - David Wright, NYM
3B - Miguel Cabrera, FLA
OF - Carlos Beltran, NYM
OF - Jason Bay, PIT
OF - Alfonso Soriano, WAS
OF - Matt Holliday, COL
OF - Andruw Jones, ATL
P - Bronson Arroyo, CIN
P - Chris Capuano, MIL
P - Pedro Martinez, NYM
P - Jason Schmidt, SF
P - Brad Penny-Milano, LAD
P - Brandon Webb, ARI
P - Carlos Zambrano, CHC
P - Tom Glavine, NYM
P - Tom Gordon, PHI
P - Derrick Turnbow, MIL
P - Trevor Hoffman, SD
AL:
C - Joe Mauer, MIN
C - Jason Varitek, BOS
"1B" - David Ortiz, BOS
"1B" - Jim Thome, CHW
2B - Robinson Cano, NYY
3B - Alex Rodriguez, NYY
SS - Derek Jeter, NYY
SS - Miguel Tejada, BAL
OF - Vladimir Guerrero, LAA
OF - Ichiro Suzuki, SEA
OF - Manny Ramirez, BOS
OF - Vernon Wells, TOR
OF - Grady Sizemore, CLE
P - Roy Halladay, TOR
P - Johan Santana, MIN
P - Curt Schilling, BOS
P - Scott Kazmir, TB
P - Mike Mussina, NYY
P - Kenny Rogers, DET
P - B.J. Ryan, TOR
P - Joe Nathan, MIN
P - Jonathan Papelbon, BOS
P - Mariano Rivera, NYY
As for the game itself, my opinions are as follows:
The only thing stupider than interleague play is having the All-Star game "count" for home field advantage in the World Series. Wrong way for Bud to try and placate fans because of a tie due to managers trying to "play everyone" in 2002. So it ended in a tie - who cares? It's an exhibition game.
No DH in NL parks. There should always be a DH in any park in the ASG. There's no reason to have pitchers hit, it allows more guys to play, and you wind up with asinine voting like David Ortiz starting at 1B when the guy only has played 5 games there all season because of - you got it - interleague play. Who tunes into the All-Star Game to see Roy Halladay take some hacks against Tom Glavine?
I do not root for the guys on the team I follow to make it. I don't want them playing, especially the guys who are making their umpteenth. I want them home, resting, because it's a silly exhibition game. Give the poor bastards 3 days off to rest their injuries.
MLB needs to do away with the antiquated "one player from every team" rule. While this may appease some fans of some horrible squads, and the managers and league should give more weight to players on unrepresented teams, this was a rule in effect when there were eight teams in each league. With expansion taking the leagues to 30 teams, it just doesn't make sense anymore, especially since the fans seem to vote for a lot of the same players from the more popular squads, making selecting the backups a very flawed process if one has to follow this edict.
I won't even be watching the game this year more than likely as I'll be busy in Sin City. The thing I enjoy most about these games is seeing the new guys take part, and the Homerun Derby, but as everyone knows the best part of the All-Star break is the Futures Game.

I guess I'll root that the AL wins so that if the Yankees make it they get home field advantage but the whole concept is stupid.

You'll notice I haven't even gotten on the fans about voting in guys who clearly do not deserve it, because frankly the fans in general have proven to be stupid and completely unknowledgable neanderthals who couldn't explain what OBP is or how its calculated.


UPDATE: Oddly enough, in the last hour, Ichiro was removed from the AL player option on the jersey page. Interesting. I'm keeping him on my list though. Rivera was listed twice, that's been updated.
Just to clear up any confusion folks, in no way shape or form are these the complete rosters. There are 32 players on each squad. There are partial rosters, and injured players like Robinson Cano are not likely to be on the final roster anyway.
posted by Mr. Faded Glory @ 12:18 PM 16 comments


---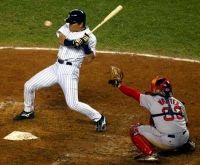 L I N K S
---

P R E V I O U S
P O S T S
---
C O N T A C T

---
---
Subscribe to High and Tight via your favorite RSS reader: