Cheaters Never Win!
So let me get this straight.. Kenny Rogers gets caught cheating in a World Series game and the response is "hey fella, no more cheating please"?

Why in the world did Alfonso Marquez just act like a soccer mom and essentially tell Rogers "Kenny, come on now, you know better than that! Play fair, Kenny. Now you get back out there and you play nice with the other kids, ok?"

Why exactly is cheating acceptable here? Why wasn't Rogers ejected? Kenny Rogers had pine tar on his hand, in direct violation of MLB rule 8.02:

The pitcher shall not --
(b) Have on his person, or in his possession, any foreign substance. For such infraction of this section (b) the penalty shall be immediate ejection from the game. In addition, the pitcher shall be suspended automatically for 10 games.

At least this explains why one of the worst postseason pitchers ever has all of a sudden become an unhittable machine.

If he were tossed though I bet Leyland goes through two packs in the clubhouse entryway before the 6th inning.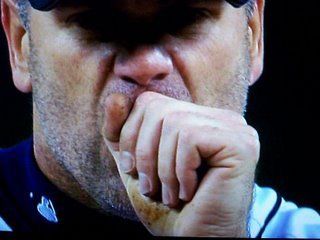 Detroit Tigers pitcher Kenny Rogers, seen here cheating.


-----

Oh and then there's this:

While Rogers worked out of two-out trouble in the opening inning, the FOX network broadcast noticed a smudge on his left hand near his thumb. So, too, did home-plate umpire Alfonso Marquez, who determined it was a piece of dirt mixed with resin and asked Rogers to remove it, according to umpiring supervisor Steve Palermo.

The Cardinals didn't complain about it, Palermo added, though others suggested the Cardinals thought the ball was acting funny. If Rogers had any physical edge before, he seemingly had his usual emotional one after that. The runner on second base in the opening inning was the only runner he allowed to reach scoring position.

"If there's any conspiracy theorists out there," closer Todd Jones said, "I think they wouldn't have much of a theory now."
If anyone listened to Rogers' postgame interview, the very first question he was asked was about the substance, and Rogers replied (paraphrasing) that he noticed the "clump of dirt" between the first and second innings himself and that nobody asked him to remove it and that he simply wiped it off. Rogers was directly asked whether the umpires spoke to him, and he said they did not.

Leyland's postgame interview said that a couple of the Cardinals complained to LaRussa that Rogers' ball was "moving funny" and that LaRussa asked the umpires to ask Leyland to have him wash his hands, which he then did. Leyland then in a second interview completely changed his story and claimed that there were complaints to the umpires by the Cardinals but that the umpires did not speak with the Tigers about it.

(If anyone can find a link to the postgame interviews, please let me know - they are missing from MLB.com currently.)

So Todd Jones, here's your conspiracy: Leyland said the umpires told him the Cardinals complained. Steve Palermo says they did not. Rogers point blank said nobody talked to him. Leyland said someone did (and then said no one did). Palermo said that not only did someone talk with him, but that it was home plate umpire Marquez. Leyland said Rogers washed his hand. Rogers said he wiped it off.

There wouldn't be a conspiracy here if in fact the three people most directly involved - the umpiring supervisor, the pitcher and his manager - didn't all have three completely different recountings of the events in which they were involved just a couple of hours earlier.

Something is fishy here. There's no proof and no evidence of exactly what happened, but if nothing suspect was going on, why the differing accounts?

Besides, this is an isolated incident, right? It's just an accident, something Rogers overlooked I'm sure.

On the other hand: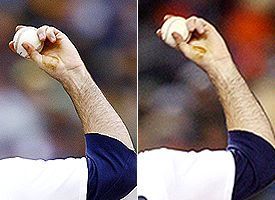 On the left is Rogers pitching against the A's in the ALCS.
On the right is Rogers pitching against St. Louis in the World Series.
After the substance was noticed, ESPN reviewed tapes of Rogers' pitching performances earlier in the postseason. The tapes revealed that, in starts against both the Yankees and Athletics, a similar-looking brown substance was spotted on Rogers' hand.

"The cold makes the ball so hard," Rogers said after the game. "There's no grip."

After the game, Rogers denied that his meeting with the umpires had anything to do with the substance on his hand.


So here we go again. Not only did Rogers deny the meeting with the umpires had anything to do with the dirt (in direct contrast to Palermo's story) but now it's pretty obvious that if you believe that Rogers "accidently had dirt on his hand" in Game 2, then you also have to accept that Rogers has "accidently had dirt on his hand" throughout the postseason.

Who knows, maybe the guy just never washed his hands since Game 3 of the ALDS, which would make sense since he's a dirty, dirty cheater.

I mean is there any other rational explanation?

As for rule 8.02 from above, there is a disclaimer:

Rules 8.02(a)(2) through 8.02(a)(6) Comment: If a pitcher violates either Rule 8.02(a)(2) or Rule 8.02(a)(3) and, in the judgment of the umpire, the pitcher did not intend, by his act, to alter the characteristics of a pitched ball, then the umpire may, in his discretion, warn the pitcher in lieu of applying the penalty.

In this case, it would seem, the umpires felt that Rogers "did not intend, by his act, to alter the characteristics of a pitched ball."
So the umpires did not have to immediately toss Rogers if they believed his "dirt" was accidental, but now that the evidence of past games is out there, it is blatantly obvious that there was in fact intent and that the intent was there for at least the entire postseason.

If Major League Baseball wishes to salvage any integrity here, it will suspend Rogers for the remainder of the postseason.

posted by Mr. Faded Glory @ 6:25 PM 22 comments