Mike Myers signs with Yankees
Ok, let's get the juvenile jokes out of the way first: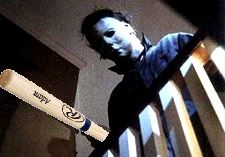 Alright. Feel better? Ok.

I think the Myers signing could be a good one (career .207 BAA vs. LH, .158 BAA vs. LH). However, this really depends on Joe Torre. If he can hold himself back from the temptation to use Myers against right handers if he's pitching well, he should be fine. Myers vs. righties in 2005? 2.65/.385. Oh and that 2.65 isn't ERA; it's WHIP. Myers is downright horrible against righties. Thus, it all comes down to whether or not Myers has a belly of guts or the heart of a lion.
posted by Mr. Faded Glory @ 3:31 PM 0 comments