Melky Cabrera's Excellent Adventure
You've seen it written in the New York Post, Daily News, and Newsday. You've read about it on ESPN.com. Melky Cabrera has "adventures in the outfield." I was never quite sure what they meant, since he's made three spectaular plays over the past 2 weeks, and always attributed it to the fact that he lost a ball in the wind in horrible conditions in right field when he first was recalled.

Then last night after the Yankees-Red Sox game, on a night Cabrera made ESPN's #1 web gem and the play of the year thus far for the Yankees, Karl Ravetch says before showing the clip on Baseball Tonight that the outfield has "often been an adventure for Cabrera." Following that, on SportsCenter, Scott Van Pelt explained before the highlight that Cabrera has "had his adventures out there."

Hmm. This brought me to replay some older games and just concentrate on Melky. As it turns out - they must be right. The only possible explanation I can posit for these many adventures Cabrera undertakes in the outfield would be something akin to this: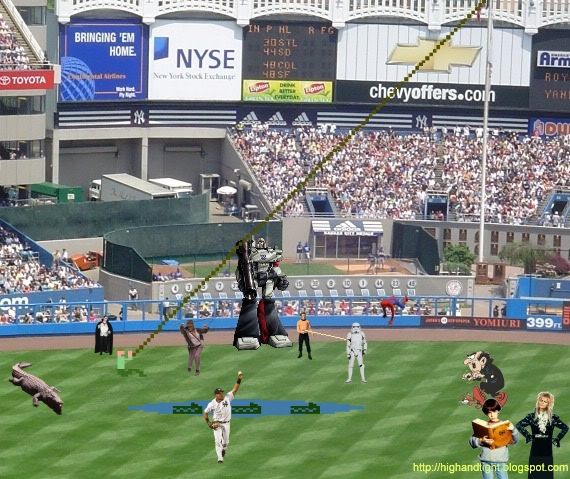 Come to think of it, this also explains why those same sources have all called him "frightened."
posted by Mr. Faded Glory @ 5:44 PM 7 comments