Dayn Perry, You're Quickly Becoming a Favorite

It's fairly obvious he has no idea of which he writes.

Yes, he's predicting sunflowers and rainbows for the Red Sox as previously mentioned and problems for New York.

However, I can't let a comment like this slide:


Andy Phillips would make a useful platoon partner for Cano



Yes, Andy Phillips, who is a terrible fielder at any position except for first base would be an adequate platoon partner for the 2005 ROY runner-up.

That honestly thus far is the winner for the "Most Retarded Idea, 2006" award.

He also makes no mention of Octavio Dotel in his bullpen section. It's like he briefly scans a few rosters and makes uneducated predictions and articles and then collects his fat FOX paycheck.

posted by Mr. Faded Glory @ 2:50 AM 3 comments


---
Just Because of How Awesome It Was To See The Unit vs. David Ortiz
posted by Mr. Faded Glory @ 8:24 PM 1 comments


---
Just Because of How Awesome It Was To See The Unit vs. Flanders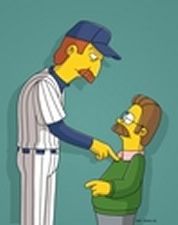 posted by Mr. Faded Glory @ 8:16 AM 3 comments


---
More Dayn Perry
I don't know how I missed this, but the Red Sox shortstop for 2006 is Alex Gonzalez. While a fine defensive shortstop, and even considering Renteria was downright awful in 2005, here are Gonzalez's last 6 years of OPS+:

39
78
66
100 (average!)
79
85
posted by Mr. Faded Glory @ 7:25 PM 0 comments


---
Who In The Hell Is "Dayn Perry"?
Ignore for the moment the stupid way in which he spells his name, or the goofy "I'm in waaay over my head" look on his face:




... and just look at his asinine ""Power Rankings."
















1
Red Sox
-
-
1/1
The Red Sox have done a solid-to-admirable job of filling their holes at third, first, shortstop, and in center. The relief corps has been impressively revamped, and the rotation has imposing depth. To boot, Theo Epstein's back in the fold. Much depends on the health of guys like Curt Schilling, Josh Beckett, David Wells and Keith Foulke, but as things stand now the Red Sox are tops in baseball.

Bolding mine. For the record, this is who they added at third and first:
MIKE LOWELL, OPS+ 77:

 Year Ag Tm  Lg  G   AB    R    H   2B 3B  HR  RBI  SB CS  BB  SO   BA   OBP   SLG   TB   SH  SF IBB HBP GDP
+--------------+---+----+----+----+---+--+---+----+---+--+---+---+-----+-----+-----+----+---+---+---+---+---+
 2005 31 FLA NL 150  500   56  118  36  1   8   58   4  0  46  58  .236  .298  .360  180   1   9   1   2  14


J.T. SNOW, OPS+ 88:

 Year Ag Tm  Lg  G   AB    R    H   2B 3B  HR  RBI  SB CS  BB  SO   BA   OBP   SLG   TB   SH  SF IBB HBP GDP
+--------------+---+----+----+----+---+--+---+----+---+--+---+---+-----+-----+-----+----+---+---+---+---+---+
 2005 37 SFG NL 117  367   40  101  17  2   4   40   1  0  32  61  .275  .343  .365  134   2   2   1   7   6


Bill Mueller, last year's primary third baseman, had an OPS+ of 122.
Kevin Millar, last year's primary first baseman, has an OPS+ of 100.

I'm not sure Dayn Perry knows what "admirable" means.

Great job on upgrading your corner infield, Red Sox! You're obviously the favorites over the #2 White Sox (didn't they improve at a couple of key positions?) and the #3 Yankees (who obviously must "suck wicked hahd," according to Perry).

Also, his gripe about the Yankees is that they "overpaid" for Damon, because how much you pay for a player directly impacts the success on the field of a particular team.

As if we weren't clear on his loyalties, he ranks Boston's bullpen well above the Yankees'.

Maybe he's just a Julian Tavarez fan.

Luckily for Perry, if things so south at FOX I'm sure ESPN will be waiting with a job offer.

posted by Mr. Faded Glory @ 7:19 AM 1 comments


---
Wednesday, March 08, 2006
Four Old Yanks Retire

Goodbye Paul Quantrill. You were pretty effective before Joe Torre ruined your arm and career.



So long, Gabe White. While not an effective pitcher, you gave the Yankees a look that fit Giambi's old "Rake like an All-Star, party like a rock star, hammer like a porn star." They already had a musician and plenty of all stars, so for that we thank you and your moustache.



Happy trails, "Flash." You really should have retired years ago as you were a worse hitter than Tony Womack the last few years, but you did fix a flaw in the Unit's mechanics that somehow the greatest pitching coach in the history of time couldn't find, and for that, we thank you.



Bon Voyage Al Leiter, and thanks for giving me false hope in the Yankee comittment to their rookies in the 80's, for that gutsy start at Fenway, and the relief appearance against the Angels (the one where you got us out of a big jam).
posted by Mr. Faded Glory @ 6:18 PM 0 comments


---
I Wonder Who Tone Loc is Picking this Year
Or Young MC. Or Vanilla Ice. At least we know LL Cool J will be pulling for the Yankees.

It seems notorious A's fan and baseball mind extrordonaire Stanley Burrell has some thoughts about comments made by Alex Rodriguez in which A-Rod stated that he thought the Yankees would win the World Series this year. Which is crazy and controversial I suppose.

For those who weren't aware, Burrell is not related to Pat. He grew up in Oakland and became kind of an unofficial A's team mascot after he was selected by owner Charlie O. Finley. Oh yes, years later he recorded some songs like "Can't Touch This" and "2 Legit 2 Quit."

On a side note, isn't kind of sad that Hammer is using blogspot for his hosting... and that his page is jam-packed with advertisements? Poor guy.
posted by Mr. Faded Glory @ 5:28 AM 0 comments


---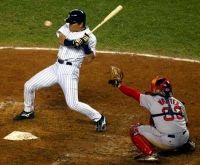 L I N K S
---

P R E V I O U S
P O S T S
A R C H I V E S
---

C O N T A C T

---

---

Subscribe to High and Tight via your favorite RSS reader: