Imagine the Uproar if A-Rod did Any of This
Here's betting the press gives Manny yet another pass.

Manny apologizes after shoving Red Sox official to ground

The Red Sox are confident it wasn't Manny just being Manny.

Manny Ramirez has apologized for pushing the team's traveling secretary to the ground in the visitors clubhouse during a confrontation Saturday in Houston, according to a report in The Providence Journal.

Ramirez had requested 16 tickets from Jack McCormick for Saturday's game against the Astros, the report said.

After McCormick said that might not be possible, Ramirez replied by yelling, "Just do your job," according to Monday's report.

Ramirez and McCormick later discussed the incident in a private meeting, during which the left fielder made amends.

"That's over," Ramirez said Sunday, according to the report. "We're fine now."

Boston manager Terry Francona said the team had resolved the matter and was "satisfied with how we handled this."

"Sometimes things happen," Francona said, according to The Journal. "And when they do, we choose to handle them internally."

Said McCormick: "It was an unfortunate misunderstanding and it's over with as far as I'm concerned."

It wasn't the first time this season Ramirez was forced to put a sour incident behind him.

Ramirez, who on May 31 became the 24th major leaguer to hit 500 home runs, had to be separated from first baseman Kevin Youkilis earlier this month after apparently taking a swing at him during a dugout argument.

"It's in the past," Ramirez said the next day. "It's a new day."
posted by Mr. Faded Glory @ 1:24 PM 3 comments


---
Coincidence or incentive?
Hmmm.
Labels: delicious treats, lupe's bf
posted by Mr. Faded Glory @ 10:40 AM 6 comments


---
Good God No! He's Back.
So the Yankees signed Sir Sidney Ponson to a minor league deal today after the Rangers cut him.

The Rangers are a bad ballclub, and pitching-starved, and they cut a guy who posted an ERA+ of 107 (3.88 ERA) and is 4-1. Of course there's got to be a reason right? Right:

General manager Jon Daniels has said Ponson was dumped "for disrespecting teammates and club personnel... We're trying to put together a team of 25 guys pulling together. Based on some recent comments, he did not want to be a part of that, and that's something we're not going to tolerate. We want guys who want to be here and want to pull for the team, and not guys who are here for their own self-interests."

Keep in mind this is the team that currently employs Milton Fucking Bradley, whose games include getting injured constantly, fighting with managers on Opening Day, attacking broadcasters who make unflattering comments about him requiring coaches to restrain him, and beating his pregnant wife. Bradley: still employed by the Rangers.

One has to wonder what it took to get released by this team. I do not want to see him in pinstripes again. While hsi small sample size in Texas so far was good, as a Yankee in 2006 he was 0-1 with a 10.47 ERA and a 43(!) OPS+. He hasn't posted a 100 (avergae) OPS+ since 2003, and posted a stellar 63 last year.

Hopefully he's just there to hold a AAA roster spot so the Yankees don't have to rush anyone else.

Hopefully.

Labels: lupe's bf, milton bradley, roster moves, wife beaters

posted by Mr. Faded Glory @ 3:52 PM 0 comments


---
Writers Do Not Make Good GMs
Peter Abraham on his LoHud blog has proposed a number of trades for the Yankees to acquire C.C. Sabathia this season. His "untouchable list" is Austin Jackson, Jesus Montero, Phil Hughes, Andrew Brackman and Mark Melancon. Two options are offered for Sabathia:
Kennedy, Tabata and Betances
or
Tabata, Betances and Cano

Abraham believes one of these deals would be worth it even if Sabathia elects to leave as a free agent after 2008, because the Yankees would get two draft picks.

That is ridiculous. Unless you get a window in which to sign him to an extension, you absolutely do not make those deals. For a 2008 rental, the Yankees would be better served looking for relievers, anyway. Once teams start to fall well below .500, some quality arms will be available.
Labels: crazy trade ideas, peteabe
posted by Mr. Faded Glory @ 10:01 AM 2 comments


---
Eyechart My Heart
Two former Yankees faced off yesterday, and the war of words continues today. Failed Yankee Randy Johnson and former Yankee Doug Mientkiewicz don't seem to like each other very much:
The two got into a verbal spat in the Pirates' 5-3 win over Arizona on Monday after
Mientkiewicz stepped out of the batter's box, and then after stepping back in, called time again as Johnson was beginning his windup. Johnson took exception to Mientkiewicz's actions and immediately began barking at the Pirates' infielder.

After the game, Johnson played off the incident, saying: "It didn't bother me at all. If it would've, [Mientkiewicz] would probably be on a stretcher, and I'd be out of the game."

"I've been on a stretcher before and, technically, he's been out of the game for three years in my mind," Mientkiewicz said, alluding to Johnson's seasons with the Yankees and his injury-plagued 2007 campaign. "That just shows me how mentally weak he is. That's why he got out of [New York]."

New York beat him down, let's put it that way," said Mientkiewicz, in no mood to apologize for his outspokenness. "He doesn't have intimidating stuff anymore, so I'm not going to stand for it."

"It affected him completely," Mientkiewicz said. "I know how mentally weak he is. I tried to take the high road, [but] not anymore."

In fairness to Dougie, he did have one of his best seasons in New York (and wasn't awful with the Mets, either). Randall, however, did have two of his worst seasons in New York. Was it the pressure? Not from the games, because Johnson's shown he's able to handle the postseason. His performance in the 2001 World Series, with three wins (one in relief of a fat bloated idiot) were made a mockery when said fat idiot shared the MVP with him. So what gives?

Oh. The media pressure. Well at least he doesn't have to worry about that anymore back in the sunshine of the desert... they're now totally focused on A-Rod and Joba.

Good on you though, Eyechart, for telling it like it is. Johnson did fail in New York. And now his stuff isn't good enough to scare you from saying it.

Labels: eyechart, medium sized league average unit

posted by Mr. Faded Glory @ 5:13 PM 1 comments


---
Ian O'Connor and the Temple of The Bogeyman of Doom
200 innings or 80 innings?

The Bergen Record's Ian O'Connor falls on the completely indefensible side of the argument that the Yankees are better served with Joba Chamberlain in the 'pen rather than the rotation - not just now, but forever.

Normally, this is where I'd pick apart the article and point to where the author is completely wrong. I'm not going to do that this time, because the entire article is wrong.

Instead, I will sum up O'Connor's reasons for wanting to have 80 innings of Chamberlain instead of 200 for many seasons to come:


No longer as much of a "bogeyman"
Not as menacing
Blends in too much
Doesn't inspire unbridled dread in opposition
Fastball with vile intentions tamed
Was born to seek and destroy through late-night raids
Chamberlain is a reliever
Chamberlain is a devastating reliever
He requires three out adrenaline rushes
Joba should succeed Mariano Rivera
His mentality screams that he should be Jonathan Papelbon
Doesn't look like himself
Chamberlain is a manic slasher
He feeds on vulnerability and disappears into the night
He is too human
Does not inspire widespread panic
With well founded arguments like these, how could anyone disagree? My guess is O'Connor contacted Bill James for help in researching this factual and well researched treatise on how a player is best utilized.
Labels: douchebag, ian o'connor, joba chamberlain, mediots
posted by Mr. Faded Glory @ 11:08 AM 1 comments


---
Lol Piniella
Cubs manager Lou Piniella may not be a big internet guy, buy he was caught in Chitown by Google Maps while leaving Bar Louie on North Clark St.

To see him, go to Google Maps http://maps.google.com and enter: 3552 N. Clark, Chicago IL 600636. Then click on "Street View" and turn the camera 180 degrees around.

Or if you're lazy like me, just click here.
posted by Mr. Faded Glory @ 12:25 PM 2 comments


---
Andy Phillips is Back
In the majors, anyway. The Reds recalled him this weekend from Louisville to take the spot of failed former Cub Corey Patterson.

Here's hoping Phillips get a shot to actually get some ABs in a low-pressure situation. He's a good guy and has had to go through a lot of adversity the past few years.
Labels: andy phillips, reds
posted by Mr. Faded Glory @ 2:40 PM 0 comments


---
Shock and Awe
Mark Prior is out for the year. Again.

San Diego Padres pitcher Mark Prior will undergo season-ending surgery on his injured right shoulder, the latest medical setback to a once-promising career.

Padres manager Bud Black announced the decision to operate before Sunday's game against the San Francisco Giants. Prior, one of the top young pitchers in the game for the Chicago Cubs just a few years ago, has not pitched in the majors since Aug. 10, 2006.

He had been trying to make a comeback with his hometown Padres this season, but his rehab process was shut down at extended spring training about two weeks ago when he had more soreness in the shoulder. Prior, 27, had surgery on the same shoulder in April 2007 while with the Cubs.

"I can't imagine how frustrated he is," Black said. "It looked like everything was on course. Then to have this happen I'm sure is extremely frustrating. I'm upset for him just because there was such confidence from him about how he felt."

The operation to repair the anterior capsule in Prior's shoulder will be performed at Scripps Clinic as early as this week by team orthopedics Dr. Heinz Hoenecke and Dr. Jan Fronek.

The Padres won't know when, or if, Prior will be able to pitch again until after the operation.
Labels: mark prior, padres, things that should shock no one
posted by Mr. Faded Glory @ 2:35 PM 0 comments


---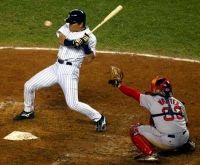 L I N K S
---

P R E V I O U S
P O S T S
A R C H I V E S
---

C O N T A C T

---

---

Subscribe to High and Tight via your favorite RSS reader: