Who's On First?
The first base situation isn't getting any better. As previously mentioned, Shea Hillenbrand is not the answer either. The Times has some fairly obvious ideas though:

More and more, to Torre and the front office, there is a sense that the season cannot be saved unless the existing players produce as expected. They are not seeking to make any significant trades, even one for first baseman Mark Teixeira of the Texas Rangers.

The Yankees are no longer interested in trading for Teixeira, who is on the disabled list and will command a better offer than they will be willing to make.
Good. He's a FA after next year and a Boras client and would command not only a huge prospect investment (so long, Joba) but would not sign an extension for anything other than ridiculous over-market money. Make a run at FA Teixeira? OK. But don't mortgage the future now.

The Yankees are leery of dipping into the depth they have built in their farm system to make a trade for short-term help. That explains their reluctance to jump at Los Angeles Angels first baseman Shea Hillenbrand, who was told he would be designated for assignment on Friday.

The Yankees would take Hillenbrand, but only if the Angels paid almost all of his salary and accepted very little — probably a low-level prospect — in return. Hillenbrand is making $6 million this season and is batting .254, with an on-base percentage of only .275.
The Yankees flirted with signing Hillenbrand as a free agent last winter, but they wanted Doug Mientkiewicz all along, mostly for his defense. Mientkiewicz has a broken wrist and is out for at least another month. His right-handed complement, Josh Phelps, was designated for assignment last week when Torre lost faith in his defense.

Andy Phillips was promoted to replace Phelps, and after saying Phillips would be the starter, Torre sat him for seven of the first eight games on the trip. Phillips started on Thursday for only the second time; Miguel Cairo started at first six times on the trip and Posada once.
Wait, did everyone catch that? Let me repeat: after saying Phillips would be the starter, Torre sat him for seven of the first eight games on the trip. Phillips started on Thursday for only the second time; Miguel Cairo started at first six times on the trip and Posada once. Does anyone actually think Miguel Cairo is a better choice at first base than Andy Phillips besides Joe Torre? And why does Torre always lie about playing time, but never stick to his guns when it comes to lineup cards? The guy needs to go.

General Manager Brian Cashman is considering almost anything at this point, and if the Yankees do not get Hillenbrand, they may turn to Shelley Duncan to see if he can help at first base. Duncan, the brother of Chris Duncan of the St. Louis Cardinals, is batting .302 with 19 home runs and 58 runs batted in for Class AAA Scranton/Wilkes-Barre.
K. Show of hands - who thinks Torre would play a rookie, especially a rookie not known for his defense (which as we all know is the most important aspect of a productive first baseman) over Miguel Cairo? Anyone? A prospect with a future over a wily veteran with heart and guts and grit and hustle and playing the right way ability and doing the little things that don't show up in the boxscore and being a leader by example? Nobody? Good, you've been paying attention the last 11 years.

Labels: andy phillips, brian cashman, joe torre, josh phelps, miguel cairo, shea hillenbrand, torre is dumb

posted by Mr. Faded Glory @ 9:17 AM 1 comments


---
DO NOT WANT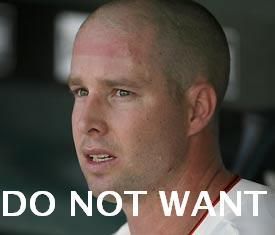 Cashman, you can do better than
this
:
Shea Hillenbrand vented his frustration about losing his designated hitter job Tuesday, saying he felt "pushed aside, put on a back-burner," and that if he wasn't going to play for the Angels, "give me enough respect to trade me or get rid of me."

Wednesday, the Angels informed Hillenbrand he would be designated for assignment Friday, giving the team 10 days to trade or release him.
Hillenbrand's OPS+ for the last 5 years:
2003: 92
2004: 106
2005: 108
2006: 93
2007: 67
These are pretty unacceptable numbers for a first baseman (and the Angels wanted him to be a
designated hitter
?). Could Andy Phillips put up a 67 or 100 OPS+? Possibly. Probably not 100 though. He also most likely wouldn't pick fights with his manager and disrupt the clubhouse (any wonder why Hillenbrand's been on five teams in five years?)
Now I know Miguel Cairo - who inexplicably has become Torre's regular first baseman - is a terrible hitter, especially for that offensive position. Is Hillenbrand the fix though? No, I don't believe he is. That said, as far as Cairo goes, still: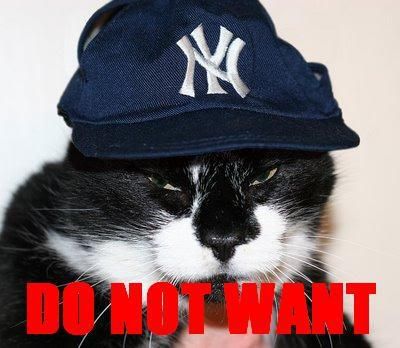 Labels: andy phillips, do not want, miguel cairo, shea hillenbrand, trade rumors
posted by Mr. Faded Glory @ 8:20 AM 0 comments


---
Hi, I'm Mariano Rivera
"You may remember me as arguably the best relief pitcher of all time. However, I do not come into games when we are tied on the road, because my manager believes it is better to blow the game and hold me back for a 'save' that will never come. Not just in one isolated incident, but every single time. Even in the World Series! And he never learns from his mistakes. Ever. It's not like I'm overworked. I've barely pitched at all this season because I am held back for when the 'save' statistic comes into play. This is yet another reason why my team is losing games - the best players do not play when it matters."

"Also, please try my restaurant. I won't keep the delicious angus beef in the bullpen when you want it."
Labels: joe torre, mariano rivera, torre is dumb
posted by Mr. Faded Glory @ 7:22 PM 3 comments


---
Baseball Tonight Should Hire This Man
Tom Krasovic, a guy who may actually understand statistics and their values, is actually employed as a sportwriter? Will wonders never cease.

Now I realize all of these stats are thrown out in order to support his hometown team, but they're actually used correctly, so he gets a pass for even homerism. I rip enough sportswriters on here, so when one writes an article like this, they're deserving of a little kudos.

Some highlights:

The easy explanation is that the Padres are pitching well. They lead the majors in overall ERA (2.92) and bullpen ERA (2.11). Their starters (3.36) lead the NL in ERA. Skeptics will point to Petco Park as a contributing factor. And they should. The place is a boon to pitchers.

But even when ballpark factors are accounted for, Darren Balsley's pitchers are dusting the field. According to baseball-reference.com, which adjusts for ballparks, San Diego's corresponding ERA is considerably better than anyone else's. The NL team that is second to San Diego in the Web site's "ERA-plus" is Arizona, which trails the Padres by 1½ games in the West.

The Padres are ninth of 16 NL clubs in runs scored. And when the offense's combined on-base and slugging average is adjusted for ballparks, it ranks behind only five others in the NL, and none of those is from the NL West.

As to how good the Padres really are, they actually might be better if one believes that overall run differential is a good measure, which CEO Sandy Alderson does.

The Pythagorean win-loss record created by analyst Bill James estimates a team's win-loss record by the runs scored and runs allowed. Alderson has said this is typically more accurate for predicting a team's future record than its actual win-loss record. The Padres have scored 78 runs more than they have allowed and have a Pythagorean win-loss record of 43-25. Not only is that well above their nearest pursuers such as Arizona (36-34) and Los Angeles (36-32), it is the best in the majors.
ERA+? OPS+ (explained but never directly mentioned, albeit)? Bill James? Run differential? Pythagorean records? I would love to see this guy try and explain any of this to John Kruk.

Labels: good sportwriters, padres, statistics, tom krasovic

posted by Mr. Faded Glory @ 9:33 AM 1 comments


---
Miscellaneous QOTD
Courtesy of The Dugout:


| | |
| --- | --- |
| | MassettByThatMuch: and I'm like, "oh no Paris Hilton is in jail?" Fuck Paris Hilton! Fuck her orange skin, fuck her fucking arms that look like necks, fuck her giant sunglasses. |
| | AarTard: The only thing I would fuck on Paris Hilton is her vagina! She's hot as shit, she doesn't deserve to go to prison! |
| | MassettByThatMuch: fuck you you fucking fuck, she is not hot as shit, she IS shit, and I hope the guards have camera phones so they can catch her shanked ass nude on the prison toilet queefing little clouds of nothing that smell like Obsession for Men and send the pictures to TMZ.com. |
| | AarTard: Well I wouldn't kick her out of bed is all I'm saying! |
| | MassettByThatMuch: You want to fuck Paris Hilton so bad? Dump bleach on Ryan Garko, punch him in the face until one of his eyes goes cock-eyed, and start fucking him. Boom, just like fucking Paris Hilton. |
posted by Mr. Faded Glory @ 11:43 AM 0 comments


---
The Return of the Siren
That familiar sound after a Yankee hits a home run in Yankee Stadium has returned.

It was like clockwork years ago. Home run, siren, Westminster chimes. But somewhere around 2003, it disappeared.

I'm not sure when exactly it happened, but I noticed the siren had returned yesterday. In any event, it's a recent change as it wasn't present last week against Pittsburgh.

Sure it's a minor thing, but I always enjoyed it. It's also far less tacky than some stupid giant flashing apple popping up out of a top hat.
Labels: yankee history, yankee stadium
posted by Mr. Faded Glory @ 10:23 AM 2 comments


---
Kim Jones: Pregnant?
I'm not trying to break news here, but....




thanks to lupe for her incredible photographic skills
posted by Mr. Faded Glory @ 10:05 PM 0 comments


---
Joe Morgan: Voice of Reason
While Morgan made his usual amount of completely asinine statements during last night's Sunday Night Baseball broadcast, I was almost floored by how absolutely correct this one was in regards to (as Juney calls it) "HAHGate," Alex Rodriguez's comments rounding second in Toronto (slight paraphrase):
"I think there's too much forcus on what Alex Rodriguez does. Too much negativity. He's treated differently. If this were someone else (pause) - say a David Eckstein - everyone would be talking about what a smart play that was."
I held my breath before he mentioned Eckstein, thinking that is only for once Morgan would utter the name I hoped, all would be forgiven. Well, some. Ok none, he's still a moron.
Labels: a-rod, espn, joe morgan
posted by Mr. Faded Glory @ 11:28 AM 3 comments


---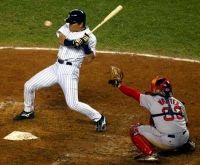 L I N K S
---

P R E V I O U S
P O S T S
A R C H I V E S
---

C O N T A C T

---

---

Subscribe to High and Tight via your favorite RSS reader: