Wednesday, March 28, 2007
George King Embodies Everything That Is Wrong With Sports Journalism
When he's not making up fake trade rumors, he's making insane theories about which player is better than another, but only if you completely ignore any and all numbers you geeks.


Phelps has numbers; Phillips should get job

By GEORGE KING
I can already taste the bile forming...

Josh Phelps has won the numbers battle with a better spring than Andy Phillips. But Phillips deserves to be Doug Mientkiewicz's backup at first.
Battles are not about numbers, people! Battles are about guts and intangibles and things that cannot be proven with any type of statistic! That's a battle!

For all the geeks who live in the black and white world of baseball, Josh Phillips has to be the Yankees' backup first baseman over Andy Phillips. Yet, the choice here to play first when Joe Torre sits Doug Mientkiewicz is Phillips.
I'll translate that for you: for anyone who can look objectively at baseball, understands the game, and wishes to have their team comprised of the best possible players, Josh Phelps (yes, I see that George King doesn't even know one player from the other) has to be the Yankees' backup first baseman over Andy Phillips. Yet, for some soon to be described insane reason, I, George King, declare the better choice to be Andy Phillips. Do not look at numbers! If you do you are a geek! And you have poor eyesight ... and ... acne! I wonder if King knows one can use a "com-pew-ter" to read his articles.

Why? Doesn't Phelps' .438 average (14-for-32) with three homers and 10 RBIs this spring count for something? Yes and no. Fall in love with spring training numbers at your own risk. Nothing can be more hollow than March digits.
No, not "yes or no." Yes. Statistics do count for something. That was kind of the reason to have a roster competition. Otherwise the Yankees should have just said "fuck Spring Training!" and headed right for the Bronx with 25 guys and played exhibition games against the Newark Bears for as few weeks.

However, here is the real reason it should be Phillips over Phelps despite Phillips' 190 (4-for-21) average after fanning four times Tuesday against the Twins: his swing is shorter than Phelps' and that fits into a bench player better than Phelps' long hack.
George King, complaining about hacks. Will irony never cease? King describes some very valid reasons for Phelps to make the team here, as Phillips has been downright awful this spring. But at least it's only spring, and those statistics don't matter, so we should instead look at Phillips' regular season results, right? Oh yes and also because his swing is shorter.


And there is more. No doubt Phillips' 2005 season in which he batted .240 in 246 at-bats was a disappointment. Yet, his wife battled cancer all summer so that had to be on his mind. Phillips is a better fielding first baseman and has minor league experience at all infield positions.


Alright. George King already proved that he doesn't know which player is which. Now he compounds it by showing that he doesn't even know what year it is. Phillips only had 27 ABs in 2005. Those are 2006 stats, George. Also Friends is off the air, that's not the first Bush in the White House, you cannot buy a brand new Datsun, and man has developed the internal combustion engine. Hope that catches you up. Yes, Phillips is better defensively. However the Yankees already have a defensive first baseman who is not a good hitter. First base is the easiest position to defend and it's where you can stash the fielder who is just not good enough to play elsewhere in the infield. In addition the Yankees have Miguel Cairo (who also cannot hit) but can play all four infield positions.


Phelps has done everything asked of him and he can catch in an emergency. But that swing isn't going to cut it against the Johan Santanas, Tom Glavines and Scott Kazmirs he is going to face after extended pine time.
Tom Glavine? This is still 2007, right? Phelps should be fearful of Tom Glavine? If Phelps looks silly against Santana, so be it. Everyone looks silly against Santana. But is he really worried about Scott Kazmir (who hasn't put it all together yet) or Tom Glavine? Wouldn't a "long" swing be better suited to a guy who throws a 35 mph heater?


The Yankees' bench is better with Phillips than Phelps because spring training numbers have never been a true indicator of the real deal.
I'm George King and I just reiterated my premise without giving you any reason why it should be so! I don't have to because I write for the New York Post! Go screw yourselves, stat nerds!

Labels: andy phillips, douchebag, eyechart, george king, josh phelps

posted by Mr. Faded Glory @ 8:40 PM 6 comments


---
So Much for Ugie Urbina Being a Sleeper on my Fantasy Team
I guess I'll have to waive him as he's expected to be
in a Venezuelan prison
until 2021:
Former Major League Baseball pitcher Ugueth Urbina was
sentenced to 14 years in prison for the attempted murder of five workers on his
family's ranch, the Attorney General's Office announced Wednesday.

Urbina, a former pitcher with the Montreal Expos, Boston Red Sox,
Detroit Tigers and Philadelphia Phillies, was also found guilty of illegal
deprivation of liberty and violating a prohibition against taking justice into
his own hands during a dispute over a gun on Oct. 16, 2005, according to a
statement from the Attorney General's Office.

The 33-year-old free agent
was accused of joining a group of men in attacking and injuring workers with
machetes and pouring gasoline on them at his family's ranch, located about 25
miles south of Caracas.

Urbina repeatedly has denied involvement in the
violent attack, saying he was sleeping at the time.

Urbina, a two-time
All-Star, last pitched in the major leagues with the Phillies in 2005. He's 30th
on the all-time saves list with 237. He had two saves in the 2003 World Series
for the victorious Marlins.

In 11 major league seasons with the Expos,
Boston Red Sox, Rangers, Marlins, Tigers and Phillies, Urbina went 44-49 with a
3.45 ERA. He led the National League with 41 saves in 1999 with the Expos and
was third in the AL with 40 saves for the Red Sox in 2002.

Guilty or innocent, I have no idea, but at least he should fit right in with the lifestyle.

Labels: criminal athletes, ugeth urbina
posted by Mr. Faded Glory @ 6:06 PM 0 comments


---
Say Goodbye to Andy Phillips
The handwriting is on the wall for homegrown-player Andy Phillips. Although considered a Torre "favorite," it's hard to imagine any scenerio in which he wears a Yankee uniform this year. He entered Spring Training in a positional battle with Josh Phelps for the "platoon" first base position with Doug Mientkiewicz. Well, by all accounts, he's lost that battle:

| | | | | | | | | | | | |
| --- | --- | --- | --- | --- | --- | --- | --- | --- | --- | --- | --- |
| | G | AB | R | H | HR | RBI | TB | BB | OBP | SLG | BA |
| Mientkiewicz | 18 | 38 | 2 | 5 | 0 | 3 | 8 | 7 | .277 | .211 | .132 |
| Phelps | 18 | 32 | 5 | 14 | 3 | 10 | 24 | 3 | .472 | .750 | .438 |
| Phillips | 13 | 21 | 1 | 4 | 0 | 0 | 4 | 0 | .190 | .190 | .190 |


The Yankees are definitely going to keep Eyechart on the roster (even if I was against his signing to begin with.. and still am). This means that they lose either Phelps or Phillips. Phelps was a Rule V pick from Baltimore, which means if he doesn't make the roster he must be offered back to the Orioles. Phillips is out of options - if he is sent down to Scranton, he must pass through waivers (which he may or may not do). If no team claims him, he could be outrighted to Scranton, but where does he play? Eric Duncan is going to be the first baseman at AAA. Phillips has shown that he's not a great defender at third or second, and I'm sure the Yankees would rather groom or showcase higher profile prospects there anyway. Unless he decides to become a AAA utility man, I don't forsee any scenerio in which George Andrew Phillips remains with the organization, and may just be granted his outright release.

While I'm sure that there are some who would miss his mop-haired good looks, there's simply no room for him on the team or with the organization.

Labels: andy phillips, eric duncan, eyechart, josh phelps, spring training

posted by Mr. Faded Glory @ 1:51 PM 6 comments


---
So, Papelbon's Closing Again in Boston
I had planned on giving my take on this, but PeteAbe said it best:


Tony La Russa drives in a straighter line than the Red Sox.

In August, Theo Epstein stood on the field at Fenway Park making excuses
that he couldn't have a payroll like the uber team Yankees. Two months later
they were spending money wildly to get Daisuke Matsuzaka, Julio Lugo and J.D.
Drew.

Then we heard that the best thing for Jonathan Pabelbon's sore
shoulder was to start. Terry Francona swore at the start of spring training that
he would never use him to close. It has to be about protecting the kid's future,
he said.

Now Pabelbon is the closer again. The party line out of Fort
Myers is that he asked to close. Oh, well that makes perfect sense. I'm sure the
medical reasons will just go away. Perhaps Manny will ask to play
shortstop.
posted by Mr. Faded Glory @ 7:53 PM 8 comments


---
Wednesday, March 21, 2007
More Silly A-Rod Trade Rumors
The local radio stations here in Southern California have been all over this completely unsubstantiated trade rumor for a couple of days now.

It involves Alex Rodriguez (of course) to the Angels, and Arte Moreno extending A-Rod's current deal by 3+ years.

Halos Heaven seems to believe there's more to it than just more idle spring musings, however:


After reheating the A-Rod to LAA rumor mill yesterday, what
is shocking is that neither outlet is putting 2 and 2 together:
Moseley is
getting the start over Carrasco as part of an audition for a trade to the
Yankees. Stoneman and Cashman have reportedly agreed on a three-tier
wait-and-see:

1. Audition Moseley

2. See if the boo-birds flock
on A-Rod and how Boras then responds to a trade proposal (as Rodriguez can
ultimately veto it)

3. Assuage Boras by adding Jered Weaver to the deal,
as WTY in Yankee Stadium = Visions of future big bucks to tempt Scott B.

4. Yankees get Weaver, Moseley and Jose Molina for
A-Rod.
Dustin Moseley, Jose Molina and Jered Weaver? Well I can say I've heard (a lot) worse offers proposed, but as far as I can tell, none of those guys can play third base and the Yankees don't exactly have a ML-ready prospect to fill in. Cashman is waiting to see if people boo A-Rod in order to trade him? I can't possibly imagine Cashman ever doing business in that manner. Besides, the Angels are absolutely loaded with SS/3B prospects. If this deal were legitimate, you can bet one of them would be involved.

I really can't wait until the season begins, and we can put all of this trade nonsense behind us. Until July, at least.
Labels: a-rod, angels, trade rumors
posted by Mr. Faded Glory @ 10:55 AM 2 comments


---
Blasts From the Past, Chapter 1
Periodically throughout the season (and hopefully beyond) I'm planning on taking a look back at the history of the most fabled franchise via videos not often seen by most people.

What better way to kick it off than with this 8mm "home movie" filmed during Game 6 of the 1958 World Series between the Yankees and Braves, by a fan who was lucky enough to get a ticket and a press pass. The quality is pretty good considering the era (no sound, of course) and the access level is fantastic. Of course, these days the guy would probably have been arrested, his camera confiscated, and Bud Selig would be suing him for copyright infrigement.


Labels: videos, yankee history
posted by Mr. Faded Glory @ 6:22 PM 0 comments


---
Olbermann: Trade A-Rod Now Due to Spring Slump
On today's Dan Patrick Show, frequent guest and self-absorbed political commentator Keith Olbermann tried to make the case that the Yankees need to trade Alex Eodriguez "now" because he looks so "tight" in spring training. A paraphrase:


"It's one thing if you stand looking at a 3-2 pitch that
you can hit in the playoffs. If you're extra tight in the playoffs, that happens
to a lot of guys. You can overthink in the post season and miss a pitch and
stand there with a bat on your shoulders. Just ask Carlos
Beltran."
(Olbermann doesn't recall 2004.)


"But to be so tight in spring training and to just stand there when runners are
on when the pitcher throws you your pitch just shows you can't handle it
anymore. This team has no fire and no "oomph," and if you trade him now you can
get something for him. The team has been going more and more in this direction
since 2001. There's no leadership on the field. Who's going to fire these guys
up? Jeter? Maybe in the clubhouse but he's not the type to get on guys on the
field."


He then went on to say that there are too many cliques and that it must be hard for Posada and Rivera and Jeter and Williams because so many new guys were coming in who were superstars, and practically defended the reason for the "cliques."

Translation: Rodriguez misjudged a pitch proving he "can't handle the pressure" of spring training, and because his Captain is not a good leader and there are too many "cliques", trade the bum.

Just go back to your lame MSNBC talk show, Keith. You've lost all touch with the sports world.

Labels: a-rod, douchebag, olbermann, trade rumors

posted by Mr. Faded Glory @ 1:41 PM 5 comments


---
$20 Says He Could Still Outhit Doug Mientkiewicz
Andy Pettitte threw a simulated game in Tampa today, and had an unusal defense behind him. Throw Cano at 2B and I would honestly be surprised if this infield wouldn't be better than the current one.

Posada caught Pettitte. The infield was A-Rod, Jeter, minor-league second baseman Kevin Russo and a slightly older, slick-fielding first baseman named Donald Arthur Mattingly.

Mattingly made a play on Phillips in the final inning. In the same inning, Jeter fielded a ball and threw short, forcing Mattingly to make a scoop.

So, Derek, did you do that on purpose?

"Nah," said Jeter, who was grinning ear-to-ear.
Labels: andy pettitte, don mattingly, yankee history
posted by Mr. Faded Glory @ 12:56 PM 2 comments


---
Sometimes I Actually Agree With Jim Caple
.... but rarely. Today is one of those rare circumstances. The first part of the article on Alex Rodriguez is Caple once again attempting to be funny and failing, but it gets much better about halfway down, when he gets serious:


I mean, what has he ever done that is so bad? Despite his best efforts at living a clean, responsible life, he has a worse reputation than Terrell Owens. I know I've mocked him as much as anyone, but now I mostly feel sorry for him. He's one of the best players in the game, and people act as if he's Bubba Crosby. Enough is enough. Forget the soap operas that stem from his silly insecurities -- any day now I expect him to shave his head -- I'm going to root for A-Rod this season. No more cheap shots, no more easy punch lines … from now on, I'm his No. 1 fan. Not quite like Kathy Bates in "Misery," but I'm pulling for him all the way.

And here's why you should root for him as well.

Root for A-Rod because years from now, you'll be bragging to your children and grandchildren that you saw one of the greatest players who ever took the field. You'll be able to say, "I saw Rodriguez hit .358 with 36 home runs and 123 RBIs in his first full season. I saw him hit 409 home runs by the time he was 30. I saw him win an MVP at shortstop for a last-place team one year and then win an MVP at third base for a first-place team two years later. I saw him hit .315 with four home runs in three American League Championship Series. I saw him play in 10 All-Star games his first 11 seasons."

It may not sound as sweet as telling your kids, "I saw A-Rod hit a World Series-winning home run in the bottom of the 10th inning," but it certainly sounds much better than telling them, "I threw fake dollar bills and garbage at A-Rod because he signed a contract that I would have killed to get."

Root for A-Rod because if you don't like Barry Bonds challenging Hank Aaron's home run record, just wait -- Rodriguez might wind up passing Bonds in a decade. A-Rod hasn't testified before a grand jury that he "unknowingly" took steroids, but he has hit 464 home runs, which is a total Aaron didn't reach until he was two years older than Rodriguez is now and a total Bonds didn't reach until he was almost four years older. Trust me, if A-Rod does set the home run record, you'll not only be rooting for him then, the commissioner will show up to see it.

Root for A-Rod because despite all you hear about him choking in the playoffs (and yes, he has stunk the past two Octobers) he still has nearly as high a career postseason OPS as Jeter (.847 to .863). A-Rod also hit for a higher average and produced more runs in the 2004 postseason than Jeter did. In fact, Jeter has played in 24 postseason series and hit .233 or less in nearly one-third of them. That's not to knock Jeter, but only to point out that if you play enough postseason series, you're going to shine in some and stink in others. Give A-Rod another chance this fall, and he will rise to the occasion. Especially if he feels as if fans would rather see him succeed than bitch about his failures.

Root for A-Rod because, other than saying stupid things, he never does anything to embarrass his team or the game. He never gives less than his best. He never approaches the game with anything less than complete professionalism. So what if he can't help himself from making ridiculous statements in an attempt to please everyone at all times? There are far worse crimes for an athlete -- and we complain about them all the time.

But mostly, root for A-Rod because if he has another MVP season and shines in October, all those obnoxious Yankees fans will have to shut up and quit blaming him for everything that ever goes wrong with a team that has needed better
pitching ever since it let Roger Clemens and Andy Pettitte go.
Caple is still an unrelenting Red Sox schill, but I don't know if I've ever agreed with something written on ESPN more than I agree with what is written above.

Maybe the fact that A-Rod is no longer playing the "say the right things and pretend everything is hunky-dory" game with the whole Jeter situation, some in the media who have been bashing him for years are finally starting to ask themselves "why?"

I mean not Peter Gammons, who had to pull a story from 2006 out of his metaphoric ass in order to try and bash A-Rod:

Team USA players like to tell the story of Francoeur confronting Alex Rodriguez during the WBC for trashing a clubhouse kid who brought him the wrong sandwich.


(You would think that if Team USA players "like to tell a story" that the story would have been told before spring training 2007, wouldn't you?)

So perhaps Gammons is giving a bit of retribution on behalf of his pal Jetes, but maybe some sports writers are coming around. Ok, Caple, I'm going to give you a chance, but I'll be watching you.
posted by Mr. Faded Glory @ 6:17 PM 5 comments


---
Wednesday, March 07, 2007
Help Wanted: Proofreader in Bristol, CT
Must be capable of reading English at a minimum of a 4th grade level.

Clemens repeated that if he played, it would for with either Houston, Boston or the Yankees.

"You're not always going to throw great, so it was good to least get through it."

There are many other instances of poor grammar and lazy, junior-high level language usage. Hell I wouldn't even publish this in the junior high newspaper, much less the "Worldwide Leader in Sports."

posted by Mr. Faded Glory @ 10:08 PM 0 comments


---
Calling all Trolls
Your day has come. Do your worst.
posted by Mr. Faded Glory @ 5:36 PM 2 comments


---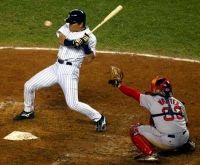 L I N K S
---

P R E V I O U S
P O S T S
A R C H I V E S
---

C O N T A C T

---

---

Subscribe to High and Tight via your favorite RSS reader: