Hop in the Time Machine!
Let's all go back to 1996!

Seriously though, this is one of the best made youtube videos I have ever seen.... even if you know the eventual outcome.

I do recall though when my brother and I used to play RBI Baseball, we always thought all of the players looked like "white Kirby Puckett" and "black Kirby Puckett."
posted by Mr. Faded Glory @ 6:45 AM 1 comments


---
ESPN is Biased In Favor of the Yankees
Or at least that's what this crazy harpie thinks.

October 8, 2005


To Whom It May Concern:

Last night I was watching your coverage of the Yankee/Angel game and was embarrassed as well as disappointed in your broadcasters. My son lives in Reno, Nevada and had a similar experience. Both my son and I watched a great game but listened in horror as your broadcasters aired an East Coast biased of astronomical proportions. You should take heed as ESPN is loosing credibility in the world of sports. Both my son and I watched the game with coworkers and friends from around the globe, in two different states, rooting for two different teams. Men and women from 6 countries, 15 states, and many cities in the USA were present and are represented in this letter. Not a single person at either of these gatherings supported the ESPN's announcers' biases, not even those from New York and Boston. When some of the folks from the United States attempted to explain how the announcers were representing baseball and not just the Yankees the foreign constituents (executives, officers, CEO's of international businesses and the like) erupted in laughter. Others who tried to understand through detailed explanations by baseball fans were confused, simply disagreed, or actually equated the biased broadcast to political dictatorships, governmental spins, political criminals, and other unsavory socio-political raciest regimes.

ESPN- the world is laughing at you. Your company is loosing credibility. Personally, you are down right embarrassing. I do hope you listen; the world is watching and the world is listening. You have a great deal to loose.

Mary

Their Yankee love is certainly on record judging by Peter Gammons, Karl Ravetch, Bill Simmons, Jim Caple.. ok, all of Page 2 and espn.com.
posted by Mr. Faded Glory @ 5:11 PM 0 comments


---
All They Care About Is Winning!

Just when you thought Big Rube was over his asinine comment stage, he's at it again.

In last month's issue of The Sporting News, the AL: East Preview had an interesting sidebar:



When asked by Twins manager Ron Gardenhire for the secret to beating the Yankees, ex-pinstriper Ruben Sierra says, "Play them in October."

Oh Ruben, are you feeling jilted because Bernie Williams was selected to be the "New Ruben Sierra"? (By that of course I mean an aging and unproductive player who can't hit anymore and is a defensive liability). You're not even good enough to hang on with the light hitting Twins for crying out loud. The followup in the article though is priceless:


Note to Gardenhire: Pass that info along to the Indians and White Sox--they actually could use it.




It's like Sierra just can't move on. He acts like a jilted ex-girlfriend every time the Yankees let him go. And if there's one thing I know about, it's jilted ex-girlfriends.

posted by Mr. Faded Glory @ 6:39 AM 2 comments


---
Things Wrong With Joe Torre's Lineup
The 2005 AL leader in OBP is hitting 5th.
It makes it incredibly easy for managers to match up relievers: L, R, R, R, L, L, S, L, S.
Where is Andy Phillips?
Bernie Wiliams is no longer an everyday player.
Miguel Cairo is given starts at first base.

I'm not even getting into the fact that there are 19 catchers on the roster.

posted by Mr. Faded Glory @ 2:14 AM 4 comments


---
Michael Sanderson Kay?
There seems to be an unwritten rule for the Yankees that some players can have undue criticism heaped upon them at all times (Alex Rodriguez) while others are above reproach even if they make an error that completely changes a game (Derek Jeter).


"You can't pin it all on Jeter. Wang did not pick up his teammate." - Michael Kay, after Jeter makes a huge error than effectively opened the floodgates.

UPDATE:
It seems the New York Post also chose not to place any serious blame on Jeter, and instead, Robinson Cano is
their goat
:
With the infield on the grass, Wright induced Jay Payton to hit a grounder to Robinson Cano that the second baseman booted, allowing Bradley to score the go-ahead run. Wright gave up a single to Jason Kendall that sent Payton to third, and with the infield in, Marco Scutaro singled to center for a 6-4 lead.
Farnsworth replaced Mike Myers and walked Mark Ellis to load the bases for Eric Chavez, who fouled out. Farnsworth went 2-2 on Thomas before he doubled off the left-field wall for a 9-4 advantage.
The Yankees scored one in the second on Hideki Matsui's laser to center that easily cleared the 400-foot sign and three in the third on Sheffield's 450th homer. After that they didn't dent the plate.
Chien-Ming Wang gave up a two-run single to Bradley and traded an out for run on fielder's choice in the third. Wang walked Bradley with the bases loaded in the fifth to tie the score, 4-4.
Wang was hurt by Jeter's fielding error that killed a chance for an inning-ending double play and fueled a three-run frame in the fourth that reduced the Yankees' lead to 4-3.
Please note that the first mention of the word "Jeter" came in paragraph TEN.
Not to be outdone, the Daily News has also decided the blame lays
squarely on the shoulders
of the AL ROY runner up.
posted by Mr. Faded Glory @ 6:44 AM 3 comments


---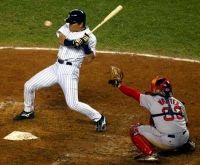 L I N K S
---

P R E V I O U S
P O S T S
A R C H I V E S
---

C O N T A C T

---

---

Subscribe to High and Tight via your favorite RSS reader: