Wednesday, August 27, 2008
Thanks For Nothing, Andy
While the crowd was busy booing one player on the offense last night, they seem to have forgotten that Pettitte's pitching was the real reason that game was lost yesterday.

People still want to resign Andy for next year?

He's got a 4.24 ERA and an ERA+ of 97. Not awful, but below league average. Wouldn't that money be better spent (because you know he'd want at least $11M or so) to throw into a free agent like, say, CC Sabathia?

Mussina's been more effective, and he'd most likely be cheaper. I think he'd take less because he's hungry to win a ring before he retires.

Wang, Chamberlain, Mussina, Sabathia and Hughes? Could be the best five in the AL.
Labels: andy pettitte, cc sabathia, dumbass fans, moose, pitching rotation, pitching woes
posted by Mr. Faded Glory @ 10:57 AM 1 comments


---
Joe Torre is a Magical Fairy Who Grants Wishes to Yankee Fans
At least that what Sam Borden seems to think.

While constantly saying this season's struggles aren't "Joe Girardi's fault" and that "nobody can blame him" Borden continually hints and posits that with Torre, things might have been different because of some supposed magical ability he has.

Joe Torre wouldn't have made a difference in how this Yankees season has gone, would he?

Would he?

Alex Rodriguez would still have missed 20 games. Hideki Matsui would still have missed 50. Jorge Posada and Chien-Ming Wang would still have been gone even longer. Just having Torre managing the team instead of Joe Girardi wouldn't have put the Yankees in a better position than they are today, right?

Right?

There is no way to know for sure, no way to prove quantitatively that Torre's presence would have changed things. Progressive statisticians often talk about VORP, which essentially measures how good a particular player is relative to the "average player," but there is no such statistic to determine how good Torre or Girardi is relative to the average manager (or each other).

It can only be a hunch. A feel thing. And even if common sense says otherwise, it feels like Torre would have made a difference.

The last time the Yankees didn't make the playoffs in a full season was 1993, and that includes all 12 seasons that Torre was the manager. Every year. Every October. Some years were cruises, 100-win seasons that were only preludes to the playoffs. But not all. Most recently, in 2005 and 2007, Torre had to bring a team back from a slow start, just like the Yankees had this year. And he did. Every time.

Would the Yankees have made fewer errors running the bases this year with Torre? Would they have hit better with runners in scoring position? Would they have as many mental mistakes like the one in the fifth inning last night, when Jason Giambi looked bizarrely confused after catching a throw from A-Rod and allowed Coco Crisp to sneak home from second on an infield hit? Maybe, maybe not. There are those who believe Torre was just in the right place at the right time, a formerly less-successful manager who stumbled into a great team, great city, great run. If that's true, than perhaps Girardi is just incredibly unlucky, a poor victim of circumstance in a tougher-than-average year.

But Torre dealt with injuries, too, made it through seasons where Derek Jeter got hurt and Mariano Rivera got hurt and the starting rotation featured guys like Aaron Small and Shawn Chacon. None of those seasons ended in September.

Torre's greatest attribute was his ability to manage the players, even more than the games themselves. He pushed, poked, prodded and, ultimately, received production. He knew what to say, when to say it and, most important, how to say it. He thundered and cajoled, depending on the day, time and person. Mostly, he knew how to make the Yankees just a few games better than they deserved to be, and that's something the Yankees could certainly use right now.

Whatever the reason, the Yankees wake up today in as bad a place as they've been in over a decade, the last season at the Stadium on the verge of ending one month too early. Out west, Torre might well continue his playoff run with the Dodgers, so it's hard not to wonder whether he would have made a difference here.

Common sense says he wouldn't have.

Would he?
A hunch. A feel. Or perhaps magical fairy dust?

By the way, Torre's magical hunches and feels have propelled his new team and willed 100% maximum effort from his Dodgers to the tune of a 65-67 record.

Labels: douchebag, joe girardi, joe torre, st. joe

posted by Mr. Faded Glory @ 10:51 AM 0 comments


---
You're Starting to Catch on, Ian
If you don't want to be made out to be a jerk by the New York media for your entire career, try showing some frustration after a bad performance.

"It felt like one of those days when I was warming up you could tell it was going to be a little bit of a battle," Kennedy said. "I'm not happy at all with my outing. Even though you don't feel good, you've still got to produce, and I didn't do that.

"I'm frustrated with myself tonight."

"I'm just kind of frustrated with myself."

"I don't think I was getting ahead of guys," Kennedy said. "I wasn't throwing strikes. I'm more frustrated that I was trying to get ahead of guys, and you can't execute your plan when you don't. When it comes down to it, I didn't do it."
Labels: ian kennedy, scranton
posted by Mr. Faded Glory @ 4:45 PM 0 comments


---
We've Become a Lowest Common Denominator, Mediocrity is Rewarded Society
Enough about Little Leaguers who get trophies for last place finishes and are never taught the values of trying to win and compete at something.

Now this?

You have to be kidding me. "Sorry kid, you're outta here. You're too good. This League is for losers only."
Labels: our society sucks, youth baseball
posted by Mr. Faded Glory @ 4:39 PM 0 comments


---
Wordle: My Verbal Diarrhea Visually Displayed
So over at Wordle, you can get a visual map of commonly used words from a website. Here's mine:



I suppose I haven't been using "douchebag" as much lately.
posted by Mr. Faded Glory @ 10:31 AM 1 comments


---
Can this Trend of Non-Attractive Chicks Slutting it Up on Sports Blogs Please End?
No, "Yankee Hottie", I will not add you to my blogroll.

This sort of shameless self promotion where one attempts to gain self confidence by having virgins all over the internet come to your site because you flash some skin and show off some cleave was bad enough when it was contained here, but now I see it's turning into a trend. It's only a matter of time before the Journal News' Peter Abraham does a piece on all of them.

Oh and don't get all "stop being misogynistic" on me for judging these women's appearance - when you post pictures of that sort on the internet, you're inviting judgement.

What's next, Yankee Bloggers sex tapes leaked onto the net? Some "oops!" crotch shots when getting out of a car on the way to the Stadium?

I happen to know of a few very intelligent, well informed female sports bloggers (a few of which you'll see linked on the right) who don't feel the need to stoop to such lows. Yes, they can discuss pitching and defense and stats without feeling the need to show off their tits.

Amazing, isn't it?
Labels: boggy pals, juneh, kb and the yc, lupe, shitty blogs, tits
posted by Mr. Faded Glory @ 10:14 AM 3 comments


---
Does Ponson Have Naked Photos of Cash or Girardi?
They were willing to pull Rasner from the rotation, but the Yankee brass still hasn't seen fit to send Sir Sid a-packin'. There has to be some kind of reason for this. Instead we get Brian Cashman saying things like "Sidney's pitched very well for us." No, Brian, he hasn't. He has pitched very, very poorly.

Even the Sportswriters are giving him a pass. Instead of "release Ponson" we get puff pieces like how Sidney is setting up a crab dinner in Baltimore, full of skewed comments like these:

"People like Sidney," Derek Jeter said. "He's a good guy."
The journeyman has become reliable.
"His sinker has been a big pitch," manager Joe Girardi said. "He's thrown the ball really well for us. I love the way he attacks the (strike) zone. I love the way he goes after hitters. He works fast and keeps everyone involved."

Reliable? Yes. Reliably awful.

Ponson has pitched 56 innings with the Yankees this year. He's averaging a little over 5 innings per start, has a WHIP of 1.607, a 5.46 ERA, a K/BB ratio of 0.95, and an ERA+ of 78.

For anyone who doesn't know what each of these stats mean, allow me to summarize: he's been awful. Really, incredibly awful. He has been awful this season, he's been awful since 2004 and there's no logical conclusion that he will ever cease to be awful.

Why is he stioll getting innings at the expense of Phil Hughes? At least if Hughes was putting up those terrible numbers, one could see the reasoning: Hughes is a part of the Yankees future. Giving him major-league innings is a step toward his development. Same thing for Ian Kennedy.

When Joba comes back (and I suspect he will soon, judging by the reports) my guess is the Yankees choose not to remove Ponson from the rotation and instead send Rasner back to the bullpen.

I'm going to attempt to be as clear and concise as my currently seething mind can possibly be at this very moment: Release. Ponson. Now.

He. Is. Not. Good.

Labels: ian kennedy, joba chamberlain, lupe's bf, phil phranchise, pitching rotation, pitching woes, roster moves

posted by Mr. Faded Glory @ 9:58 AM 1 comments


---
The Season Boils Down to the Next Week and a Half
The Yankees enter play today 10 games out of the East. We can pretty much forget about that, for all intents and purposes. The hope here is the wildcard.

Currently, the Yankees stand 5.5 games behind Boston, and 4 games behind Minnesota for the wildcard, with 38 games left to play.

Boston has 2 more games at Baltimore, 3 at Toronto, then come to the Stadium for 3 against the Yanks before heading back to Fenway to take on the White Sox.

The Twins play the AL West: they have two more at home against Oakland, and then have a 4-game stretch at Anaheim against the Angels, 3 in Seattle, and 4 at the A's.

The Yankees have 3 games at Toronto, 3 at Baltimore, and then come home for 3 against both the Red Sox and Jays.

For the Yankees to have a realistic shot at making a real push, they're going to need to get hot, and fast.

Let's say they can go 4-2 over the next 6 vs. Toronto and Baltimore. In order to gain ground of course, the Sox and Twins will have to lose. Assuming they both simply play .500 ball, that's still only a game to a game and a half gain in the standings.

The bottom line here is to avoid needing to sweep the Red Sox next week, the Yankees will need to pick up a minimum of one game - preferably two - before the series with Boston begins on the 26th.

The Yankees' fate isn't in their own hands this year. They need to win games and also have other teams help them out.

A bad couple of series over the next week or so though and the season is over.

This is despite what notirious Yankee hater Jeff Passan has to say over at Yahoo!
Labels: jeff passan, playoffs, redsox, standings, twins, wildcard, yahoo
posted by Mr. Faded Glory @ 1:13 PM 0 comments


---
Well, it's About Time.
Melky has been demoted to AAA.

I don't see Gardner as the next Bernie Williams, but could he really be any worse than .242/.296/.337? Melky has never once in his career been a league average hitter and has gotten worse every season.

If only they'd traded him a year or more ago, like I said they shoudl have.
Labels: brett gardner, melky cabrera, roster moves
posted by Mr. Faded Glory @ 2:43 PM 0 comments


---
Wednesday, August 13, 2008
Just Blow Up the Team Already
Labels: seriously someone blow up the damn team
posted by Mr. Faded Glory @ 1:52 PM 0 comments


---
Over and Dunn
My annual quest for the Yankees to get Adam Dunn appears to be over in 2008 as well. Yes, I know Dunn strikes out a lot. Yes, I know he's not the best defender in the outfield. He's capable at first base though, and would make an ideal DH/1B/occasional OF guy, and strikeouts don't bother me that much when a guy has a career OBP of .380 and SLG of .520.

Cincinatti writers and to some extent the main stream national media tend to throw him under the bus because his batting average can be unimpressive (.247 career). Any regular reader here knows what I think about two of the three "triple crown" stats (yes, I'm OK with home runs).

Anyway, Dunn was traded to the Diamondbacks for a Happy Meal and some used batting gloves yesterday. Unless the 'back claimed Dunn on waivers (which they would have the opportunity to do since they're a National League team) before the Yankees could, I think Cashman missed the boat here. Matsui may or may not come back, but how much better does this look:

CF Damon
SS Jeter
RF Abreu
3B Rodriguez
1B Giambi
LF Nady
DH Dunn
C Rodriguez
2B Cano

Than this, from last night?:
Christian LF
Jeter SS
Abreu RF
Rodriguez 3B
Nady DH
Cano 2B
Sexson 1B
Rodriguez C
Cabrera CF

Oh yeah, and his line for 2008 w/ RISP and 2 outs? A highly impressive .222/.462/.750 1.212.
Labels: lineups, the big donkey, trades
posted by Mr. Faded Glory @ 2:16 PM 0 comments


---
Joel Sherman and I Completely Agree: Demote Melky
I know I've been saying for, oh about two years now that the Yankees should trade Melky Cabrera because his value in a trade was higher than his major league projections. When I heard teh YES guys go apeshit over Damon on the bench and Christian in the field, immediately I thought to myself "they're avoiding the really big issue here." I'll let Joel take it from here:

The Yankees were held scorleess against the Twins to open a three-game series. It marked the 38th time that the Yanks scored two or fewer runs. That is the second most in the AL. This was the team that was supposed to lead the majors in scoring with 900-plus runs. Instead, they are on pace for 775 runs. They have big problems getting clutch hits and it might be that there is no remedy to unleash a breakout and save this Yankee season. But I think the Yanks should at least try and one way to do that would be to send Melky Cabrera to the minors. He simply is not having competitive at-bats. The YES announcers made a big deal that the AL's leading hitter, Johnny Damon, wasn't playing on Monday night, but Justin Christian was. Forget Christian.

Cabrera began the game with a .221 average against southpaws. However, whichever side Cabrera is hitting from, he hardly ever makes solid contact. He has three extra-base hits since the All-Star break, two RBIs and two walks. If I ran the Yanks, I would bring Brett Gardner back up and have a lefty-righty possibility in center with Christian. But I certainly would run the injury/defense risk by playing Johnny Damon more in center to get a better offensive lineup. And I would hope real soon that Hideki Matsui can play again, and you could have Matsui as the DH, Damon in left and Jason Giambi at first, and hope that jump starts the offense.

Last year, you could say the Yankees had no one else who could play center, but I'm with Sherman - Damon can handle this in the short term, or a platoon of Gardner/Christian with Damon in the mix. Melky is bringing absolutely nothing to the table right now. Look, the Braves demoted Jeff Francoeur earlier this season to try and get him back on track, and Franceour had a much better major league track record than Cabrera. To me, Melky has always projected to be a 4th outfielder. People send me messages and posted comments earlier thsi season when Cabrera led the team with 8 homers to me saying essentially, "See? You were wrong about Melky. He's the next Bernie Williams!"

Melky is not the next Bernie Williams. He's the next Gerald Williams, and that's not even close to good enough to be playing everyday for this team.

Labels: lineups, melky cabrera, roster moves

posted by Mr. Faded Glory @ 12:07 PM 0 comments


---
More Manny Musings
The more I think about it, what really amazes me is the Dodgers. They have two young OF who project really well currently in the majors, who are cheap and under control for many years and still have options left, and the Sox didn't get either Ethier or Kemp, one of whom is all but guaranteed to be banished to Torre's "sorry you're not a veteran" spot on the bench or sent down to the minors. The Dodgers now have 5 OF who could start: those two, Manny, Pierre, and Jones.

Do you really think the Dodgers would have balked had the Sox asked for Ethier in the deal? Jones is signed through next year, Pierre through what seems like 2015, and my guess is they'll make a run at re-signing Manny next season (but my guess is he winds up on the Mets) and Kemp is considered the better young player.

Why wouldn't the Sox at least have gotten "Papi insurance"? Now, when Ortiz gets hurt, he's replaced in the lineup by Coco Crisp. A smarter move would be to get Ethier, send him to Pawtucket if need be to get him playing time, and if Ortiz can't play get Bay the butcher out of left field and into the DH spot where he belongs.

It's just a thought, but I really can't fathom why the Sox couldn't have gotten a bit more for one of the best right handed hitters of all time.
Labels: dodgers, manny being manny, redsox, trades, trading deadline
posted by Mr. Faded Glory @ 9:47 AM 1 comments


---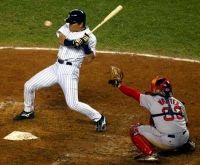 L I N K S
---

P R E V I O U S
P O S T S
A R C H I V E S
---

C O N T A C T

---

---

Subscribe to High and Tight via your favorite RSS reader: