Theo is a Genius!
At least, that's how the Boston press and the brainwashed masses of Mass. will spin this trade.

Let's see... Manny Ramirez, career OPS+ of 154 (with a 140 now in what the Boston press is calling a "down year/decline phase") plus $7M plus two decent prospects in Branson Moss and Craig Hansen for..... Jason Bay??

Bay's a good hitter (career 130 OPS+) but his career high OPS+ is lower than Manny's average.

I can't believe I'm saying this either, but Bay's defense will make Sox fans reminisce about the days of Manny the Butcher in left. Bay is terrible defensively.

Now, Bay is under contract for another season at a reasonable $7.5M, but this almost seems like a desperation move. Did the Sox really need to include two prospects with Ramirez to get this done?

The best part for LA is that Manny has agreed to decline arbitration, guaranteeing the Dodgers two first round picks whether or not he re-signs with the club.

This makes the Dodgers better of course, but why they're dealing for yet another overpriced outfielder without jettisoning one of their own (of course, the Jones and Pierre contracts would force LA to eat most of the contracts) is beyond me.

Great deal for LA, even if their outfield is overcrowded, great deal for the Pirates who seem to have finally moved beyond the Dave Littlefield mantra of asking way too much for his veterans and thus not dealing them at the deadline and re-stocking, and a terrible move for the Red Sox in 2008.

At least Joe Torre gets to go back to his old favorite habit of benching young talent in exchange for "proven veterans" again.

If anyone needs an example of why Cashman doesn't get enough credit for his great moves, take a look up north and look at the alternative "genius."

I'll end this post with perhaps the most observant thing Ramirez has ever said:

"The Red Sox did the same with guys like Nomar Garciaparra and Pedro Martinez, and now they do the same with me. Their goal is to paint me as the bad guy. I love Boston fans, but the Red Sox don't deserve me. I'm not talking about money. Mental peace has no price, and I don't have peace here."
Yes, Manny's gotten a pass for years from the media in Beantown for things that would get Alex Rodriguez hung by his nuts in Central Park, but this does seem like another case of the Boston media in conjunction with Red Sox management (who share ownership with a certain Boston paper) running a guy down in the press to make the team look good.
Labels: dodgers, manny being manny, pirates, redsox, trades, trading deadline
posted by Mr. Faded Glory @ 3:10 PM 3 comments


---
It's Time for Some Scranton Call-Ups
Ponson is awful. Rasner's been better, but not much. The Yankees need to make a move to solidify the rotation, and kids, it shouldn't be Jarrod Washburn. Chad Jennings reports on the recent activities of a certain Yankee who wants another shot:

Ian Kennedy's past three starts: 20 IP, 7 H, 3 R, 2 ER, 4 BB, 14 Ks.

Manager Dave Miley said tonight was the best Kennedy's curveball has been since his return from the disabled list. Kennedy had talked earlier about working on that pitch, and it seems to be helping. He said he was missing up in zone during the first inning tonight -- hence the two walks -- but he started concentrating on first-pitch strikes and that really helped. The kid is really dealing lately.

Kennedy's been pitching better than Ponson. He's got a higher ceiling than Ponson. He fits into next year's plans, while Ponson does not. What's the holdup here?

One other bullpen note:

As for Brian Bruney, he was practically sitting at 95 mph tonight. He had a few pitches at 94 and 93, but I really think I saw more 95s than anything else. I asked if he felt stronger tonight than he has in previous rehab outings and Bruney basically said that if the Yankees say they want him throwing harder, then he'll throw harder.
The bullpen's been great, but Bruney could help make it even better. The problem is, whose place can he take? Rivera, Marte, Farnsworth, Veras and Ramirez aren't going anywhere, which leaves Giese and Robertson. While Robertson has mostly pitched well despite two poor outings that inflated his ERA, he's probably the one to go. Giese has also performed well and is more of a long man in the bullpen, which is something the club can still use at this point.

Labels: brian bruney, dan giese, darrel rasner, david robertson, ian kennedy, lupe's bf, roster moves, scranton

posted by Mr. Faded Glory @ 9:44 AM 2 comments


---
Why All The Talk of Washburn Replacing Rasner?
Besides the fact that I think acquiring Jarrod Washburn is short-sighted and ill-advised, why in the world do media types keep insisting he'd replace Rasner in the rotation instead of Ponson?

(T)here are reports that Jarrod Washburn of the Mariners could be joining the Yankees. The cost: another minor leaguer. Washburn (5-9, 4.50) is not the ace he was six years ago, but he's a good replacement for Darrell Rasner at the back of the rotation, another little piece of the puzzle that would seem to fit well as the Yankees make a run in the AL East.
The proper one to be jettisoned from the Yankees rotation - for Washburn, Dan Giese, a minor leaguer, Dave Eiland, or any contestant in the 2008 Miss Universe pagent - is Sidney Ponson. It's been well documented how strongly against this signing I was in the first place, and hoped it was only for a couple of starts, but as bad as Ponson had been before the trade, he's been even worse after it.

2008 Stats, with NYY:
Ponson: 26.2 IP, 38 H, 28 ER, 12 BB, 12 K, 6.08 ERA, WHIP 1.88, ERA+ 68
Rasner: 72.7 IP, 87 H, 39 ER, 22 BB, 48 K, 4.83 ERA, WHIP 1.50, ERA+ 86

Sure, Rasner hasn't been amazing, but that's serviceable from a 5th starter and he has a much higher ceiling than Sir Sidney, who hasn't posted an above-league-average ERA+ since 2003.

I still don't want to Yankees to deal for Washburn, especially because he's signed through next year and severely limits the other options for 2009 (Chamberlain, Mussina, Pettitte, Hughes, Wang, Kennedy just as a few possibilities) from making the rotation or long relief roles. That doesn't mean, however, that Ponson should still be on this club.

Two obvious replacements for Ponson were sent to the Pirates last week in Jeff Karstens and Dan McCutchen, but that doesn't eliminate some others. Is Jeff Marquez ready (assuming he's healthy)? Steven White doesn't appear quite there yet, and Kei Igawa slipped through waivers over the weekend and thus is off the 40-man roster, which would prompt a move to recall him. Alan Hornw couldn't do worse than Ponson, could he? Alfredo Aceves has shot up through the system this year.. he could be worth a shot. Lest we forget, Ian Kennedy is all but ready for a recall, and he's already on the 40-man.

Now I'm aware Kennedy didn't exactly impress in his early season tryout, but besides the fact that some of that could be attributed to injury, he still pitched better for the Yankees than Ponson has (albeit barely). Wouldn't he appear to have a higher ceiling? Well if he doesn't, the Yankees need to fire their entire scouting staff.

Release Ponson before he can start again, and bring someone up to start or replace Geise in the bullpen (Chris Britton is still alive, you know) and move him to the rotation, or look for a guy whose contract expires at the end of this year and won't be very costly.

There's no excuse to keep running Ponson out there every 5th day.

Labels: darrel rasner, ian kennedy, lupe's bf, roster moves, scranton, trade rumors

posted by Mr. Faded Glory @ 1:59 PM 0 comments


---
More Ridiculous A-Rod "News"
I would have written something about it, but Karen already did and I don't think I could top her take.
Labels: a-rod, douchebag, mediots, yankee chicken
posted by Mr. Faded Glory @ 11:26 AM 1 comments


---
OK, They're Really Stretching the A-Rod News Now
Really, New York Post?

ALEX CAUGHT LOOKING AT A 'CURVE'
By ERIC LENKOWITZ

A-Rod kept his eyes in the zone - in this case, the backside of a brown-maned beauty - as he strolled through Midtown yesterday.

The slugger eventually caught the eye of the object of his apparent desire, who turned around for a flash of A-Rod's famous smile.

He had just left trendy Serafina on West 55th Street, where he was having lunch with pals, prompting passers-by - including CBS News anchorwoman Katie Couric - to marvel at who was getting all the attention from the press inside the eatery.

"Who's that? A-Rod?" Couric cracked to photographers outside.

When told yes, she strained to see him through the window. He motioned for her to come inside, but she waved him off.

Later, Rodriguez spoke about his pending divorce from wife Cynthia.

"I just believe in the good Lord and that He'll get me through these challenging times," he said.


A KEEN EYE: Alex Rodriguez's eyes pop as if he's just been thrown a hanging slider while trailing this lovely lady yesterday.


GOTCHA! She finally turns around and catches the Yankee slugger smiling as he checks out her accessories.


HOW IS THIS NEWS???

tip of the hat to Alex for the link (no, not that one, another one)

posted by Mr. Faded Glory @ 3:26 PM 2 comments


---
Does Anyone Think this ESPN "Titletown" Thing is Anything Less than an Excuse to Crown Boston?
It's almost as stupid as last year's "Who's Next?" competition.

Seriously though, it's obvious it's a setup to give Boston the title. Besides it being stupid and me not caring at all about the results, when the inevitable happens it will simply go to further show ESPN's love for Beantown.
posted by Mr. Faded Glory @ 3:09 PM 0 comments


---
You Have to Give Credit to Tito
Terry Francona treated the All-Star game at Yankee Stadium with great respect for the fans and the city.

He removed A-Rod in the middle of an inning so he could get fan recognition, and then did the same for Jeter. He brought in Mariano Rivera after Frankie Rodriguez got an out so that he could get the huge ovation, and it would be televised.

He did everything right. I've never really had a problem with Francona - people tend to think all Yankee fans hate anything Red Sox related, but Francona has never been anything but classy.

It's his catcher, closer, injured big mouthed starter, non-injured big mouthed starter, and left fielder with whom everyone has the problem.
Labels: all-star game, redsox, terry francona
posted by Mr. Faded Glory @ 10:05 AM 3 comments


---
Yahoo! Sports Never Fact-Checks Anything They Publish
Besides the fact that Papelbon is acting like a complete asshole, making it seem fine that he "defers" what he considers his right to close the All-Star Game, Yahoo! can't even get their story straight:

Rivera, third on the all-time career list with 466 saves, and ninth in the major leagues this season with 23, would be a hugely popular choice to close for an AL team managed by Red Sox skipper Terry Francona.

Papelbon, however, stands first in the AL and second overall with 28 saves.

It's not like Yahoo! had to go far to fact-check this - at the top nav bar on that same page, there's a "stats" link. (Not that I needed it; everyone who follows baseball regularly knows that Francisco Rodriguez is on pace to smash the single-season saves record).

Papelbon is tied for 2nd in saves. He doesn't lead the AL - he's 10 behind. I'm not sure if Yahoo! let this slip because they don't check facts, or they thought it would help Papelbon's case (conspiracy theory!), or if they simply saw "LA" next to Rodriguez's name and figured him to be a Dodger.

Either way, it's sloppy journalism and I can't believe this Yahoo! crap is still happening.

As for Papelbon, he really needs to shut his mouth. He's quickly replacing Curt Schilling as the Boston player that most makes the team look like a bunch of arrogant fucktards.

Rodriguez has much more claim to close the game than you do, and he hasn't said a peep about it. You think winning the World Series gives you as an individual the right to close the All-Star game the following season? 2007 is over, moron. What your team gets is their manager running the dugout and making some player selections. That's it. Now shut that anus-shaped mouth of yours and go back to dancing that faggy little dance you like to do so much.

Labels: all-star game, mariano rivera, papelbon, redsox

posted by Mr. Faded Glory @ 4:46 PM 0 comments


---
CBS Sportsline Officially Hires Red Sox Nation as Columnists
What's the matter CBS, were you feeling a little jealous that for years ESPN had the market cornered on Boston bias?

Well, not to be outdone, here comes this beauty of an article by some douchebag named Scott Miller, where he chooses a team of "Anti All-Stars." This is of course something he never defines, and is just a list of people and players he hates.

Oh, check out the front page:


New York nearly has the Anti All-Star market cornered. (Getty Images)
Egomaniacs. Sulkers. Posers. Alleged studs stinking it up (one so bad, he just got cut). This edition of the Scott Miller Anti All-Star team even has an announcer still in love with the image of himself in uniform.

Everyone notice that Paul O'Neill made the 2008 Anti All-Stars? Good. Let's run down this idiot's picks, position by position:

Catcher: Staff, San Diego Padres.
Not going to get a big argument here - the Padres catchers are terrible. They can't hit and can't throw anyone out. I might have considered Varitek here because he also can't hit or throw anyone out AND he made the All-Star team. The Padres catchers as a whole are .188 /.266/.260, which is awful. Varitek is at .220/.300/.360, and has only thrown out 24% of runners.

First base: Richie Sexson, free agent.
The guy just got released, and fought with a teammate. OK.

Second base: Rickie Weeks, Milwaukee.
Yeah, so Weeks hasn't been great. What did you expect? He has a career OPS+ of 95, and he's got an 82 so far this year. The guy has never had a breakout season. He's a little down, but not outside of the realm of what's expected.

Shortstop: Jose Reyes, Mets.
Yeah, what a piece of shit. How many teams would love a shortstop with a 100 OPS+, 9 HR and 32 SB right now, at the break? I'll give you one: the Yankees. In his other article about All-Star picks, of course Miller chose Jeter. Jeter must perform out of sheer force of will, because the slam on Reyes here is that he doesn't utilize his talent and doesn't try and is a crybaby. The two things he's accused of crying about? A muffed play, and being taken out of a ballgame. If Jeter did that he'd be praised for leadership and for being a gamer. Oh yes and keep in mind that personally, I cannot stand Jose Reyes.

Third base: Alex Rodriguez, Yankees.
Has played stellar defense. Has a 164 OPS+, which at year's end would be the third highest in his career. OPS is at .992. Passed Mickey Mantle on the all-time homers list. Oh, but his agent opted him out during the World Series (thus distracting from precious Red Sox moments for Mr. Miller). And on top of that, he's getting a divorce. WHAT A DICK.

Left field: Paul McAnulty, San Diego.
I had to read this one twice. Seriously.. Paul McAnulty? Admittedly the Pads should have started the year with Chase Headley in the majors, but the most "Anti All-Star" left fielder you can come up with is... Paul McAnulty? He'd never played in more than 22 games in his career and was given a shot because of his good spring. It didn't work out. Who seriously expected Paul fucking McAnulty to set the world ablaze with his stellar bat and radiant glovework? Could there possibly be another person who would better fit this team?

What about Manny Ramirez? Miller takes players to task right and left for fighting with teammates (Reyes), attacking team officials (Chacon - he's coming), slumping terribly (Weeks) and acting like they don't want to play for their teams (Rodriguez). Manny has repeatedly asked to go to Boston's arch rival, fought with team spirit mojo genie Kevin Youkilis, has been downright awful at the plate and in the field recently, and pushed a team official to the ground. As I stated in previous posts, I knew the media would ignore this. Here's yet another example.

Center field: Andruw Jones, Dodgers.
Ned Colletti should be blamed here for signing Jones to a ludicrous contract one year after signing another crappy centerfielder (Juan Pierre) to a ludicrous contract. But yeah, Jones has been awful.

Right field: Paul O'Neill, Yankees.
The dude leaves Manny off his list, and then has to go back into Yankee history to pull up one of his old hated players. The reasoning given? Miller claims O'Neill said on the air that he found it surprising that anyone (LaTroy Hawkins) would be wearing his old number when the fans were getting on Hawkins. This is, of course, not true. O'Neill said he had no opinion on the subject. While I think O'Neill should have said more, what Miller attributes to him is a complete fabrication.

Designated hitter: Jose Vidro, Seattle.
Why the Mariners ever thought it was a good idea to have Vidro as their DH for years now is beyond me. Might explain why everyone just got fired though, huh?

Starting pitcher: Shawn Chacon, free agent.
Chacon attacked his GM. Attacking GM? Capital offense. Attack a 65 year old team official/travelling secretary? Glossed-over.

Closer: Eric Gagne, Milwaukee.
Gagne is done. We all knew that. Well, everyone except the Brewers, who gave him $10M to stink up Miller Park. I'd also have considered Trevor Hoffman, who many (not I) expected to do well in the closer's role.

It's fairly obvious Miller has an agenda, it just would have been nice if he titled the article "The 2008 Guys I Fucking Hate-Star Team" instead.

Labels: a-rod, cbs, douchebag, manny being manny, redsox, scott miller

posted by Mr. Faded Glory @ 2:15 PM 0 comments


---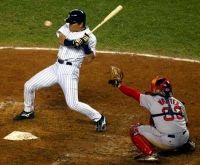 L I N K S
---

P R E V I O U S
P O S T S
A R C H I V E S
---

C O N T A C T

---

---

Subscribe to High and Tight via your favorite RSS reader: