Wednesday, March 26, 2008
George King Regains Title as Stupidest Mediot
The New York Post has printed George King's season preview. I swear, the Post must just employ people because they want to outrage readers, or because they have naked pictures of the editors in precarious positions. Either way, here are some more gems from El Rey de los Idiotas. He starts off wrong right from the title, YANKEES' PLAYOFF STREAK COMING TO END, and continues through the justifications:

Against Hank Steinbrenner's wishes, the Yankees allowed Johan Santana to slip into Queens.
First Base: A year ago the Yankees did their best to keep Jason Giambi away from here. This time, he is easily the best player at the position in the final season of a seven-year deal
Last year, Giambi was easily the best player as well if he's the best player now. Were Andy Phillips, Josh Phelps and Doug Mientkiewicz reall that much better than Shelley Duncan and Morgan Ensberg? Considering Phillips and Phelps were both waived and Mientkiewicz is trying to catch on as a backup, I'd say... no.
He then goes on to praise Melky, Jeter, Cano, A-Rod, heap accolades on Abreu (who he says is going to the Mets(?) next year), Posada, and Matsui, and says that Damon will be somewhat challenged, but the bench is pretty strong. OK, that doesn't sound negative/postseason armageddon, right? Then, he does it. He drops the most asinine comment I may have ever read from a sportswriter:
Moving Chamberlain in front of Rivera was not only the right move for 2008, but forever. Finding somebody to dominate the seventh and eighth innings is harder than discovering a fourth and fifth starter.
Let's take a look at that comment: Joba's ceiling is a 4th or 5th starter. Keep in mind he was called one of the best pitching prospects of the past 10 years by Baseball America, ahead of Josh Beckett and Mark Prior. However, George King's superior scouting ability has him as a 4th or 5th starter, at best.
Now move on. Finding somebody to dominate the seventh and eighth innings is harder than discovering a fourth and fifth starter. Finding a set-up guy is harder than finding a starter. Finding a complementary bullpen piece is harder than finding a starting pitcher. Finding a guy who can throw 80 effective innings is harder than finding a guy who can throw 200.
If this were the case, you would think that reliever's salaries would dwarf those of starters, wouldn't they? It's odd then that the setup market is capped at around $4m/year, while guys like Carl Pavano are pulling down $10M per.
Can George King actually believe it's harder to find relievers than starters? A reliever needs but two pitches - a starter needs about four. He wants to cap Chamberlain's innings at 80/year for his entire career.
Johan Santana - who you chide the Yankees for not getting - used to be a reliever. Should he have stayed in the pen, Mr. King?
Ok, so let's assume the Yankees do need Chamberlain in the 'pen, as King says. That much mean the rotation is in perfect order, right?
Rotation: Welcome to the biggest question mark in the Yankees' universe. Santana would have answered a lot of problems. With Wang and Pettitte (if healthy) the Yankees should be OK. If either misses extended time, the Yankees are kaput. Mussina had a good spring, but nobody can predict what Hughes and Kennedy are going to deliver.
So, let me get this straight... King wants to take Chamberlain, the highest rated prospect in the Yankees system, out of the rotation and put him in the bullpen, but the rotation is too shakey to withstand any injuries? What kind of sense does that make? Add into it that he wants a converted reliever who he considers the best pitcher the Yankees could have in the rotation.
Final prediction: 90-72, second in AL East. Last game of the year is Sept. 28 in Boston.
I'm sure he just pulled the record from his butt, and didn't take into account that Boston actually has more pitching rotation questions than the Yankees do right now, without Schilling and Beckett to start the season and have to rely on ... (wait for it...) an aging veteran and a couple of kids. Oh, and Boston's incredibly hard to find set-up guy? He was an afterthought castoff from the Japanese leagues.
Labels: douchebag, george king, joba chamberlain, mediots
posted by Mr. Faded Glory @ 11:34 AM 2 comments


---
qotd
"Juan Pierre hit zero home runs last year. Mythical fairy creature David Eckstein hit three, for Chrissakes, and he swings a three-inch bat carved out of a candy cane."

FJM
posted by Mr. Faded Glory @ 10:21 AM 0 comments


---
Jeter Takes an "Unnecessary Ultraviolet Broil"
Did anyone see the guy was.... sunbathing?? Hopefully Jay Greenberg is right on top of this one.

As the Post has taught us, such things are bad for your team, show a lack of preperation, and are an insult to children and puppies everywhere.

However maybe it's not a bad thing when instead of your wife and baby, you take a beer and a bottle of vodka with you.




Oh well, I'm sure somehow, they'll all blame A-Rod:

Labels: a-rod, derek jeter, mediots
posted by Mr. Faded Glory @ 9:31 AM 5 comments


---
Wednesday, March 19, 2008
Is There Really Any Doubt Anymore that Torre Had to Go?
The number of players - relievers, mostly - finally coming clean on the ineptitude of St. Joe is growing daily. Take a look at these comments by Scott Patterson:


Following a phenomenal season at Class AA Trenton last season in which he posted an outstanding 1.09 ERA in 43 games and was voted by the Thunder fans as their favorite player, Patterson finds himself increasing his once long odds of making the Yankees' bullpen with each spring outing.

"He's been great," first-year Yankees manager Joe Girardi said. "We've brought him in during the middle of some innings and he's gotten us out of three or four really tough spots. He's done everything you could ask to rookie to do. He's impressed me."

The Yankees have been more receptive to using younger pitchers recently and rookie Joba Chamberlain played a large role in the bullpen late last season in rallying New York to the American League playoffs. With that in mind, Patterson believes he at least has a chance of going north with the major-league club.

"If Joe Torre were still the manager, my chances wouldn't be very good," Patterson said. "It's different with Joe Girardi in charge. He seems very willing to go with the best players, regardless of the experience. I don't know if I'm going to make it but I think I will at least be considered. That's all I can ask for."

Patterson is scheduled to pitch again today against Cincinnati at Sarasota. Girardi has been using Patterson early in exhibition games, giving him a chance to face opposing major-league hitters before mass substitutions ensue in the later innings.

Patterson had the chance to face major-league hitters during the off-season when he pitched in the Venezuelan Winter League and posted a 1.54 ERA for Lara in 20 games.
Labels: all hail girardi, bullpen, joe torre, scott patterson, torre is dumb
posted by Mr. Faded Glory @ 10:06 AM 1 comments


---
He's Still Probably Better Than Igawa
But seriously, WTF?


YANKEES TO SIGN BILLY CRYSTAL, STAR OF STAGE AND SCREEN,
AND INVITE HIM TO MAJOR LEAGUE SPRING TRAINING

The New York Yankees today announced that they will sign Billy Crystal, star of movies, television and Broadway to a one-day contract and invited him to Major League spring training.

Crystal will join the Yankees on Wednesday, March 12 to work out with the club at Legends Field in Tampa, Fla., and then play in the Yankees' game on Thursday, March 13 vs. the Pittsburgh Pirates at Legends Field. Commissioner Selig approved the Yankees' extension of the contract to Crystal.

Crystal, who will turn 60 years old on March 14, will don uniform No. 60 with the Yankees. He has created one of the most versatile and prolific careers in the entertainment industry, finding success in front of the camera, as a performer in film and television, and behind the scenes as a writer, director and producer. The Hollywood icon has starred in movies such as Running Scared, Throw Momma from the Train, The Princess Bride, When Harry Met Sally, City Slickers, Mr. Saturday Night, Forget Paris, Hamlet, Deconstructing Harry, Analyze This, Monster's Inc. and America's Sweethearts.

"I've been waiting 50 years for this call," Crystal exclaimed. "I'm overwhelmed by the generosity of the Yankees and Commissioner Selig. I know this'll be tougher than the Broadway Softball League, but I'm looking forward to helping the younger players…which, by the way, is all of them. Oops, I have to go, Scott Boras is on the phone."

A captain of his Long Beach (N.Y.) High School baseball team, Crystal batted .348 in his senior season. He is regarded as one of the best baseball players in Hollywood today.

"The Yankees are excited to welcome the newest member of our team known for his humor and wit as well as his undying love for the Yankees," said Lonn Trost, Yankees Chief Operating Officer. "The Yankees are very grateful to the Commissioner's office for allowing us to extend this special invitation to Mr. Crystal."

In 2001, Crystal directed and produced the film *61 which chronicled the historic seasons of Yankees greats Roger Maris and Mickey Mantle as they sought to break Babe Ruth's single-season home run record. The film garnered 12 Emmy nominations including nods for "Best Director" and "Best Made for Television Movie" and also earned Crystal a prestigious Director's Guild nomination.

Crystal made his Broadway debut in 2004 with 700 Sundays, an autobiographical one-man play that became the highest grossing non-musical in the history of Broadway and garnered Crystal the Tony Award, Outer Critics Circle Award, and the prestigious Drama Desk Award. A dedicated human rights advocate, Crystal co-hosted, with Robin Williams and Whoopi Goldberg, all eight "Comic Relief" telethons on HBO which brought the plight of the nation's homeless to the public and raised over $40 million for housing and medical care for the needy.

A native of New York, Crystal has been married for 37 years to Janice, with whom he has two daughters, Jennifer and Lindsay, and granddaughter's Ella and Dylan. He proclaims himself to be a lifetime fan of the New York Yankees, idolizing Mickey Mantle during his youth.

Hey he's taking the risk, so I reserve the right to laugh uncontrollably if he gets injured. Will someone brush back Billy Crystal?

This whole idea is asinine.

Labels: billy crystal, wtf

posted by Mr. Faded Glory @ 11:27 AM 8 comments


---
Abraham Should Scold his Media Buddies, Not Just His Readers
Fair is fair, right? If you're going to scold your readers for something:
10:05 a.m., 3/4/2008:

I just flipped through the comments. I can't believe how many negative and generally ill-informed "fans" there are. Mike Mussina has won 250 games and pitched well last September. How he pitches on March 3 in Kissimmee is meaningless. By your logic, Johan Santana is a bum, too.

But I suspect these are the same people who "knew" the Yankees wouldn't make the playoffs last June. How did that work out?

Dan Shaughnessy of the Globe calls it the "Fellowship of the Miserable" and he's exactly right. The talk-radio culture and the internet has spawned this class of fan that hates everybody and everything.

I follow the traffic on my blog closely. It spikes when the Yankees lose or there is some problem with the team. Why is that? Aren't sports supposed to be fun?

Jeff Karstens threw five pitches on a broken leg for your team last season before he had to be helped off the field. Then he went to Taiwan to throw extra innings to get ready for the season, Then he showed up in Tampa in December to start throwing.

He throws three scoreless innings and the Yankee Panic Society dismisses that to focus on the 40 pitches Mike Mussina threw. Pretty grim. Try and have some fun, it's spring training and your team looks good.

6:10 p.m., 3/3/08:

I've been reading through the comments. Funny to see so many people wanting Mike Mussina executed at dawn because he pitched poorly on March 3.

Just so you know:

Mussina is not going to request a trade. Mussina is not going to the bullpen. Mussina is not going to be released.

Barring some sort of injury, he's going to start against the Blue Jays on April 3 as the No. 3 starter. Whether you or I or anybody else agrees with it, the Yankees are going to give him every chance to be part of their rotation.

As he said today, somebody has to suck up those innings.

For a veteran player, especially a pitcher, spring training results are meaningless. There are no scouting reports. Certain pitches are left in the bag. Pitch sequences that would be used in April are ingnored in March. It's about getting stronger and staying healthy.

The Yankees play Houston this season. You really think Mussina wants to give them something to go to school on?

Relax and enjoy the fact that your team has energy, youth and a bright future. Focus on how Dan McCutchen struck out Brad Ausmus or how Mark Melancon didn't let an error bother him in the ninth inning.

Sweating how pitcher performed on March 3 is a waste of emotion.


It's only right to call out one of your peers when they do the same:

This is the position the Yankees have put themselves in, praying that an ugly first spring training outing for Mike Mussina is not reason to start worrying about a need for Plan B.

After all, the popular notion that this season is all about the kid pitchers is somewhat misleading. By October it could indeed be the story line, but because the Yankees seem determined to protect Phil Hughes, Joba Chamberlain, and Ian Kennedy with strict innings-restrictions, they are going to need help getting there.

As such the three-run monster home run that Carlos Lee hit off Mussina Monday was enough to set off alarms - March or not - at least among Yankee fans.

Perhaps most significantly, Joe Girardi said he doesn't believe the Mussina from last September, whose fastball was being clocked regularly at 86 mph, is the Mussina who will pitch in 2008.

"I think he'll be 87 to 91 mph," Girardi said. "I think we'll see better velocity because I think his legs are healthier."

That estimate may be wishful thinking. You could probably get better odds in Vegas on Hank Steinbrenner never again second-guessing himself on not dealing for Johan Santana than on Mussina lighting the radar gun at 91 mph this season.

Oh and this image is run on two articles today (including this one), and in the paper:


Nice, Harper. Nice.

The point is, Abraham was 100% right with his comments, but it's too bad John Harper doesn't read his blog.
Labels: john harper, moose, peteabe
posted by Mr. Faded Glory @ 4:50 PM 1 comments


---
They're Finally Saying What I've Been Telling You for Years
Kyle Farnsworth has joined fellow bullpen mate Brian Bruney in repeating that Joe Torre had no clue how to manage a 'pen, and that he picked favorites (including when selecting a coaching staff):
Farnsworth:

After a year in which Farnsworth said he had communication problems with Joe Torre, the big right-hander is hoping for a better result under new manager Joe Girardi.

"It's tough when you lose the confidence of your manager," Farnsworth said Thursday. "You come in and prepare yourself day in and day out, and you have no clue about anything."

Farnsworth went 2-1 with a 4.80 ERA in 64 games last season, but never threw more than one inning in an outing. He pitched in consecutive games just five times, and three straight days twice.

"I don't know how that came about," he said.

Farnsworth battled occasional problems with his back last season, yet said he could have pitched on consecutive days more often. His back has not been an issue this spring.

Girardi played with Farnsworth with the Chicago Cubs, which is giving
the pitcher a comfort zone.

"It's definitely good to have," Farnsworth said.


Bruney:

[Bruney] believes the changes on the Yankees' coaching staff - particularly Dave Eiland taking over as pitching coach for Ron Guidry - have helped him focus on the task at hand rather than worrying constantly about the consequences of a bad outing.

"I formed a relationship with Dave where he's easy to talk to," Bruney said. "In the past, I might not have had that relationship; I didn't talk to Gator."

Bruney also admitted to a level of fear in playing for Joe Torre, who was constantly criticized in recent years for overusing certain relievers.

"With Torre - and I'm not trying to bad-mouth anybody - sometimes you would go out there and try to be so good because you were scared of doing bad," Bruney said. "You can't pitch like that. (Joe) Girardi understands that you make mistakes - and I'm going to make them."

Girardi admitted to never hearing of Bruney before last season, but he isn't taking anybody's word when it comes to reputations.

On Aug.7, the Yankees sent Bruney down to Triple-A to open a roster spot for Chamberlain, a move Bruney didn't take well. He returned a little more than two weeks later when Ron Villone went on the disabled list, but he allowed runs in five of his final six outings of the season, prompting Torre to leave him off the playoff roster.

"I used to dread coming to the park," said Bruney, 26. "I enjoy getting up every day and coming to the field now."

"In years past, I was like, 'I can't ever go bad, because if I don't do good, I'm going to get sent down,'" Bruney said. "That means a salary cut, having to move. All that stuff becomes a big jumble in your mind. Now, it's easy to play.

"I'm not scared to fail."

You really didn't have to be a genius to see this was happening. Too bad the media largely ignored any mistakes by Torre until after he was long out the door.

Labels: all hail girardi, brian bruney, kyle farnsworth, torre is dumb

posted by Mr. Faded Glory @ 4:41 PM 1 comments


---
Feel Free to Make Your Own Jokes


Jonathan Papelbon got gussied up in a black lace shirt for a private dinner benefiting the Mike Lowell Foundation on Saturday night. Papelbon, who declined an invitation to be on ABC's "Dancing with the Stars," and teammates Dustin Pedroia, Alex Cora, and Lowell, danced in the Cuban-themed "Dancing with the All-Stars" event.
(AP Photo)
Labels: papelbon, questionable sexuality, redsox
posted by Mr. Faded Glory @ 10:50 AM 4 comments


---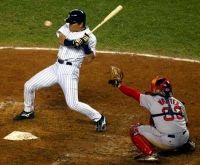 L I N K S
---

P R E V I O U S
P O S T S
A R C H I V E S
---

C O N T A C T

---

---

Subscribe to High and Tight via your favorite RSS reader: