Jose Canseco: Staff Ace

I saw this interesting nugget this morning on the

San Diego Surfdawgs

website:

The Golden Baseball League announced today that former American League Rookie of the Year, MVP, and Home Run Champion Jose Canseco has agreed to contract terms with the league and will join the San Diego Surf Dawgs beginning Monday, July 3rd and will play in the game that night at 7:05 PM versus the Chico Outlaws in Chico, CA.

A press conference is scheduled for Monday, July 3rd at 2:00 PM at Nettleton Stadium, located on the Chico State Campus in Chico, California.

Canseco will have a dual role with the Surf Dawgs as he will become an every day Designated Hitter for the team, and will showcase his knuckleball as member of the team's pitching staff.


Canseco, 41, has had a spectacular professional baseball career. In seventeen big league seasons he was named Rookie of the Year and American League MVP, was selected as a member of six All-Star teams, and played in four World Series -- winning championships with the 1989 Oakland Athletics and 2000 New York Yankees. This will be his second stint in a professional Independent League. He previously played for the Newark Bears in the Atlantic League in 2001 and had his contract purchased by the Chicago White Sox.

"I'm excited to have Jose on the team, for both his playing abilities and for his veteran leadership," said San Diego Surf Dawgs Manager Terry Kennedy.

"We can use his offensive power to get us into the playoffs to defend our title, and I'm very interested in seeing him pitch to see if he can help us there as well."

A longtime sports and pop culture icon, Canseco's notoriety raised to record heights in 2005 with the publication of his autobiographical best seller "Juiced: Wild Times, Rampant 'Roids, Smash Hits, and How Baseball Got Big" that detailed steroid use in professional baseball. Now weighing a sleek 230 pounds, down almost 30 pounds from his playing days, he has agreed to be subjected to the GBL's tough drug testing policy that immediately expels any players found using steroids or illegal drugs. Last season nine players, out of over 200 tested, were terminated from the league for illegal drug use. "Jose will be treated consistent with all of our players regarding drug testing," added Outcalt.

Canseco will be playing for the league maximum of $2500 per month. He will also be entering into a marketing agreement with the Golden Baseball League which includes a special

Jose Canseco apparel line

and interactive events with fans and kids at all of the League's ballparks.


This should be even more fun than watching Rickey Henderson loaf after balls and not run out grounders last year. As a San Diego resident, I am very excited to see Canseco give up nine earned runs in the first inning.


posted by Mr. Faded Glory @ 4:14 AM 2 comments


---
Terrible Photoshop of the Day
Perfect for everyone to step on!
posted by Mr. Faded Glory @ 7:34 AM 1 comments


---
Who Wants To Bet Me...
... that the articles in tomorrows paper about today's dramatic, come from behind win punctuated by the Alex Rodriguez 2 run home run are full of backhanded compliments thrown in A-Rod's direction?

Hell, I will lay you odds.
posted by Mr. Faded Glory @ 2:15 PM 2 comments


---
David Justice is Wrong
The media has been all "ah-ha!"-ing themselves for the past couple of days because someone at the YES Network mentioned that perhaps Alex Rodriguez is not secretly known as Clutchy McCloseandlate. David Justice had
this
to say:
"Look at David Ortiz in Boston. When the game is on the line, everyone in that stadium knows that he is going to get a hit. They do not feel that way with the Yankees [Alex in particular] right now. The fans do not [have confidence] and they are frustrated because they know that he has the ability and the talent and they know that if he just raises and plays up to his level of play, the Yankees are going to win a lot of ballgames. Its more frustration and I think Alex is a sensitive guy and I think it is affecting him. It is even affecting him on defense. He has more errors this year than he had all of last year. However, I do not see him having a lot of quality at bats [in big situations]. It is as if he is in quicksand."
"It just looks like he is thinking about it, because when the game is 9-2, he might make it 9-4. When the game is 7-1, he might make it 9-1. But when its 2-2, late in the ballgame and the team needs a base hit to score a run, the numbers show that he has not been getting it done. That is where it gets frustrating. Look at Bernie Williams; he has raised his level of play. The veterans, Damon, Jeter, and Giambi are getting it done. However, the one that you need just because of his sheer talent and ability to carry a team on his back is Alex. He is not answering the bell, and that is what is so frustrating to the fans and I am sure to Alex. Everyone says, "He's going to come around". If he comes around in two weeks, where will the Yankees be between now and two weeks from now?"
Thanks to the always above par
waswatching
, here are some stats from earlier this week:


Justice's statements:
"When the game is 9-2, he might make it 9-4"
In those situations, he's hit .312/.312/.750, 1.062 OPS

"When the game is 7-1, he might make it 9-1"
In those situations, he's hit .385/.515/.682, 1.197 OPS
"But when its 2-2, late in the ballgame and the team needs a base hit to score a run, the numbers show that he has not been getting it done."
In those situations, he's hit .270/.407/.541, .948 OPS
Are his numbers better in a non-blowout? No, of course not, pitcher nibble a lot less when the game is led by one team by a large margin. Players tend to get better pitches to hit when there's a 6 or 7 run lead or defecit.
Is a .948 OPS good? Would you want a guy with a .948 OPS at the plate in such a situation? A-Rod has had less that a .948 OPS for the season six times in his 12 year career...and since he's always compared against the rest of his career, I'd take that .948 in that situation if I were a Yankee fan.
Maybe what Justice meant is that his "close and late" stats aren't good, but that's not what he said, and it's been repeated on Baseball Tonight and Mike and Mike in the Morning ad nauseum and nobody's questioned or probably even checked whether or not the "numbers show" what Justice said they show.
I like Justice, but he's really not the right person to be giving diatribes on statistical subjects. He should stick to things like chemistry, or what the hitter was thinking in a certain situation and leave the stats stuff for people who.. well, understand stats.
--------
8th INNING UPDATE: If anyone is watching the game currently, you realize that at either 2-1 Atlanta or tied 2-2 in the 8th inning, the following Yankees are:
Chokey McChokensteins:
Derek Jeter
Andy Phillips
Miguel Cairo
über-clutch:
Jason Giambi
Regular old clutch:
Alex Rodriguez
Bernie Williams
Sure, it's one inning in one game, but I'm not hearing much about sample size bandied around anyway. I''ll expect the Miguel Cairo booing and hate to begin tomorrow starting with Mike and the Mad Dog.
12th INNING UPDATE:
Unclutch:
Derek Jeter
Pretty Darn Clutch:
Jason Giambi
The King of All that is Clutch:
Alex Rodriguez
Does anyone else see how silly small sample sizes of arbitrary statistics are?
--------
On a side note, I've given Peter Gammons a lot of hell in this space (deservedly so). Let's hope he makes a full and speedy recovery so I can go back to picking apart his biased statements once again. It surely would make us both happy.
posted by Mr. Faded Glory @ 8:13 AM 3 comments


---
The Next Great One

If Phil Hughes is "the next Roger Clemens" then I think we've found the "next Lou Pinella."



In quick order, the manager: tossed his hat to the pitcher's mound; took a head-first slide into second; uprooted the base, showed it to Russell and tossed it, a la Lou Piniella; grabbed the resin bag and flung it to the right-field bullpen; confronted plate umpire Stephen Barga and kicked dirt on the ump's feet; kicked the batter's box lines; kicked dirt on the plate; went to his knees to further cover the plate by hand; fired four bats from the dugout; returned to "clean" home plate with contents of a water bottle; squatted in the umpire position in a mock glance toward the mound; and spiked the bottle on the plate.
"I thought the strike was over," Mikulik said. "When will the real umpires show up? That's what I want to know. Because that was an abortion. That was bad. The whole series was awful."
As Mikulik took the long walk to the right-field exit, sounds of a crying baby and then Hit the Road Jack blared over the P.A. system.
According to Legends officials, Mikulik then stacked a chair, two water coolers and a batting-practice screen in front of the door to the umpire locker room.
"I just wish the umpire's association would train their young men to have a personality," Mikulik said. "I could get two mannequins at Sears and umpire better than what I saw this whole series."
The manager was asked what he expected to hear when league president John Henry Moss calls.
"I already talked to John Henry. I've got that covered," he said. "This ain't my first rodeo. ... I didn't touch anybody. I never bumped anybody. ... I actually cleaned home plate for them, so they should give me a tip for that."
While conceding that he deserves a fine, Mikulik says that a suspension would be unwarranted.
"If it is, the two guys in the other room should be suspended for the way they carried this series," he said. "They should be suspended for abusing the game of baseball."



Watch the video here in a new window or click to play below.


I really hope this guy makes the bigs.

posted by Mr. Faded Glory @ 4:42 AM 0 comments


---
Gimme One Good Dose of Thunder

Peter Abraham has some notes on Philip Hughes and his development at Trenton today:






The Yankees now have a very big chip in the trading game. The question is whether they should cash it. Last night the right-hander carried a perfect game for four innings and a no-hitter for seven. Hughes is with Class AA Trenton and there were a pack of scouts at the game to watch him including several from the Washington Nationals. Hughes struck out eight and walked two in eight innings against the Connecticut Defenders. In his last three starts, Hughes is 2-0 with an 0.82 ERA. He has struck out 29 in his last 22 innings.If they wanted, the Yankees could have Alfonso Soriano right now if they were willing to deal Hughes. But, to me, it makes no sense.

Keep in mind that Sori is unsigned for next season and will want $13-$15 million a year.Hughes should be in Columbus after the All-Star break, in the Bronx in September and in the rotation next May. Not at RFK Stadium.



While I find Peter's prediction that Hughes will be in the majors this year and start next year in the Yankee rotation a wee bit optimistic, I do agree that there is absolutely no reason whatsoever to trade Hughes. It would be almost impossible to get value in return for him equal to what he should bring to the Yankees shortly and for a long time to come. He has dominated at every level of competition in professional baseball.


When he was drafted out of Foothill HS in Santa Ana, CA in 2003 with the 23rd overall pick, Yankees Senior VP Gordon Blakely said of Hughes, "he has everything we looked for, including his makeup. He's from a good background, a good family, and those things are important. To play in New York, you need more than good stuff, you need good makeup."

Makeup is important, but Hughes' stuff has also been filthy.

Coming into 2006, Hughes' combined minor league stats are as follows:
9-1, 2.07 ERA, 58 hits, 20 walks and 101 strikeouts in 91.1 innings, 0.86 WHIP. He's averages about 10 Ks for every 9 IP.

Hughes started 2006 in Class A Tampa, the Yankees' "premium" A ball team. All he did there was post a 1.80 ERA with 30 Ks and 2 (two!) walks in 30 IP. This granted him a call up to AA Trenton, and he's still impressing with the Thunder. He's only really had one poor outing (by Hughes standards, anyway) and has fanned 64 men in 61.1 IP with only 20 walks and posted an ERA of 3.18. Over his last three starts, in 22 innings Hughes is 2-0 with a 0.82 ERA and 29 Ks. He carried a no hitter into the 8th in his most recent start and really seems to have adjusted to AA. Thus far in the minors, he's been a man amoungst boys, but the Yankees are trying to be careful not to rush him too quickly.

Why would the Yankees sacrifice such a valuable and rare commodity as a homegrown ace? This is the New York Yankees, remember. How many aces have they developed from the system in the past 20 years? 30 years? Think hard. My answer: zero. Andy Pettitte was a fine pitcher, a good pitcher, but Pettite was never a dominant ace. Chien-Ming Wang has looked good, but is his ceiling as high as Hughes'? More than likely not. I see him more as a #2 starter at best, or a complimentary #3 starter in a very good rotation. Al Leiter was an ace in waiting, but injuries early in his career (as well as the Yankees trading him for Jesse Barfield) kept him from developing into the Yankee ace. The only dominant pitcher to come from the Yankees system since then has been Mariano Rivera, but he of course is not best known for his starts. I suppose you'd have to go back to the debut of current pitching coach Ron Guidry in 1975 to come up with the last time the Yankees have promoted a bonafide ace caliber pitcher from their system. That's a 31 year drought that Hughes can help end.

To trade him for a rental like Soriano, whom the Yankees can probably have for cash if they want him and are willing to wait until November, would be a huge mistake and a return to the policies of the 1980's. I'm still of the belief and holding out hope that the scouts were there to look at other Thunder prospects (and perhaps some from the Blue Jays system) because Nationals GM Jim (Beam) Bowden has repeatedly stated that he doesn't think that the Yankee system is "dry" and that it's "wet enough for him." If Hughes is off the table, there are other interesting prospects in Trenton.

Hughes turns 20 years old today. He still can't even buy himself a beer or play a hand of blackjack in Las Vegas, but he certainly is worth the gamble to keep him in a Yankee uniform for a long time to come.

Happy birthday, Phil.


----------


On another Thunder note, has everyone seen the Thunder's ridiculous mascot, "Boomer"?





What kind of retarded bird is that? It took me a while to figure out that he was wearing some sort of sunglasses and that the yellow parts weren't some kind of extra hands covering his eyes. He just looks... stupid.

What does some big blue bird have to do with "Thunder," anyway? It's been my experience that birds do not like thunder.

It's a shame too, because the Thunder have one of the coolest logos in the minors, in my opinion:



Wouldn't a Thor-like mascot not only make more sense, and be far less... stupid? It's like they bought the bird costume at a flea market and then gave him lame bolt shaped glasses to make it fit.

Maybe I should start a petition for a Thor mascot. I just might.

(Kudos to anyone who recognized today's article title, by the way.)

posted by Mr. Faded Glory @ 4:54 AM 3 comments


---
Rotation Shuffle

From Yankees.com:



With the Yankees' bullpen in a state of disarray, manager Joe Torre and pitching coach Ron Guidry have decided to rearrange the team's starting rotation.
With an off-day on Thursday, New York will insert Chien-Ming Wang in between Jaret Wright and Shawn Chacon. Wright and Chacon have had trouble getting deep into games in recent weeks, leaving the bullpen overworked on back-to-back days.




The rotation shuffle makes some sense. However, someone please let Ron Villone know that the bullpen is overworked. Over the past two weeks, he's pitched 2.1 innings over three games, and did not appear in the Nationals series. Oh, and of course, no earned runs allowed over that span. Due to the "overworked bullpen" and Rivera and Farnsworth not being available on Sunday, Joe Torre said during the pregame that Villone was "the closer" for the rubber match, and yet when Wang entered the ninth inning with a one run lead, Torre of course had Scott Proctor and Mike Myers warming in the 'pen.

posted by Mr. Faded Glory @ 4:28 AM 1 comments


---
I Read the News Today. Oh, Boy.

There are five Yankee articles in today's New York Post and Daily News other than the two dealing with the Johnson/Torre/beanball issue and suspensions.

Who wants to guess how many of these directly blamed Alex Rodriguez for yesterday's loss? Answer: four.

Here folks are your headlines and some choice quotes:

A-trocious
Rodriguez Isn't Rescuing Yanks
Slumping Alex Only Hitting Self
and, perhaps the kindest, A-Rod Failure is One of Many

They all mention how Rodriguez came up with the bases loaded and one out and struck out in the 8th inning.

However, only one of the four articles even mentions that Giambi came up with no outs and grounded into a fielder's choice, and Posada followed Rodriguez with a strike out of his own. No, the focus here is how "unclutch" Rodriguez is, and how this loss is mainly his fault. The fact is that A-Rod is a choker and that's all there is to it because that sells papers and the guy doesn't give sportswriters interesting quotes.

It's Rodriguez's fault because he only went 1-for-4 with a home run and an RBI. It's not Mussina's fault for surrendering 6 ER in his worst start of the season. It's not Giambi's fault for being 0-for-4, or Posada's fault for being 0-for-4, or Jeter's fault for being 0-for-3 and overrunning second base at a crucial moment to make the first out of what would have been a bases loaded, no outs situation.

In fact, look for the word "Giambi" in those artciles. Do a search. You'll see it only appears in the final one listed above.

No, this is on Rodriguez. He is paid $25M/yr to help his team win 162 games. Anything less is a failure.

The Daily News articles even contradict each other. Vic Zeigel states how the fans didn't boo Rodriguez until his 7th inning at-bat:



"The fans, a sellout crowd, didn't come to the ballpark to beat up on the third baseman. He was at the plate in the second inning - with five hits in 29 at-bats this home stand - and the only noise was applause, honest-to-goodness cheers. He grounded out. And struck out two innings later. When he led off the seventh, the Yankees were five runs behind, and Mussina was gone.
The crowd offered more cheers, and a sprinkling of boos, just to remind A-Rod that their patience was wearing thin."


Anthony McCarron however says he was booed all game:



"In a practice that's becoming as routine as the late-game appearance by "Cotton Eye Joe," Rodriguez gets hammered by boos nearly every time he makes an out. Yesterday, most of the 54,648 fans at the Stadium booed him after he grounded out in the second and fanned in the fifth."


Did Rodriguez have a great game? No, he didn't. Was he the one most responsible for the loss? Certainly not. Even if you lump him in with Posada and Giambi's failures, you have to at least mention the other two, right? I guess not.

The other lone article was defending Jeter for not defending Rodriguez in the press, and while everyone is throwing Rodriguez under the largest bus they can find, poor Jeter is such a victim of the press that amazingly his article is entitled "Jeter can't win with this crowd". The crowd referred to is the media... and Jeter's the one who can't win? Amazing. You'd think he hit a homer yesterday and then got buried for it.

posted by Mr. Faded Glory @ 5:02 AM 5 comments


---
At What Price an Outfielder?

Bubba Crosby's return is today, which means he may unfortunately become the regular right fielder. It doesn't appear Joe Torre is ever going to give Kevin Thompson a chance to play despite the fact that he's the best defensive option and has performed well at the plate when inserted into the lineup (play TWO rookies in the outfield?! Never!!!). While Torre had previously said that Thompson was likely to head to Columbus once Bubba was ready to return, the Bombers demoted infielder Nick Green today instead. Still, this doesn't offer much hope for Thompson beyond a pinch runner or maybe a defensive replacement for Bernie Williams (though Torre has seemed reluctant to pull Williams). Bernie can still hit from the right side but is a corpse from the left and plays defense like an extra from a George Romero flick.

The market for outfielders isn't exactly bustling right now, but there are some options.

Taking a glance at possibilities:




Ken Griffey, Jr. - an oft injured, aging player who is not having a particularly good offensive season and is owed one kajillion dollars per year through 2009. While this would help fulfill Steinbrenner's dream of having every member of the Springfield Nuclear Powerplant Softball team (Mattingly, check. Sax, check. Boggs, check. Canseco, check. Strawberry, check. Clemens, check. Smith, retired, Scioscia.. manager in waiting? Griffey....?) Pass.
Reggie Sanders - Serviceable major league outfielder who seems to be way too expensive. According to the Star-Ledger, the Yankees turned down the Royals offer of Sanders for top prospect Phillip Hughes. I guess Dayton Moore wants to make a big splash as the new GM, but he's pricing himself out of the Sanders market.
Pat Burrell - Nice option, most likely would cost too much in terms of talent. The Phillies are contenders.
Craig Wilson - Excellent flexibility, can play corner OF and 1B. A great choice and the Pirates don't seem to utilize him. Probably would not be too expensive in terms of talent.
David Dellucci - A return to the Bronx for Dellucci? Can play all three OF positions and doesn't seem to be a gameday choice for Charlie Manuel. Could be had, probably cheaply.
Ryan Church - What happened to the stock of Church? Last year he was a Rookie of the Year candidate; this year, buried in the minors. Would probably not cost too much and has huge upside and youth.
Xavier Nady - Would be a good choice, but is there a fit between the Mets and Yankees? Doubtful.
Jeff DaVanon - Started off the year red-hot, has cooled down greatly. Would be a fill in only, is more of a bench/role player.
Shawn Green - If it's a salary dump, Green could be cheap in terms of trade bait. Not the same player he once was, but still amoungst the cream of this crop.
Bobby Abreu - Fantastic player, but I can't see the Phillies making him available cheaply enough to warrant a deal. If he is, grab him and grab him quick.

Alfonso Soriano - Will be a free agent at the end of the year, and seems unlikely to re-sign in Washington. Expect a bidding war for his services (could he play second for the Mets? Would the Red Sox get involved?) Would probably cost too much in terms of talent for a player that will be a FA after the season.
Dave Roberts - The Padres will have an extra outfielder once Ryan Klesko returns, as there is little evidence he'll replace Adrian Gonzalez at first base. Should the Padres fall out of contention, it's possible Roberts could become available.
Jose Guillen - Probably brings as many problems as he does answers, but wouldn't cost as much as Soriano.
Aubrey Huff - If he's cheap, could be a decent fill-in.
Adam Dunn - His name comes up every year. If he's available and the cost isn't Phil Hughes, he's the one to go for.



Out of those listed above, based on cost and production (I am not willing to sacrifice Hughes unless there's a Miguel Cabrera in return) the players I would like to see pursued are, in order:

Abreu
Dunn
Wilson
Church
Nady
Huff
Roberts

Other than Dunn and Abreu, they seem to be the least expensive options. A superstar isn't needed - there are two on the DL already. However the Bernie/Bubba tandem just isn't going to work for the long term.

Neither Sheffield nor Matsui are returning any time soon, if at all. If the Yankees do acquire an outfielder, and they both return at some point, it will be a nice problem to have as the DH spot could be filled by Sheffield, Matsui, or the replacement with a combination of Cabrera, Damon and one of the three in the outfield. It's also not outside the realm of possibility that Matsui or (more likely) Sheffield pick up some first base time. I thought Bernie would be getting some playing time there this year, but there's no doubt in my mind that Sheffield could handle it as a former infielder (well, physically, as long as his ego allows it).

The only possible downside would be that Cabrera could be pushed to the bench, but while that would be a short term issue, he's poised to take over in right or left field in 2007.

posted by Mr. Faded Glory @ 9:33 AM 2 comments


---
Dispelling the Myths
It's a mantra in the New York and national media.
Derek Jeter is a clutch player. He's an outstanding post-season performer.
Alex Rodriguez is the definition of a choker. When the pressure is on, he crumbles. His post-season failures are legendary and he can't handle the big situations.

Let's take a look at the first common belief:
Jeter - Mr. Clutch.
Rodriguez - Mr. Choke.

Here are their 2005 "Close and Late" stats:

| | | | | | | | | | | | | |
| --- | --- | --- | --- | --- | --- | --- | --- | --- | --- | --- | --- | --- |
| | AB | R | H | 2B | HR | RBI | BB | SO | AVG | OBP | SLG | OPS |
| Jeter | 90 | 15 | 24 | 3 | 3 | 11 | 11 | 24 | .267 | .353 | .400 | .753 |
| A-Rod | 75 | 15 | 22 | 5 | 4 | 12 | 15 | 21 | .293 | .418 | .520 | .938 |


It seems pretty obvious that in 2005, Rodriguez was far superior in the "clutch." This certainly does little to explain the rain of boos pouring down on Rodriguez, not the bitter snideness from the press.

Perhaps it's by examining the post-season numbers - where everyone from Mike (Jackass) Lupica to Ken Davidoff to Karl Ravetch have buried Rodriguez - that we'll understand the displeasure of the fans.



| | | | | | | |
| --- | --- | --- | --- | --- | --- | --- |
| | G | AB | HR/AB | BA | OBP | SLG |
| Jeter | 115 | 462 | 28.9 | .307 | .379 | .463 |
| A-Rod | 31 | 118 | 19.7 | .305 | .393 | .534 |


Hmm, that didn't work either. Jeter is 0.02 ahead in batting average and behind in every other category. So why is one villified and booed, and the other cheered as a hero?

The answer is, in my opinion, simple. It's the media. You can hardly get through an episode of Baseball Tonight without a mention of Rodriguez being a "choker" in a big situation. If Damon's on second with no one out in the ninth in a one run game, and Jeter pops out, Giambi grounds out, and Rodriguez flies out, who do you think is place in a place of ignominy on that trashy ESPN hate fest? Rodriguez.

The day after Rodriguez wins the 2005 AL MVP, the cover of the Daily News mocks Rodriguez for winning an MVP but no ring (seriously, check the Lupica link above).

The media hates him, is out to get him, and encourages fans to do the same. Barry Bonds gets a reality show for being a prick his entire life and cheating to break records. Rodriguez gets thrown under the bus repeatedly because he's "too stiff in interviews." That's really the only reason I can come up with, since there's no numbers to back up the wild assertations.

It's a sham and an absolute joke. Sure, A-Rod doesn't give the most "interesting" interviews. Does Jeter though? While Jeter seems more personable, his answers are just as cliched and canned as Rodriguez's. However, he's the King of New York.

And now the media is all but encouraging the fans to boo Rodriguez right out of town. Yes, boo the guy who is the reigning MVP, the guy without whom the team you root for would not have made the playoffs last year. Boo the guy who won the "AL Player of the Month Award"....... LAST MONTH. That's the guy to get on. He's terrible, he's a choker, he's unclutch.

I'm many times disappointed in the fans, but they never really can be counted on en masse to think for themselves and instead regurgitate whatever tripe the media feeds them.

And when I watch a Yankee game and hear the fans booing Rodriguez for busting his butt, playing hurt, and being the best player on the team, it makes me ashamed to be a Yankee fan.

posted by Mr. Faded Glory @ 8:09 AM 5 comments


---
Return to TorreLand!

Torre has plans for Octavio Dotel:



Through games played on Sunday, no relief pitcher in baseball has thrown more innings or pitches than Proctor, a 29-year-old who made the team out of spring training only because Aaron Small was on the disabled list.

Farnsworth is also among the most relied upon relief pitchers in the game. Proctor has pitched in 31 of the Yankees' first 61 games, Farnsworth 30.

"I don't want to put too much pressure on Dotel, but we need to get him working in that group," Torre said. "I need to be able to give Proctor and Farnsworth more time off."




Earth to TorreLand, come in TorreLand: Ron Villone has performed at least as well if not better than Proctor all year. It's OK to get him "working with that group."


| | | | |
| --- | --- | --- | --- |
| | Games | IP | ERA |
| Ron Villone | 25 | 25.2 | 1.75 |
| Scott Proctor | 31 | 41.1 | 3.92 |
| Kyle Farnsworth | 30 | 29 | 4.66 |


Oh and before you guys start commenting about how useless ERA is for relievers (and for the most part, I agree) Villone has an identical WHIP to Proctor and better than Farnsworth. I could calculate their DIPS but quite frankly I'm feeling too lazy.

Suffice it to say there's no reason to blow out and more bullpen arms when you have a serviceable and thus far successful reliever in your pen who has a rubber arm and has had a better career than Scott Proctor.

posted by Mr. Faded Glory @ 7:14 PM 7 comments


---
Where's Ron?
Hi kids! Welcome to TorreLand, the scariest amusement park on earth!

Think you can find Yankees reliever Ron Villone in the picture below? It's not as easy as it seems in TorreLand!



If you found Ron in 30 seconds or less, you're one smart cookie! If you found Ron at all, you're smarter than Joe Torre!

posted by Mr. Faded Glory @ 3:30 PM 0 comments


---
Melky Cabrera's Excellent Adventure
You've seen it written in the New York Post, Daily News, and Newsday. You've read about it on ESPN.com. Melky Cabrera has "adventures in the outfield." I was never quite sure what they meant, since he's made three spectaular plays over the past 2 weeks, and always attributed it to the fact that he lost a ball in the wind in horrible conditions in right field when he first was recalled.

Then last night after the Yankees-Red Sox game, on a night Cabrera made ESPN's #1 web gem and the play of the year thus far for the Yankees, Karl Ravetch says before showing the clip on Baseball Tonight that the outfield has "often been an adventure for Cabrera." Following that, on SportsCenter, Scott Van Pelt explained before the highlight that Cabrera has "had his adventures out there."

Hmm. This brought me to replay some older games and just concentrate on Melky. As it turns out - they must be right. The only possible explanation I can posit for these many adventures Cabrera undertakes in the outfield would be something akin to this: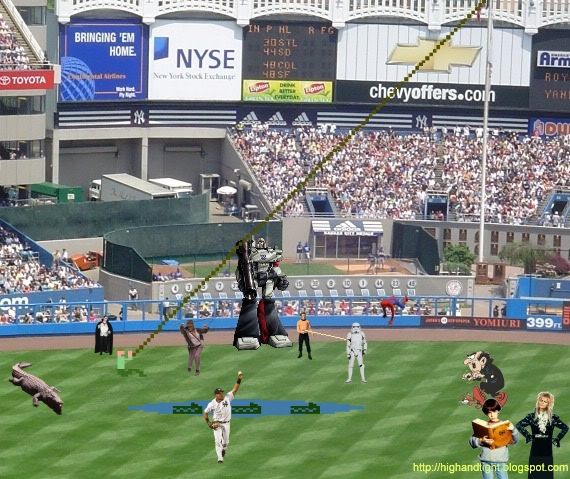 Come to think of it, this also explains why those same sources have all called him "frightened."
posted by Mr. Faded Glory @ 5:44 PM 7 comments


---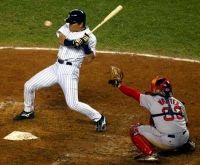 L I N K S
---

P R E V I O U S
P O S T S
A R C H I V E S
---

C O N T A C T

---

---

Subscribe to High and Tight via your favorite RSS reader: