Friday, December 21, 2007
Because Offseason Boring For Great Success
Labels: videos
posted by Mr. Faded Glory @ 2:29 PM 3 comments


---
Wednesday, December 19, 2007
The Alex Rodriguez Center For Children Who Can't Read Good And Who Wanna Learn To Do Other Stuff Good Too
It's real.

Rodriguez got the project rolling with a $500,000 contribution, then began encouraging others to help. Ocean Bank completed the construction funds effort with a $300,000 offering, according to Alex Rodriguez, no relation, who heads the seven Boys & Girls Clubs in Miami.

I bet poor Alex Rodriguez who heads the Boys & Girls Clubs runs the most successful Boys & Girls Clubs but is often compared unfavorably to Derek Jeter, who also runs Boys & Girls Clubs but not nearly as well.

I beleive it went down something like this:

posted by Mr. Faded Glory @ 2:47 PM 2 comments


---
Mark Feisand is Smoking Too Much Pot
This has to be one of the most ridiculous news stories I have ever seen published in a major newspaper, and that is saying a LOT.


Mariano Rivera attempting to squeeze option year as Yankee deal nears

BY MARK FEINSAND
DAILY NEWS SPORTS WRITER

Wednesday, December 19th 2007, 4:00 AM

Mariano Rivera eventually may accept the three-year, $45 million deal the Yankees have offered him, but the closer isn't quite ready to do so just yet.

It appears as though Rivera has given up on the idea of getting a fourth guaranteed year from the Yankees, but according to a source with knowledge of the situation, Rivera still is trying to negotiate some type of option for 2011, one that could kick in based on the number of games the righthander finishes during the first three years of the deal.

The Yankees increased their original offer to Rivera of three years and $39 million by $2 million per season, which would give him an annual average salary of $15 million, making him the highest-paid closer by more than $4 million per year.

But after hearing Hank Steinbrenner speak publicly about his age (the closer turns 38 at the end of the month), Rivera seems determined to get something else put into the contract. If Rivera can't get the Yankees to budge, according to a source, he is expected to accept the three-year deal, which he hasn't yet, despite an Internet report to the contrary.

Have you clicked on the link to the article? Because on the right hand side are "Related Articles." I emplore you to look at the first one listed. It is a link to a DAILY NEWS article entitled "Rivera, Yankees finalize deal" and was published Monday, December 17th, two full days before this piece was written:

Mariano Rivera, Yankees finalize deal

THE ASSOCIATED PRESS

Monday, December 17th 2007, 4:58 PM

Mariano Rivera and the New York Yankees made it official Monday, finalizing a $45 million, three-year contract that will keep the ace closer in pinstripes.

Is this the aforementioned contrarian "Internet report"? (Note: I capitalized Internet so as to best emulate Mark Feisand.)

Perhaps the "Internet report" is this press release from the NEW YORK YANKEES:

YANKEES SIGN MARIANO RIVERA TO A THREE-YEAR CONTRACT

The New York Yankees announced today they have signed right-handed closer Mariano Rivera, the American League's all-time saves leader, to a three-year contract.

Rivera, 37, owns 443 career saves, the most in franchise history and the third-most all-time behind Trevor Hoffman (524) and Lee Smith (478). His 395 saves over the last 10 years are the most in the Majors while his 787 career appearances are the most-ever by a Yankees pitcher and place him in 42nd place on baseball's all-time list. Among pitchers with at least 200 save opportunities, Rivera's 88.2 percent career save conversion rate (443-for-502) is second-best all time, behind only Trevor Hoffman (89.3).

The Panama native was originally signed by the Yankees as a non-drafted free agent on February 17, 1990 and is currently the longest tenured Yankee (12 yrs, 105 days).

Misleading, confusing headline in that press release? Possibly, to one such as the great Mark Feisand.

Feisand refuses to stop there with his intrepid reporting. Later on in the December 19th article, this bit of breaking news comes to the forefront:

The Yankees also are waiting for word from Andy Pettitte on whether he plans to play in 2008 or retire, but they would likely go into spring training with Chien-Ming Wang, Chamberlain, Phil Hughes, Mike Mussina and Ian Kennedy in the rotation rather than pay big money for a free-agent starter should Pettitte retire.

Tuesday, December 4th, 2007. Source: New York Daily News:

The Yankees did add another lefthander to their rotation yesterday, as Andy Pettitte informed the club he would return for another season, but the Santana situation loomed large over the Opryland Hotel during the first day of the meetings.

Peter Abraham reported the contract was official on December 12th.

So... what's Feisand doing? Bong hits with Raissman in the print room?

Also I know.. a blog post slamming a Daily News writer that isn't Lupica. Crazy, huh? Don't worry gentle readers, I've been preparing a new installment of my Lupica posts. It should be up tomorrow.

Labels: andy pettitte, douchebag, mariano rivera, mark feisand

posted by Mr. Faded Glory @ 11:01 AM 2 comments


---
Tuesday, December 18, 2007
Mitchell and the Red Sox Suck Equally
According to Carl, at least.

Labels: mitchell report, videos
posted by Mr. Faded Glory @ 3:41 PM 0 comments


---
Monday, December 17, 2007
In the NFL, Steroid Use is Accepted
I've written before about how fans embrace NFL players caught cheating like Shawne Merriman, who got caught with steroids, suspended for four games, and then named to the Pro Bowl.

Jayson Stark has an interesting look at the cases of Andy Pettitte and Rodney Harrison:

Player A is a long-time star for a team that has won multiple titles. Great guy. Beloved by fans and teammates alike. Then finds himself connected with an HGH story he can't escape.

So he admits it. Admits he bought it. Admits he took it. Admits he did that over a long period of time, during which his team won championships and he was an All-Star. Admits he "sent the wrong message" to kids and to the public. Admits he's "very, very embarrassed."

But Player A also says he wants to make it clear he never used steroids. And the only reason he used HGH was because he was hurt and wanted to get back on the field to help his team.

OK, now let's move on to Player B -- another terrific player for teams that did nothing but win. Another likeable guy. Fan favorite. Clubhouse favorite. Then looks up one day and hears his name all over TV and radio, linked to HGH use.

So Player B takes some time to think about how he should react, then confesses. Confesses by saying he was injured at the time. Confesses by saying he felt an obligation to get back and help his team. Confesses by saying he'd heard a lot of talk about the healing properties of HGH, so he tried it briefly, then stopped.

It didn't feel right. It wasn't the kind of player or person he was, or is. So he stopped. And ohbytheway, he never used steroids, either, despite what people have been saying about him.

Two stories that couldn't be more identical, right?

But Player B wakes up the next morning to find a headline that says: "PLEASE SPARE US."

Player A, on the other hand, is greeted by headlines like this one: "DON'T SINGLE OUT (PLAYER A)."

Hmmmm. What's up with that?

Two indistinguishable stories. Two very different reactions. Why is that, anyway?

Well, you probably figured out that Player B is Pettitte, a fellow who plays baseball for a living.

Player A, on the other hand, is New England Patriots safety Rodney Harrison, a guy who plays in that Teflon National Football League, in which all those chiseled bodies are clearly on the up and up.

Where's the outrage over Rodney Harrison, huh? We've been waiting for it to show up in some form, any form, for weeks now. We're still waiting. We'll probably wait a lifetime.

The media loves giving NFL guys a pass. It's hypocrasy. Where's the outrage? Harrison has been a better NFL player than Pettitte has been a MLB player, and won (another) Superbowl last year and is playing on an undefeated team.

But hey, he plays football, give the guy a break.
Labels: andy pettitte, dirty stinking cheaters, mitchell report, nfl, rodney harrison, shawne merriman
posted by Mr. Faded Glory @ 2:13 PM 0 comments


---
I've Avoided Discussion of the Mitchell Report
Until now that is, because I've felt all along that there's a complete lack of credible evidence and to name names without regard to anything substantial is wrong, especially when the investigation is led by the Director of the Boston Red Sox, and lo and behold the report's release allows the Boston Globe to run headlines like "No Current Sox Fingered."

Tim Marchman of the NY Sun has a really good take on the report. You can find it here. Some excerpts follow:


To understand the importance of Senator George Mitchell's investigation into baseball's drug scandals, issued today after two years of frenzied anticipation, one must understand that Mitchell is not a neutral party.

Because the truth is usually right out in the open, it is no surprise to find a list of all the conflicts of interest that prevent Mitchell from credibly playing any independent role in baseball tucked away near the end of his voluminous report. As a consultant to Boston Red Sox ownership, a former director of the Florida Marlins, and former chairman of Disney at a time when it owned both the Anaheim Angels and ESPN, Mitchell is a member of baseball management as surely as anyone now living.

More crucially, he served with former Federal Reserve chairman Paul Volcker, columnist George Will, and Yale president Richard Levin on the 2000 Blue Ribbon commission. That group produced a notoriously owner-friendly report on baseball economics that used cooked numbers to make a case for various mechanisms meant to suppress player salaries. It laid the ground for the biggest shift in power between owners and players since the 1970s, and set a template for how to do so: Establish a nominally independent commission with ties to Congress, propose owner-friendly policies, and then watch as Congress hammers the players into submission. In 2000, the Senate actually found time to hold hearings on competitive balance in baseball, and it didn't take long for owners to force the union to accept many of the Blue Ribbon panel's recommendations.

With this background, Mitchell is hardly an onlooker, uninvolved in the sport's inner workings; he's been one of the most powerful men in the game for many years. In his report, he blithely asserts that he is "confident that none of these matters affected my ability to conduct an investigation that was thorough, impartial, and fair," but while his investigation may have been all of these things, his report is none of them. Self-contradicting, naive, and radical all at once, it could prove far more damaging to baseball than any tainted home run record.

For most, the main takeaway will be the list of 77 names of alleged drug users. Headlined by the Yankees' Roger Clemens and Andy Pettitte and the Houston Astros' Miguel Tejada, the list takes in everyone from three former Mets catchers to Eric Gagne, and in its sheer weight seems to confirm both the most salacious speculation about what Mitchell would uncover and the massive scope of the drug problem. More closely examined, it does neither, and in fact reveals how shockingly little Mitchell found.

What Mitchell offers, then, is not new information, but lurid detail. ("Clemens said that he was not able to inject himself, and he asked for McNamee's help... McNamee injected Clemens approximately four times in the buttocks over a several-week period with needles that Clemens provided.") This detail came not from Mitchell's own commission, but from the access the federal government provided to witnesses and suspects in ongoing drug investigations. Conditioning coach Brian McNamee and drug dealer Kirk Radomski were both interviewed with federal agents participating. Radomski, then working out a plea bargaining arrangement with a U.S. attorney, was warned that giving Mitchell false statements would subject to criminal penalty and a harsher sentence.

Federal law enforcement didn't need to tie Mitchell's inquiry in to a plea bargaining agreement, and would almost certainly not have done so for any random collection of citizens holding a private inquiry into steroid use. Such a decision is inherently political, involving as it does relative power, which was of course the genius of appointing Mitchell: it allowed baseball to leverage the credibility he earned in a career as a distinguished senator and diplomat into access to federal power. To what end, though, does any of this work?

[For]nearly half the players on Mitchell's list, their inclusion is simply gratuitous. Sixteen names were simply scooped up from recent media reports on a federal investigation into online drug trafficking, eight were names that came out in the Balco scandal, and nearly a dozen more had previously come out one way or another. Some, like Ryan Franklin, had even failed drug tests. This leaves us with around 40 names who come as surprises. Some of them truly great players, like Kevin Brown; most are obscure journeymen, like Phil Hiatt. Against some of them there is impossibly credible evidence; against others, hardly anything at all.

The real takeaway here, though, is that despite using questionable means to questionable ends, Mitchell can present literally no evidence of his key claim that "the use of steroids in Major League Baseball was widespread." This assertion is stated flatly, as fact, but his entire report contradicts it.

Mitchell at one point, for instance, references several lurid estimates of how many ballplayers have used steroids, ranging from 20% to "at least half," to illustrate the scale of the problem. These are sourced to major league players and a coach. On the same page, though, he notes that a 2003 survey test revealed just five to seven percent of players were on steroids. Perhaps more to the point, in his own investigation he found credible evidence against 77 players—less than 2% of nearly 5,000 who took the field from 1988 to this year, roughly the time under consideration. Even allowing that Mitchell cannot be expected to have discovered every player who was using drugs, if six times as many players were using as he was able to discover that would still represent less than a fifth of the alarmist estimates he cites.

At some point, when you have spent tens of millions of dollars looking for something without finding it, you should consider that this may be because there was nothing to find. This possibility, on evidence of this report, simply never occurred to Mitchell.

A good word for a public document that draws conclusions directly contrary to those implied by the evidence it presents is propaganda. This is what Mitchell's report reads as, and what it essentially is. Most of it is taken up by dreary recitations of evidence collected against the 77 accused and by a tendentious reading of baseball's recent history with drugs that notably lacks any coherent perspective on the decades-old problem of steroid use in pro sports. (Football coaches were forcing players to gas before there was a National Football League.) It reads like a company history.

The history is easily dismissed, as it essentially presents baseball's establishment as trying to do the right thing despite being stymied by the evil players again and again. The problem, in this telling, is that the owners have simply been too virtuous for their own good, that if they'd just not been so nice they would have been able to nab the missing 48.5% of drug-addled players that their very expensive investigation wasn't able to find.

To top it all off, today there's a report that one player who "proved" to Mitchell that he purchased PEDs but destroyed them before using them, and had his name removed from the report at the last minute.

I wonder if that player wears a "B" on his cap? Whether he does or not, the fact that I'm asking the question tells you about the objectiveness of this farce.

Labels: bud selig, dirty stinking cheaters, mitchell report, redsox, tim marchman

posted by Mr. Faded Glory @ 1:54 PM 1 comments


---
Thursday, December 13, 2007
QOTD
Thanks to loyal reader Stan for the tip.

The newly extended (no pun intended, pottyminds) Jake Peavy on returning home for the winter:

"I go back and I still have people in Mobile go, 'Who do you play for again?' And I go, 'The Padres.' They say, 'They still have a team?' And I go, 'Yeah, man, we have uniforms and everything.'
Labels: jake peavy, padres, qotd
posted by Mr. Faded Glory @ 5:25 PM 3 comments


---
Did Boras Lie to A-Rod?
According to Alex Rodriguez's conference call, A-Rod says that he opted out of his contract because Scott Boras told him that the Yankees had "no interest" in retaining him.

Did A-Rod even believe this? Like, for one second? Despite the fact that Cashman had said repeatedly they wanted to talk about an extension?

I do enjoy Alex throwing Boras under the bus, no matter what really happened. He's only retaining Boras still because he'll be "42 years old" and not looking for any future contracts.
Labels: a-rod, scott boras
posted by Mr. Faded Glory @ 10:12 AM 0 comments


---
Wednesday, December 12, 2007
I Know What I'm Getting Lupe for Christmas
What girl could resist?
Labels: kindred spirits, redsox
posted by Mr. Faded Glory @ 3:09 PM 5 comments


---
It's Nice to See Professional Sportswriters using VORP
... I just wish they'd get it right.

I don't have a lot of big bones to pick with David Pinto's article, and he's actually making a decent effort to use sabermetrics. Bully on him.

He does get tripped up here though, when comparing the Tigers of 2006 with the Tigers of 2007:


The Tigers must make up a sizable gap, 76 runs, to overtake the Yankees. The offense of Cabrera, Renteria and Jones in '07 would have made up that difference.

Value Over Replacement Player (VORP), invented by the crew at Baseball Prospectus, measures the number of runs a player produces above or below a replacement player. These three are replacing the offense of first baseman Sean Casey, third baseman Brandon Inge and the leftfield platoon of Craig Monroe and Marcus Thames. (Renteria replaces Casey, since Carlos Guillen moves from short to first.)


Old vs. new Tigers, 2007 VORP
Old player
VORP
New player
VORP
Casey
9.6
Renteria
47.5
Inge
-3.3
Cabrera
71.4
Thames and Monroe
-11.6
Jones
7.6
Total
-5.3
Total
126.5

Guillen's VORP was measured as a shortstop. Defense is taken into account in VORP, as is Guillen's production measures against a replacement level shortstop, not a replacement level first baseman. Ergo, his VORP when measured as a first baseman will be much, much lower. Shortstops, catchers and second baseman usually get the biggest positional "boosts" in VORP - the baseline replacements usually just aren't that good at hitting baseballs. First basemen, positionally, usually receive the least positional help as they're generally hitters first and defenders second.

So kudos to David Pinto in his attempt to introduce sabermetrics to the masses, but he may just want to brush up a bit on what he's trying to sell.

Labels: david pinto, sabermetrics, tigers

posted by Mr. Faded Glory @ 11:20 AM 0 comments


---
Thursday, December 06, 2007
Man, the Dodgers are Stupid
I thought it was surprising that one year after signing Gary Matthews, Jr., a strong defensive centerfielder coming off a career offensive year to a 5-year, $50M contract, the Angels then went out and signed Torii Hunter, a strong defensive centerfielder coming off a career offensive year to a 5-year, $90M contract. However, their cross-freeway rivals were not to be outdone by redundant stupidity.

The Dodgers signed Juan Pierre to a 5-year, $44M contract last offseason. I'm now hearing reports on TV and the radio that they're "shocked" that Pierre takes such poor routes on balls and has a weak arm and gets poor jumps. Look - you're willing to shell out $44M over five seasons but aren't willing to investigate what type of player you're getting? Well I suppose it makes sense that they didn't really investigate who they were getting, since Ned Colletti has said numerous times that he likes Pierre because he "gets on base" (OBP 2005: .326, 2006: .330, 2007 .331). As you can see, Ned Colletti doesn't really understand the game of baseball.

Therefore, it should really come as no surprise that Colletti now has announced the signing of a centerfielder with a great reputation for being a defensive specialst -who by all accounts has slipped dramatically in that department in recent years - and hit .222 / .311 / .413 last season to a 2-year, $36.2M contract.

Joe Torre will love this club. He's got two overpaid, overvalued "veterans" now blocking centerfield for Matt Kemp, a young centerfielder who makes the major league minimum and in 98 games last year hit .342 / .373 / .521 with an OPS+ of 125. This is the same Matt Kemp who was benched repeatedly last year so that ABs could be given to Pierre and Luis Gonzalez.

Any chance the Dodgers would do a Matsui/Cabrera/Farnsworth for Broxton/Kemp trade? It's not outside the realm of possibility, considering Neal Colletti appears to have once played "Corky" on the popular ABC television program Life Goes On. Maybe he'll ask Joe for advise, and hear all about how Matsui is "gritty" and a "gamer" and has "heart."

I know there are some Yankee fans who now have taken it upon themselves to also root for the Dodgers because of St. Joe, but if anything it causes me to root against them even more. For a guy starting out with a new club, being the ONLY majoe league manager who refuses to report to the Winter Meetings sets the wrong precedent and certainly sends the wrong message to players and fans. But don't worry, I'm sure the LA media will continue to kiss his ass and make it seem as if Joe only won World Championships because he has a magic wand to turn crappy players into great ones.

I feel bad for Donnie, but I'll be laughing with glee when it's between Torre and Bochy to fight it out for last place in the NL West. For all the media (ESPN) bashing of the Yankees with their "see? They can't buy championships anymore! they need to be like the Red Sox and build from within (the Red Sox had one (1) homegrown player in 2004, Trot Nixon)," it amazes me how much the Dodgers have escaped scrutiny. If you want an example of a bloated, poorly run franchise that every year tries to spend to cover the mistakes of the previous season, it's Los Angeles.
Labels: andruw jones, dodgers, joe torre, juan pierre, matt kemp, ned colletti
posted by Mr. Faded Glory @ 10:13 AM 6 comments


---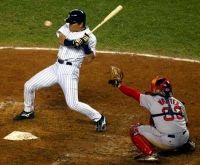 L I N K S
---

P R E V I O U S
P O S T S
A R C H I V E S
---

C O N T A C T

---

---

Subscribe to High and Tight via your favorite RSS reader: