Nobody Can Seem to Get the Joba Story Straight
Once again, people who are paid to watch and report on baseball are not able to successfully do either.

Flashback to last night's Orioles-Yankees game. 8th inning, Kyle Farnsworth in and the game is tied at 8. The Orioles broadcasters are Gary Thorne and Jim Palmer. The following is a very close paraphrase:

Thorne: Normally this is where you'd see Joba Chamberlain, tie game.
Palmer: Well not now, you know Joba can do the job but now they're having to rely on Kyle Farnsworth.
Thorne: It's a big loss for the Yankees - you need to win the games you are supposed to win. With a so-so starter and a great bullpen, you should win those games, but with a good starter and a lousy bullpen, you're not going to win those games you should win.
Palmer: Farnsworth has a lot more experience, but he's not Joba Chamberlain.
Thorne: Up until a week or so ago, he was their 8th inning guy. This whole issue was so poorly handled by the Yankees. They said in spring training that he was going to the bullpen, and that he's their setup guy this year and that's it, end of story. Then a week ago he starts being used for multiple innings in games you wouldn't use him normally, and when someone asks Girardi, he says that they're stretching him into a starter all of a sudden.
Palmer: Of course two weeks after Hank Steinbrenner says that's where he wants him.
Thorne: Just really poorly handled.


Of course Cashman stated in spring training that Joba was to pitch about 165 innings this year, and that he'd need to spend time in the bullpen in order to limit his innings before moving to the rotation. Inning counts have been a huge point of his ever since the "Joba Rules" of 2007. There was no surprise involved. Cashman laid it all out, clearly. Sorry you didn't get the memo, Gary Thorne.

Also that nonsense about "winning the games you should win" being possible only with a good bullpen and not a good starter? What kind of insane Mike and the Mad Dog nonsense is that?

Are most baseball announcers/writers/broadcasters/mediots really so dense that they prefer 80 innings from a great pitcher instead of 150?

Labels: gary thorne, jim palmer, joba chamberlain, mediots, orioles

posted by Mr. Faded Glory @ 11:04 AM 0 comments


---
Fist Pumps, Chest Bumps, and ESPN
Am I the only one who finds it funny that ESPN and their clone-minded brethren in the mainstream media have decided to make Joba Chamberlain the poster boy of celebrations, as if no other pitcher has done the same - or worse - for years?

I just read a ridicylous front page story all about it, and how it's "ruining the game."

Nevermind that for years now, Francisco Rodriguez has done the cha-cha after a strikeout.

Nevermind that Jonathan Papelbon drops invisible turds on the mound on a regular basis.

Nevermind that Jose Valverde yells at invisible unicorns after each out.

Nevermind that Manny Ramirez stands like the Statue of Liberty watching meaningless homer after meaningless homer go over the wall (don't worry, ESPN is there to reminid you it's just him being him).

Nevermind that Derek Jeter's fist pump after throwing out a baserunner has been shown over and over in commercials and restrospectives and that he's not only called the classiest player since Joe DiMaggio, but scientists have re-animated the corpse of Marilyn Monroe just so he could fuck her zombie and pass the torch.

Nevermind that Sammy Sosa's homerun routine was so practiced and repeated that every video game used it for his avatar.

Nevermind that Pedro Martinez fist pumped all the time after ending an inning.

No, this is now an issue because it's Joba, and he's a Yankee. Yankees aren't supposed to be having fun.

So the media goes looking for quotes from guys who played in a totally different era, like Goose Gossage:

"He's a great kid, but no one is passing the torch today. Nobody talks to them. When I broke into the big leagues, I didn't say two words all year... I'm trying to think of what would've happened if I did what Joba did, especially if I was a rookie," he told The Record. "The veterans would've sat me down so fast, it would've never happened a second time. Truthfully, there would've never been a first time."

Goose, man, I love you to death, but this isn't 1972 anymore. When you started, there was no DH, few foreign players, the Vietnam draft was in effect, the Texas Rangers were in their first season, Willie Mays was still playing centerfield, and the all-time homerun leader was still Babe Ruth.

Times have changed. The sports has changed. People have changed. Do we really want to see rookies like Joba afraid to "say two words all year" anymore?

Let it be said that I am not a fan of celebrations in most instances, except in cases of a game-winning or game tying hit in the 9th inning, or something similar. However, giving a fist pump isn't showing up the opposition. If Joba starts pointing at batters and telling them to go back to the bench after a K (like media darling Dennis Eckersley did repeatedly during his career), well then that's a different story.

I'm not defending the celebrations, I'm simply saying that there have been plenty of targets to go after for years now, and the media have largely ignored them. The article I liked doesn't even mention Rodriguez, whose over-the-top celebrations made a mockery of the 2002 playoffs. Nope: rally monkeys. Grit. Hustle. Ecksteinitude. Small ball. Scioscianess. That's what we were fed.

The difference now is there's a Yankee that can be targeted, and the boys at the big network from New England aren't going to let that opportunity pass them by.

Labels: espn, fist pumps, goose gossage, joba chamberlain, mediots, references to george romero films

posted by Mr. Faded Glory @ 3:42 PM 0 comments


---
Yanks, Red Sox Old Timers to Play in Scranton
The Scranton Times announced in their paper on Sunday a "Legends Game" between former Yankees and Red Sox. The game is to be played on Saturday, August 16 at 1:30 PM EST at PNC Field, the home of the Scranton/Wilkes-Barre Yankees.

Appearing for the Yankees will be Goose Gossage, Bucky Dent, Graig Nettles and Mickey Rivers, and the Red Sox will have Jim Rice, Mike Torrez, Fred Lynn and Luis Tiant, with more to be announced as the date approaches.

The contest is set to be a 9 vs. 9 game (no DH for these guys). Tickets go on sale Saturday, May 24 at 10:00 AM.

That night the SWB Yankees play down the road at Lehigh Valley.

No emotion or fist pumping is expected.
Labels: bucky dent, goose gossage, graig nettles, mickey rivers, old timers, redsox, scranton
posted by Mr. Faded Glory @ 6:22 PM 0 comments


---
Trump Bus Lines Run Over A-Rod
Seriously, can't anybody give this guy a break? The latest bus-throwing incident comes from legendary baseball afficianado and great thinker Donald Trump:

Trump was in Arkansas on Thursday to speak at the Economics Arkansas luncheon. According to arkansasbusiness.com, Trump talked about Rodriguez, three-time AL MVP who has been criticized for his perceived inability to come through in important situations.

"He always plays bad under pressure," Trump was quoted as saying. "Derek Jeter, he's the greatest. People love Derek Jeter. Are those cameras on? This is going to get broadcast back home. Oh, now he'll leave my building."

A company controlled by a corporation controlled by Rodriguez bought an apartment at Trump Park Avenue in Manhattan for $7.4 million in July 2005.

Jeter bought an apartment in Trump World Tower, another Manhattan building, in 2001.

This really has to be a joke. When has Trump ever faced real pressure? The guy was born into money, and used that to invest it into even more money.

Labels: a-rod, bad toupee wearing reality show host douchebags, clutchitude, derek jeter

posted by Mr. Faded Glory @ 4:19 PM 1 comments


---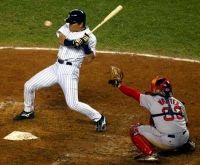 L I N K S
---

P R E V I O U S
P O S T S
A R C H I V E S
---

C O N T A C T

---

---

Subscribe to High and Tight via your favorite RSS reader: