Wednesday, January 31, 2007
Do The Right Thing
Retire Bernie, with your dignity intact. Do not accept the sprint training invite the Yankees offered you today. Retire with the same class you showed throughout your career. Don't let the last memory of you be as a broken down DH without a spot on the final roster.

Oh who am I kidding, Torre will certainly keep Bernie and let someone useful rot in the minors as another young player is dropped off of the 40-man roster.

SI.com has learned that the Yankees have made Williams a standing offer to come to spring training as a non-guaranteed, nonroster invite. While this wasn't anything close to what he was hoping or looking for, all indications are that he is considering the proposal.

Williams still could decide to retire, too. But the third option, which is to sign a better deal with another team, seems to be out of the question.

Though Williams could have gotten a guaranteed contract elsewhere, people close to him say he considers himself a Yankee and only a Yankee.

But right now he's still grappling with hurt feelings. He sits at home in Westchester County, his pride stinging. He recently told the Westchester Journal News, "When you give a large chunk of your life to a team, it is hard. It's not like I'm a journeyman.''

Williams knows that if he decides to return for what amounts to a tryout, through no fault of his own he becomes the story of spring, superseding returning hero Andy Pettitte, at least until Roger Clemens decides whether to rejoin them. But if Williams retires, he might have regrets about leaving too soon. He was productive last year (.281, 12, 61), maybe more so than the Yankees remember.
posted by Mr. Faded Glory @ 2:30 PM 3 comments


---
Oh For the Love of God and the Baby Jesus and Mary and Joseph and the Choir of Cherubim and Seraphim and All That is Good and Holy
Joe, he's done. Please. Move on.


Yankees manager Joe Torre has told GM Brian Cashman that he'd like to give Bernie Williams a shot at making the team, according to a source close to Williams.

However, the Yankees' 40-man roster is full, and there appears little opportunity for Williams to contribute.

Williams said he last spoke to Cashman two months ago, when the GM "expressed a not very secure" outlook for a job this season.

Williams is uncertain if he would accept a non-roster spring training invitation from the Yankees -- if they were even inclined to offer one.

"It's been a great run," Williams said Saturday at a function for Hillside Food Outreach, which provides for needy Westchester residents, adding that his body "tells me I can probably play a couple more years.

"As a player, you always want to do more," said Williams, just the seventh Yankee to wear pinstripes in 16 or more seasons. "You've got the Peter Pan syndrome; you never want to grow up. But you've got to realize that it doesn't last forever."

Williams, 38, who batted .281 last season (118-for-420) with 29 doubles, 12 homers and 61 RBI, said he'll "try to stay in shape," perhaps in the event he is summoned by the Yankees during the year. But his answers were consistently vague.

Asked if he'd be willing to try out as a first baseman, Williams would only say, "We haven't reached that point yet."

As to whether he'd be willing to sign a minor league deal with the Yanks, Williams said he first needed to consult with agent Scott Boras: "I've got to wait and see what the options are."

Whose ABs would Torre want to steal? There are four first basemen on the roster (Phelps, Phillips, Giambi, Eyechart). Melky Cabrera is already your fourth outfielder, and your best option as a defensive replacement, pinch runner, and spot starter to give a guy a day off or a DH spot for a game, which will already cut into Giambi's playing time. So who is it, Joe? Melky? Giambi? Abreu? Who would you like to screw (besides the team) in order to play the guys you "trust" and "show loyalty" towards?

This is not to mention that if Bernie somehow did make the team out of spring training, the Yankees would be forced to place another player on waivers from their 40-man roster, and we're not talking about a guy with no future anymore. Last week the Yankees let go pitcher Matt DeSalvo, once considered an up-and-comer until personal problems plagued him last year, in order to make room for Miguel Cairo, a player whose production(?) could have easily been equaled by a number of players already on the 40-man roster.

Give it up, please Joe. Cashman, don't fall for sentiment, because that's all signing Bernie would be, keeping a guy around for what he once did and not what he still can do at the expense of your team.

The next time Bernie Williams wears pinstripes, it should be on Old Timer's Day.

posted by Mr. Faded Glory @ 11:55 AM 0 comments


---
Thursday, January 18, 2007
Well That Is One Way To Ingratiate Yourself To Your New City
Marcus Giles: Chargers Fan.


New Padres second baseman Marcus Giles was handcuffed, detained and escorted from Qualcomm Stadium during Sunday's Chargers playoff game after getting involved in a fight on the stadium's club level, according to police.

Giles, 28, was given the option of returning after being detained but chose to leave, said San Diego Police Lt. Dan Christman. Giles does not face charges for the incident.

Christman said Giles and a friend were involved in a fight with at least one other person, who slipped away before being caught.
Now I personally know someone (a Bolts season ticket holder) who witnessed the entire event. According to my friend, a Patriots fan was drunk and obnoxious and cheering his team on, and when the Pats scored their first touchdown, got all up in the face of those people around him. Which naturally prompted Giles to immediately punch him in the face.

posted by Mr. Faded Glory @ 12:52 PM 1 comments


---
Tuesday, January 16, 2007
2008 All-Star Game to Close Out Yankee Stadium
Personally, I think this is a great thing. While the All-Star game itself is essentially a popularity contest and a huge waste of time, at least in '08 it will be honoring the last year of the "winningest" facility in the history of professional sports.

I was dead set against a new Stadium for years, and still would prefer a complete remodel (and yes, I'd put up with a couple of seasons playing at Shea again) but it's probably time to move on and accept that all things must change and that the time has come for a new park. If you've been to Safeco, PNC, Petco, or Whatever-Phone-Company-They-Are-Named-After-Now-As-I-Am-Too-Confused-To-Keep-Up Park in San Francisco, you've seen how different of an experience it can be to watch a game in one of the newer "retro" parks. Add in 50,000 crazed Bronx fans, and I think it will be OK.

No better way to send out the old Stadium than with a big party. Oh and I wasn't talking about the All-Star Game this time.
posted by Mr. Faded Glory @ 11:45 AM 1 comments


---
Scranton Yankees
Good God, this is great.

| | |
| --- | --- |
| | pr0FF3ss0r_F4rnsw0rth: no scott you are more like the jim from the office |
| | DoctorProctor: !! What! I am not! |
| | pr0FF3ss0r_F4rnsw0rth: hey guys its ji |
| | pr0FF3ss0r_F4rnsw0rth: jim from the office |
| | DoctorProctor: |
| | |
posted by Mr. Faded Glory @ 3:13 PM 3 comments


---
Thursday, January 04, 2007
Out With the Old, In With the Bad
posted by Mr. Faded Glory @ 4:20 PM 0 comments


---
The Kei to Victory
Sports Illustrated ran an interview with Kei Igawa today. Most of the answers are generic and expected, as he avoided saying anything controversial, but some of them were fun, particularly his personal hero, which would surprise most.

SI: Hideki Matsui is nicknamed Godzilla. What's your favorite Japanese film monster?
Igawa: I have none.

SI: Not even Mothra or Rodan?
Igawa: I never watch horror films.

SI: Who's your favorite American ballplayer?
Igawa: I have a tremendous respect for all big leaguers. I do not have a particular favorite.

SI: How about a personal hero?
Igawa: The goalkeeper for Belgium's national soccer team.

SI: And your favorite historic figure?
Igawa: Mitsukuni Tokugawa, a feudal ruler known for his political influence in the early Edo Period.

SI: Tokugawa was a gourmand who claimed to be one of the first Japanese to eat ramen. What's the most exotic food in your fridge?
Igawa: Water.

SI: What has been the greatest embarrassment in your life?
Igawa: I've lost my wallet four times. I got it back every single time.

SI: What do you like most about New York City?
Igawa: The energy. People are filled with pride.

SI: And dislike?
Igawa: No manners in driving. Lots of horns.

SI: What kind of hitters give you the most trouble?
Igawa: Fast-running singles hitters. They make me throw a lot of pitches.

SI: What kind do you most like to face?
Igawa: Free-swinging power hitters.

SI: Do you have a secret ambition?
Igawa: That's secret.

SI: What's the coolest part of your job?
Igawa: Pitching complete games.

SI: And your motto?
Igawa: Quest.
posted by Mr. Faded Glory @ 3:47 PM 5 comments


---
Tuesday, January 02, 2007
Somebody Open a Window Please
According to the ever-vigilant PeteAbe, the Diamondbacks have requested a window in which to negotiate an extention with Johnson from the Yankees.

The Diamondbacks have requested a 72-hour window to negotiate with Johnson and that could be granted today according to several people close to the situation. The team wants to structure a deal for Johnson in 2008 and restructure $40 million in deferred payments Johnson is owed from his previous stay with the team.

Johnson should be agreeable to some kind of deal given his desire to play close to his home in Paradise Valley. The Unit lives only 14 miles from Chase Field.

The secondary issue at this point seems to be how much money the Yankees will send to Arizona along with the big lefty what prospects they would get in return. The GMs have discussed a variety of scenarios and should be able to find common ground. The Yankees seem most interested in Micah Owings and Ross Ohlendorf.
Owings stats
Ohlendorf stats

Two well regarded prospects plus a player to help this year? Pull that trigger, Cashmoney, and I might just have to start throwing around frabjous Lewis Carrol-related adjectives like a certain other nameless blogger.

posted by Mr. Faded Glory @ 12:16 PM 2 comments


---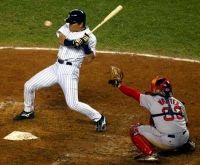 L I N K S
---

P R E V I O U S
P O S T S
A R C H I V E S
---

C O N T A C T

---

---

Subscribe to High and Tight via your favorite RSS reader: