Wednesday, August 30, 2006
They'll Probably Get Josh Bard Back

http://sports.espn.go.com/mlb/news/story?id=2565280



The Red Sox are shopping veteran pitcher David Wells, and a source familiar with the conversations has put the odds at "80-20 or 90-10" that Boston will trade him in the next 48 hours.

St. Louis, the Los Angeles Dodgers and San Diego appear to be the frontrunners to land Wells, the source said.

Wells, 43, cleared waivers on Aug. 3, at a time when he was just starting to come back from a serious knee problem; on July 31, he allowed eight runs in 4 2/3 innings. Because he cleared waivers, he can be traded to any team without restriction, and Wells has pitched much better of late. He has a 2.65 ERA in the month of August, walking five and striking out 20 in 34 innings.

The notion that the Red Sox might consider trading Wells would've seemed ludicrous two weeks ago, but Boston is in freefall and has dropped six games behind the Twins in the wild-card race, and seven games behind the Yankees in the AL East.




This is what happens when you don't do anything to help your team at the deadline and then cough up a 5 game sweep and then have half of your team drop dead from too much stress or simple laziness.

By the way, does anything think if A-Rod checked himself into the hospital for stress brought on by the playing five games against the Red Sox that he wouldn't be buried by the press?

posted by Mr. Faded Glory @ 12:42 PM 4 comments


---
A Tale of Two Torres

08/26/06:


Torre said he doesn't expect to use eight-time All-Star closer Mariano Rivera for more than one inning in any game the rest of the way.


08/27/06:
Rivera: 2 IP, 1 H, 1 ER, 3 K.

It's kind of like when the crack addict says they want to give up crack. You know the crackhead means it when he says it but the next day it's hard to deny himself some delicious, delicious crack.

posted by Mr. Faded Glory @ 4:36 PM 6 comments


---
What in the Hell is Wrong With Some of You?
http://www.google.com/search?hl=en&lr=&q=Erik%20Kuselias%20shirtless
posted by Mr. Faded Glory @ 2:32 AM 0 comments


---
Wednesday, August 23, 2006
Erik Kuselias on Cold Pizza
In the span of three minutes, these gems came from the mouth of Kuselias, who is filling in for the awful Skip Bayless.

On the Yankees five game sweep at Fenway this weekend:
"Well when we (I'm assuming "we" refers to the Red Sox, and that Kuselias believes he was a member of that squad) beat the Yankees four straight, that mattered. That was the championship."

The guy's reaction to a legitimite question as to whether the Yankees just ended the post season dreams of the Red Sox is a "we beat the Yankees two years ago" argument. Fascinating.

On the NL Wild Card:
"The Padres will not win the wildcard. It will be the Reds."

Fair enough. The Reds are playing well, currently have the wildcard lead, and have a good team. I'm sure you have a rational explanation for why you believe as you do, and offer some evidence.

"The Padres are a flat team and they play in a flat city. Cincinatti is a Baseball Town™.. there is no way the city of Cincinatti doesn't push their team over the top."

Now I am not 100% sure what constitutes a Baseball Town™ or why Cincinatti wasn't a Baseball Town™ in 2005 when the Padres won the NL West and the Reds did not qualify for the post season or in 1998 when the Padres went to the World Series while the Reds watched from home. It is possible the city did not wish to push the team "over the top" during those seasons.


Also I am not sure what a "Flat City™" is either, but one can only assume is is the direct opposite of a Baseball Town™.
posted by Mr. Faded Glory @ 7:37 AM 1 comments


---
Alex Rodriguez Really Really Cannot Win.

I'm half expecting to see in a couple of weeks an article on global warming where Al Gore attacks A-Rod for not doing enough to fix the problem.

Check this thing out. It's disgusting on a number of levels, not the least of which that this ungrateful bastard is in charge of children.

I've bolded the important parts and italicized the disgusting, because I'm nice like that.




Little League officials rips A-Rod, Boss
Staten Island president says Yankees owner, star are cheapskates

Little League president Bob Johnson saw his team lose its first two games in LL World Series last weekend, but that was after Johnson had some choice words for New York Yankees owner George Steinbrenner and star third baseman Alex Rodriguez.

After Staten Island played in Connecticut for its LLWS regional, the team's parents reportedly paid thousands of dollars for hotels, food and gas. So Johnson spearheaded a campaign to get corporate sponsors to help out the team's "blue-collar league," he told the New York Times.

Steinbrenner donated $5,000 to the Staten Island league, but Johnson told the New York Post that he expected far more.


"For Steinbrenner, $5,000 is throwing dollar bills in the air," he told the paper.

But Johnson reserved ire for Rodriguez, baseball's highest-salaried player, too.

"Everything counts, don't get me wrong, but it's disappointing. And A-Rod, he plays $1,000 a hand in poker, he might as well throw $1,000 in our dugout. I don't want Steinbrenner's money. I want A-Rod's money. He's making $20 million a year," Johnson told the paper.

Steinbrenner's publicist, Howard Rubenstein, did not make a comment to the paper.

Johnson also called the New York Mets' public affairs office, but didn't hear back. The Mets have invited past LLWS teams to Shea Stadium, the Post reported, and according to Mets VP Dave Howard, would do so again.

"Once they finish their trip, we would be happy to honor them appropriately for their terrific accomplishment," he told the Post.

Staten Island (0-2) faces Phoenix (1-1) on Tuesday, the final day of pool play.
© 2006 MSNBC Interactive




Ok, so let me get this straight - Steinbrenner gives you $5,000 and you rip him. The Mets don't even return your phone calls, but you have nothing bad to say about them? Then rather than stop making aan ass of yourself, you say you don't want Steinbrenner's money, you really want Alex Rodriguez's money because he "makes $20M per year" (of course any educated baseball fan knows Alex makes more than that. Perhaps he was thinking of Jeter. But the guy probably doesn't want Jeter's money for some crazy reason.)

Sounds like some bitter Mets fan and Yankee hater who is using his 15 minutes of fame to make himself look stupid.

posted by Mr. Faded Glory @ 1:10 AM 2 comments


---
Poor Bernie.
Hopefully next year he'll retire and have more time to protect his website from hackers.
posted by Mr. Faded Glory @ 9:54 PM 1 comments


---
Saturday, August 19, 2006
Good Out Of Town Broadcasters
It's not very often that I enjoy another team's (or hell, my own team's) local broadcasters. It seems we have way too many Hawk Homer Harrelsons out there and not enough Vin Scullys, too many guys over-invested and rooting for the home team and not simply relating the game as it unfolds. Too many broadcasters try to generate drama rather than simply relate it.

It's even more unecusable on radio when homerism takes over, because you have to rely on the announcer solely for all of your information.

It is with that in mind that I thought I would mention how truly impressed I was with the Angels radio broadcast team. I got a good chance to listen to them last weekend, as during the Saturday game vs. the Yankees I was travelling on my way to the Palm Springs/Cabazon area, and on Sunday I was travelling home and once again got to hear the broadcast.

I was pleasantly surprised by the truly ubiased and honest broadcast of Rory Markus especially, as well as his partner Terry Smith. Markus's voice and excitement level rose when something exciting happened - not when his home team did something well. I've heard the broadcast team before from time to time, but never really sat down and gave them a full game. It makes me wish the Yankees had such honest broadcasters instead of the silly catchphrase of the moment, over dramatic, charactature of himself homer that John Sterling has become.

If anyone else knows of good out of market broadcasters, please feel free to comment. I rip bad announcers and writers here often enough; it's time the good ones get their kudos.
posted by Mr. Faded Glory @ 1:24 PM 7 comments


---
Ponson Designated for Assignment, Young Help Called Up
According to a very reliable source of mine, move to be made official before tomorrow's game. The Ponson experiment is thankfully over, and either Jeff Karstens or Jesus Colume will get his chance to show what he can do.

Let's just hope Sir Sidney has someone to drive him to Logan Airport.

Since Karstens was pulled from his last start on Tuesday after only one inning, I wrongfully assumed (and hoped) he'd start one of the games of the doubleheader today. It seems perhaps that Ponson had one last chance afforded to him.

Here's the Karstens preseaon profile from the old incarnation of Baby Bombers.

In 14 starts with Columbus, the San Diego native is 5-5 with a 1.49 WHIP, 4.28 ERA, and has surrendered 80 hits in 73 2/3 innings. Not overly impressive stats, however Karstens has been much better as of late than earlier in the season, and he's probably just a stopgap until Lidle is re-activated from the bereavement list.

Jesus Colome has pitched from the bullpen for the Clippers, and is 0-1 with a 3.91 ERA and 1.49 WHIP in 25 1/3 IP.

For the record, the source has 100% confirmed the Ponson part of it, however is only about 75% sure the replacement will be Karstens and 25% that it's Colome. That decision apparently hadn't been made at the time.

Either one is an upgrade


----
Update, 08/19/06, 9:35 EST

Well, the source was right about PonsonKarstens, except Brian Bruney was also optioned to Columbus and Aaron Guiel was recalled. To be honest I was surprised it was Guiel and not Crosby.
Labels: jeff karstens, lupe's bf
posted by Mr. Faded Glory @ 8:48 PM 0 comments


---
David Ortiz Getting More ESPN Handjobs
First story on SportsCenter is a puff piece on David Ortiz hosted by Jeremy Schaap.

Direct quotes:

"If the season were to end today, David Ortiz would be the hands down AL MVP." "

Many voters thought he should have won it last year but he lost (because he doesn't play the field)." "

He lost to Alex Rodriguez who had comparable offensive numbers and played near gold glove defense" - (neither statement is true, Alex's offense was much better and his defense not gold glove deserving) - "but now that seems like so long ago."

Besides the fact that ESPN shouldn't be promoting a player like that (aw hell they did it last year.. for the same player actually) David Ortiz isn't even the best DH in the AL this season. Of course, Hafner doesn't even make All-Star teams, so he must not be very good.

posted by Mr. Faded Glory @ 2:25 PM 2 comments


---
Thursday, August 17, 2006
On Theories, Hypotheses, and Joe Torre's Mancrushes
I've said before that for some reason, Joe Torre gets all flustered when managing against the Angels and their manager, Mike Scioscia. He either is threatened by Scioscia's perceived "small ball" style of managing or the sight of the sexy Scioscia just gives Torre the vapors. Either he's got a crush on the man, or Mike Scioscia's tragic smile makes him ill. Who knows.

Either way, it seems when the Yankees and Angels face off, Torre tries to out manage his opponent and winds up over managing to a degree you rarely ever see him achieve against other squads.

I'm also starting to think that the other supposed (at least, portrayed by the media) "small-ball" manager to have won a championship since Torre - Ozzie Guillen - may also be the object of his affection/envy, because he's making ridiculous calls against the White Sox as well.

Example of ridiculous managerial move #1:
August 9, 2006, Yankees at White Sox
The situation: Yankees 7, White Sox 2, bottom of the 8th. Starting CF Johnny Damon left the game with a stiff groin (*insert Beavis laugh*) in the 7th inning, and Torre shifted Wilson from 1B to RF, Abreu from RF to CF, and inserted Andy Phillips at 1B.

Ok, so this is not the move I would have made (I'd have put Cabrera in CF, left Abreu in right, and moved Wilson to LF while inserting Phillips) but really I didn't have a big complaint about the move.

Then however, in probably the most inexplicable managerial move of 2006:

Torre decision: Forgo having a DH, and put your worst defensive outfielder (Bernie Williams) into centerfield as a "defensive replacement."

At the time I'm screaming at my television. I know the White Sox have a good lineup. A 5 run lead is not completely safe with 2 innings to go. Besides the fact that it's sheer overmanaging to lose your DH in that situation for no reason, you now have the worst possible defensive centerfielder playing in the game, making a comeback all that much easier.

Joe Torre knew the White Sox have a potent offensive attack. He said so in the postgame:"Every single hit was big, even though at the time we were stretching the lead," Torre said. "You know this ballclub (Chicago) is so explosive, though."

So, back to me screaming at the television. "If the White Sox come back and tie this game and the pitchers have to hit (at that point, the bench was down to Giambi, Fasano, and Nick Green) maybe more people will begin to see that a drunken crackhead is in charge of the New York Yankees."

Sure enough, they came close, and the Yankees held on for a 7-6 win. A part of me however wished the White Sox would have tied it, just so that for once the free pass Torre gets from the media might be questioned to an extent. I mean the guy could sunbathe topless with his wife and daughter during the game and the NY press will give him a pass.

Maybe I shouldn't attribute this move to a mancrush on Guillen though. It could be another example of his mancrush on Williams.


Example of ridiculous managerial move #2:
August 14, 2006, Angels at Yankees
The situation: Yankees 2, Angels 2. Bottom of the 7th. Damon leads off with a single. Jeter at bat, no outs.
Torre decision: Bunt with Derek Jeter, your team's leading hitter and second in the AL for average.
Result: Jeter lays down an excellent bunt, and beats it out for a base hit.

So, the Yankees catch a break there. As most sabermatricians will tell you, the bunt is rarely if ever a good percentage play by a non-pitcher, and especially not with a good hitter. It is essentially giving up an out when the percentages that the batter's attempt at a base hit would result in something negative, like a double play, is far less likely to occur to justify sacrificing an out. In poker, this would be called putting all of your money in with the worst hand. In baseball, it's called "small ball."

But I digress. We're not even close to being done here.

The situation: Damon on second, Jeter on first, no outs. Bob Abreu at bat.
Torre decision: Torre asks his hottest hitter by far - a guy who is hitting over .400 in his (albeit brief) AL career and getting on base at a .500 clip - a guy who is hitting in the third spot in the lineup, with a fast runner in scoring position - a guy who hasn't had a sacrifice bunt since before Shane Spencer was a major leaguer - to bunt.

The bunt was successful, and Damon and Jeter each moved up a base, but this is precisely why sac bunts can kill an inning. What immediately happens? Well, Lackey intentionally walks Giambi to set up the double play. You've just gift wrapped the Angels a way to get out of the inning without giving up any runs when you had two on and none out. Rodriguez promptly hit a sac fly to the wall for the only run of the inning.

When you have your two best baserunners on with no outs and your 3, 4, and 5 batters coming up, bunting any of them in inexcusable. It's over-managing. But it's "small ball."


Example of correct managerial move #1:
August 16, 2006, Orioles at Yankees
The situation: Orioles 3, Yankees 2. Bottom of the 8th. Abreu singles, Rodriguez singles. Two on, no outs. Cano at bat.
Torre decision: Let Cano swing away.
Now, this situation sounds quite similar to the one mentioned above against the Angels where Torre bunted not once but twice with his 2 and 3 hitters, doesn't it? A .330 hitter at the plate here, a .345 hitter at the plate there? Two speedy baserunners? So why, pray tell, doesn't he stay consistent and have Cano lay down a bunt?

While I may agree with the decision to have Cano swing away, it just doesn't make any sense to me why Torre would do things so completely differently here. Why completely change your gameplan in a near-identical situation?

Maybe poor Sam Perlozzo just doesn't impress our boy Joe.

Perhaps he was getting more green tea and missed the play.

It's possible he wasn't paying attention, or was thinking about how great it was to have Bernie out there in center again.

Whatever the reason, I'm sticking to my "Joe Torre Tries to Outmanage Mike Scioscia By Overmanaging" theory and adding a "Joe Torre Tries to Outmanage Ozzie Guillen By Overmanaging" hypothesis. Until proven otherwise, I'm going to continue to believe in both of these.


----------------



To those who have asked about my lack of activity lately, I apologize for my absence. Sometimes real life catches up with you, and time and inspiration for blogging just aren't there. I assure you though, I'm back again.

posted by Mr. Faded Glory @ 1:59 AM 7 comments


---
I'm Psychic
No, seriously.

On June 15, 2006, I advocate the top three outfielders I would like to see acquired by Brian Cashman:
Bobby Abreu
Adam Dunn
Craig Wilson

And then there's this prophecy:
"Neither Sheffield nor Matsui are returning any time soon, if at all. If the Yankees do acquire an outfielder, and they both return at some point, it will be a nice problem to have as the DH spot could be filled by Sheffield, Matsui, or the replacement with a combination of Cabrera, Damon and one of the three in the outfield. It's also not outside the realm of possibility that Matsui or (more likely) Sheffield pick up some first base time. I thought Bernie would be getting some playing time there this year, but there's no doubt in my mind that Sheffield could handle it as a former infielder (well, physically, as long as his ego allows it).

The only possible downside would be that Cabrera could be pushed to the bench, but while that would be a short term issue, he's poised to take over in right or left field in 2007."

Seriously, people. Remember this the next time you think I'm wrong.

posted by Mr. Faded Glory @ 12:41 PM 13 comments


---
Thursday, August 03, 2006
You Have a Seven Run Lead.
It's over 100 degrees out.
Your starting pitcher has only given up one earned run over 6 innings, and thrown 80 pitches.

For the seventh inning do you:

A.) Keep your starter out there but start warming someone.
B.) Bring in your mop up guy to see if he can finish it out.
C.) Bring in your two most overworked relievers who will be needed down the stretch and risk injuries.

If you're Joe Torre, you choose: C - bring in Scott Proctor and Kyle Farnsworth, and then only when Farnsworth has to leave the game becaue of possible injury on a comebacker, you bring in your garbage-time long reliever, Ponson.

My choice would be B. If you don't use your long mop up guy in that situation, there's no reason to have one at all.

Amazingly, people in the media are still saying Joe Torre should be Manager of the Year.
Labels: bull, joe torre, kyle farnsworth, lupe's bf, scott proctor, sir sid, torre is dumb
posted by Mr. Faded Glory @ 1:54 PM 7 comments


---
David Ortiz Can't Handle the Pressue of Boston
Boston wins despite Ortiz's woes
Red Sox edge Indians
The Boston Red Sox got a much needed victory despite the ongoing struggles of David Ortiz.

Manny Ramirez and Wily Mo Pena homered, Mark Loretta brought home the go-ahead run with a bases-loaded double, and the Red Sox snapped a one-game losing streak yesterday with a 6-5 victory over the visiting Cleveland Indians.

>Ortiz was the Sox's designated hitter because he commits errors in nearly every game he plays -- and this time his woes were at the plate. He went 0 for 4 with four strikeouts..``It was just one of those days. It makes your head spin a little bit, but you put it behind you," Ortiz said.

-------------

SportsCenter lead story: Ortiz fails! Sox win despite oh-for-four with four strikeouts!

-------------

Ok well none of that actually happened as far as the reporting. In fact, the SportCenter highlights never even showed Ortiz, and the AP story only mentions him as a hero... well of course he's the reigning AL Player of the Month!

Oh, wait.. anyone remember this? Here's the original, undoctored AP story from a couple of weeks ago. You may notice some similarities to the story I posted above, what with the reigning AL Player of the Month going 0-4 with 4 Ks and his team having a comeback win and all.

Let's just hope Ortiz doesn't decide to sun himself shirtless in Central Park. *shudder*
posted by Mr. Faded Glory @ 5:10 AM 2 comments


---
Wednesday, August 02, 2006
Woody Paige is Insane

Woody Paige on Cold Pizza, 08/02/06:



"The loss of Jason Varitek is far more devastating to the Red Sox than the loss of Sheffield and Matsui were to the Yankees. He's the team leader and he's been hitting .300 since the All-Star break."



His batting average has been .300 for 14 games? You don't say.

For the record, here are Varitek's 2006 stats (for the whole season, mind you):

.243 BA / .331 OBP / .411 SLG

So somehow the loss of one player with mediocre stats (above average for ML catchers, but not near the top at the position) for about a month is "far more devastating" than the loss of two quality hitting corner outfielders for a combined (approximate) six months.

Ok, man.

posted by Mr. Faded Glory @ 8:12 AM 3 comments


---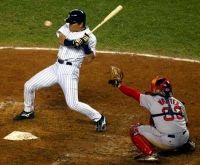 L I N K S
---

P R E V I O U S
P O S T S
A R C H I V E S
---

C O N T A C T

---

---

Subscribe to High and Tight via your favorite RSS reader: