How to Drive a Boston Fan Nuts in Three Easy Steps
Step 1 - Mention to him (for the sake of argument, let's say you're talking to Sully and not some pink-hat bandwagoner) that the 2004 and 2007 championships are tainted, thanks to the lineup being anchored by two PED abusers.

Step 2 - Remind him how the Patriots championships are also tainted thanks to multiple cases of cheating involving secret taping of other teams, and how since they were caught and forced to stop that practice, they haven't won anything.

Step 3 - Now that he's beet red and spittle is dribbling down his bloated cheeks, bring up the fact that Kevin McHale giftwrapped Kevin Garnett to the Celtics and his old buddy Danny Ainge in exchange for a bowl of chowdah because he knew he was out the door in Minnesota, gifting the Celtics a championship.
Labels: dirty stinking cheaters, redsox
posted by Mr. Faded Glory @ 9:52 AM 0 comments


---
L O Frickin' L


Also leave it to The Onion to see into the future:


MLB Adjusts Drug Policy To Allow David Ortiz To Take Steroids

NEW YORK—Major League Baseball commissioner Bud Selig announced a new policy on performance-enhancing substances Wednesday that is expected to help former slugger David Ortiz, currently batting a dismal .203, to come out of his slump and return as a league-leading batter. "We have amended the rules of the game to allow David [Ortiz] to use any performance enhancer he can find, as baseball is pretty boring when he's not hitting home runs," said Selig, who added that Ortiz could be suspended for 50 games under the new policy if drug tests show he is not taking any previously banned substances. "What David is doing right now is wrong, and this season could damage his reputation forever. The game of baseball needs him to do the responsible thing and superhumanly whack balls over the fence whenever possible." Moments after the announcement, Ortiz smashed through the conference doors with needles hanging from several different areas of his body and crushed Selig with a brutal thank-you hug, killing him instantly.
Labels: big sloppi, dirty stinking cheaters, redsox, steroids, the onion
posted by Mr. Faded Glory @ 3:24 PM 0 comments


---
I Told You.
I F-ing told you:

Manny, Ortiz tested positive for PEDs in 2003

Can't wait to see how Gammo defends Ortiz.

Will anyone finally call Red Sox VP George Mitchell on why no Boston players were featured in his "report"?

Time to break out the forks, Red Sox Nation:

Labels: big sloppi, dirty stinking cheaters, manny being manny, mitchell report, redsox, steroids
posted by Mr. Faded Glory @ 11:33 AM 4 comments


---
How Close are we to Blernsball Now?
So a Japanese scientist has invented baseball playing robots.

Of course in a few years, the Robots will win every World Series, and we'll be forced to start playing Blernsball instead.



This isn't the first time we've seen this
, either. "Robots playing baseball" is quickly becoming one of my favorite tags.
Labels: blernsball, futurama, robots playing baseball
posted by Mr. Faded Glory @ 10:31 AM 0 comments


---
Quote of the Year
Newly DFA Julio Lugo of the Red Sox really should be more careful what analogies he makes:

"When you see a good looking girl, you get married and sometimes things don't work out," Lugo said. "I gave it my best and unfortunately things didn't work out. This is the best for both parties. I wanted it to work out but it didn't."
This analogy would be akin to Manny saying he "wanted to inject some fun" into the locker room or Ugie Urbina claiming the press "did a hatchet job" on him.

Lest we forget:

Houston Astros shortstop Julio Lugo was demoted Thursday, hours after he was arrested and charged with hitting his wife in the face and slamming her head on a car hood.

Lugo was arrested after Wednesday night's game at Minute Maid Park. Lugo was freed on $50,000 bond Thursday after spending the night in jail. Lugo's wife, Mabel, was treated for minor injuries at a hospital and released.

She said she was attacked by her husband Wednesday afternoon before Houston's 11-1 loss to the Atlanta Braves, Houston police spokeswoman Silvia Trevino said Thursday.

The Astros designated Lugo for assignment Thursday, meaning they have 10 days to release, trade or send him to the minors.
Labels: jerks, julio lugo, redsox
posted by Mr. Faded Glory @ 12:47 PM 0 comments


---
The Batting Stance Guy on Letterman


The Padres story is the best.

Just in case you missed the 2009 Yankees edition:

Labels: batting stances, videos
posted by Mr. Faded Glory @ 3:58 PM 2 comments


---
Keith Law is Awesome
So the Royals traded for Yuniesky Betancourt. Law's take?

On Friday, the Royals [traded] for Yuniesky Betancourt, who might very well be the worst everyday player in the majors.

Betancourt does nothing well on a baseball field. He can't hit and has lost bat speed since reaching the majors. He hacks at everything he sees, and even swings at pitches thrown to other hitters. He has next to no range at short. And he never hustles on anything -- not balls hit in his direction, not ground balls he might have a chance to beat out (well, before he let himself go physically). Other than all that, he's Honus Wagner.
It is really refreshing to see a major media writer not hold punches when it comes to opinions. Law is easily one of my top 3 sportswriters.

Labels: good sportwriters, keith law, mariners, royals, yuniesky betancourt

posted by Mr. Faded Glory @ 5:15 PM 1 comments


---
Where is the Uproar for "Price to the 'Pen"?
The constant yammering of talking heads on TV and sports talk radio about how Joba Chamberlain needs to be moved back to the bullpen brings up a question: why is everyone just focused on Joba? I have made it clear in this space a number of times that Chamberlain is best utilized as a starter. His numbers are great for a 22 year old in his second season in the rotation. He's not an ace yet, but if nobody had ever seen him pitch from the bullpen, the locals would be ecstatic about his progress. Unfortunately, idiots like Mike Francesa like to point out how "his ERA is better as a reliever." Well of course it is. When a pitcher only has to throw 20 pitches instead of 80-100, they can let it fly without fear of tiring. Look at Phil Hughes' splits between the rotation and the bullpen this year, and you'll see what I mean. Imagine Roy Halladay's numbers in the 8th inning! Bridge!

Aside from rehashing that old argument, one has to wonder why nobody seems to be making the same (flawed) rationale for David Price of the Rays.

Price was a phenom last season. He was brought up at the very end of 2008 and was used from the bullpen, eventually becoming the closer that brought the Rays to their first World Series. He had a .929 WHIP, a 1.93 ERA, and a 230 ERA+ in the regular season, lowering that to a 0.00 ERA and .857 WHIP in the post season. He was a stud, an unhittable Roy Hobbs type striking out every Whammer he saw.

Of course, the long-term plan for Price (as it should be with any good young pitcher with 3+ quality pitches) was for him to be a starter, so that's where the Rays had him slotted this season. He hasn't done well.

Price is 2-3 with a 5.21 ERA in 38 innings this year and is averaging less than 5 innings per start. Yet there is no outrage from pundits, nobody on Baseball Tonight is screaming about moving him to the bullpen. Steve Phillips, of all people, is advocating patience (Phillips, by the way, was firmly in the "Joba in the 'pen" camp).

Maybe it's just that Chamberlain plays in New York that he gets this kind of scrutiny. Maybe it's the "win now at all costs" mentality. However this is the same mentality that gutted the Yankees' farm system in the 1980s and early 90s, and again in the early 2000s.

Price needs time to develop. He's a huge talent and should be a star in the years to come. Maybe he will be sent down to the minors to work on his pitches and control, maybe not.

I'm just curious why there's no uproar to move a guy who is failing spectacularly as a starter back to the 'pen where he dominated, and there is for a guy who is doing a better than league average job in his role as a starter.
Labels: bullpen, david price, joba chamberlain, pitching rotation, steve phillips, they're still the devil rays
posted by Mr. Faded Glory @ 10:45 AM 5 comments


---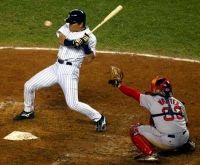 L I N K S
---

P R E V I O U S
P O S T S
A R C H I V E S
---

C O N T A C T

---

---

Subscribe to High and Tight via your favorite RSS reader: