Wednesday, November 19, 2008
This is for the Rex Banners of the World
Bring back Bro!

A modest proposal
How the Yankees can solve their third-base problem
By Tom Boorstein / SNY.tv
Buzz up! print this pageprint email this pageemail
Alex Rodriguez failed 61 percent of the time last year. That's embarrassing. (AP)

The Yankees need a plan at third base. What they have now isn't working.

Things were so much better when Scott Brosius was around. That's a third-base plan. Third basemen who put up on-base percentages of .307 and .299 in consecutive years just don't grow on trees. Factor in his twice-monthly barehand pickups and some timely postseason hits and he goes from prized commodity to once-in-a-lifetime talent. Even at age 42, he would be a great fit for this team in 2009. Bring him back. The Yankees haven't won a World Series since Brosius retired after 2001, and they've made only one in that span. That's just too much to be a coincidence. It has nothing -- nothing -- to do with bad luck or a lack of pitching.

The best part of bringing back Brosius? The Yankees could trade or release team cancer Alex Rodriguez. The Yankees shouldn't settle for anything but the best hitter in baseball. Only Albert Pujols will do. Otherwise, the team would just be better off getting some lovable mediocre guys.

Besides, is Rodriguez even one of the best players in baseball? He's won two MVP awards since coming to the Yankees, but everyone knows he didn't deserve them. How can the 2005 award be justified when he hit only 48 homers as a right-handed hitter playing in Yankee Stadium? Roger Maris hit 61. A .421 on-base percentage? He still failed 58 percent of the time, and that doesn't even count the times he walked and just clogged up the bases instead of doing something useful.

And don't even start with Rodriguez in important situations. Does anyone even remember a single ninth-inning home run he's hit to lift the team? No. They are all overshadowed by his infinite failures. Clutch means never failing in the big spot. So that home run off Curt Schilling in Fenway in 2005 doesn't mean anything because he popped up at Fenway in 2006. Forget that shot off Jonathan Papelbon in 2007. He struck out against him in 2008. And that walk-off grand slam against Chris Ray in 2007? That only came because Ray was going to have Tommy John surgery. Don't even bring up the three-run shot off Joe Borowski three weeks later. It probably caused Mike Myers to implode at Fenway the next night.

Just when people think Rodriguez isn't a choker, he fails again. It's almost as if the concept of clutch varies by day and is determined after the fact. Almost. But when was the last time Derek Jeter didn't do something big in the ninth inning? Frankly, Bronx Cheer is surprised Jeter ever makes out. After all, when he wants to reach base, he wills it to happen. So why is his career on-base percentage only .387 instead of something like, say, .850? Respect for the game, that's why.

Think about how selfish Rodriguez is. When he came over from Texas in the 2004 trade, he insisted on moving to a new position to prove he could be more than the best shortstop ever. It was Rodriguez that insisted that Jeter keep his position at shortstop. That was all part of his master plan to watch Jeter atrophy into the worst fielder in baseball and make Rodriguez look better by association.

For the next five years, they know they are going to get elite-level offense and above-average defense barring an injury. And he's durable. But that's too much certainty. The Yankees need someone who will middle along for most of the season, get one big hit the whole summer but can provide the intangibles that help teams win. Those are more important than 45 home runs.

If the Yankees don't win next season, Rodriguez should shoulder all the blame. None of it should go to the aging offense around him that is no longer near its peak, much less at it. It's not Jeter's fault he's turned into a singles hitter or Hideki Matsui's fault that he can't run down to first base without having his knee drained. A-Rod caused that and more. The young pitchers have developed a losing mentality simply from sharing a clubhouse with Rodriguez. Until he's gone, there is no hope for this franchise.
Labels: a-rod, true yankee
posted by Mr. Faded Glory @ 4:59 PM 2 comments


---
Guest Blogger: Rob Neyer
OK, not really... but as I promised to explain why Mauer was the best choice for MVP today, I came across Neyer's article which stated everything I wished to and probably more eloquently. Thus, I present a snippet from the esteemed Mr. Neyer:


Aside from his height, there's nothing unique about Dustin Pedroia. Unusual: yes. Unique: no. Chase Utley plays the game right, and is a better hitter and a better fielder than Pedroia. Utley stole 14 bases this season, and was caught twice. Pedroia stole 20 bases, and was caught once. I'm sorry, but one steal per month just doesn't contribute much to uniqueness.

Clutch hitting? Pedroia's career numbers in the clutch are nothing special.

The Red Sox wouldn't have reached the playoffs without Pedroia? That's a mighty tough case to make. At season's end, the Red Sox owned a six-game lead over the Yankees in the wild-card standings. I dare say that even if Dustin Pedroia had never been born, the Red Sox would still have finished ahead of the Yankees in 2008. (And if it's really Pedroia's pure force of will that's driving the Red Sox to win, then they won't have to worry about retaining Jason Varitek. Might as well measure Pedroia for that captain's C right now!)

It's not so obvious that Pedroia was the American League's Most Valuable Player. He didn't do anything that Chase Utley didn't do, and Utley finished 14th in the National League's MVP balloting.

Which isn't to suggest that Pedroia wasn't an outstanding MVP candidate. This was an odd year in the American League. Of the four postseason teams, three -- every team but the Red Sox -- simply lacked a viable candidate. Chicago's Carlos Quentin quite probably would have won the award if he hadn't missed the last five weeks of the season. But he did, which left only Pedroia and Kevin Youkilis among those in the playoff money. There's really not a great deal to choose from between them. If you value hitting most of all, Youkilis is your man. If you value the other things, it's Pedroia.

On the other hand, if you value players who missed the postseason, there were other fine candidates, particularly Joe Mauer and Justin Morneau. And their team just missed the postseason; in fact, I suspect that a fair number of MVP voters completed their ballots before the Twins lost to the White Sox in their one-game playoff for the Central flag.

We know that Joe McDonald was right: Pedroia did win, and convincingly. While he didn't significantly outpoint runner-up Justin Morneau, he did pick up 16 first-place votes compared to only seven for Morneau. That's apparently the difference between making the playoffs and not making the playoffs.

But now I want to make the case for my choice: Joe Mauer.

This season Mauer became the first catcher in major league history to win two batting titles. He finished second in the American League in on-base percentage. He won a Gold Glove. Measured by Baseball Prospectus' Wins Above Replacement Player (which considers defense), Mauer finished a close second to Pedroia. Measured by Bill James' Win Shares (which also considers defense, along with clutch hitting), Mauer finished first in the American League, with Pedroia a couple of wins behind. Measured by Win Probability Added (no defense, but clutch hitting especially), Mauer finished first in the league, with Pedroia eighth.

None of these things can tell us everything we need to know, but I'm willing to say that Joe Mauer was one of the three best players in the American League, and that Dustin Pedroia might have been.

What I'm not willing to say -- what I'll probably never be willing to say -- is that Joe Mauer deserved to finish behind Justin Morneau in the MVP balloting again. Two years ago, there was virtually no evidence that Morneau was more valuable than Mauer, yet Morneau finished first and Mauer finished sixth. This year, there is virtually no evidence that Morneau was more valuable than Mauer, and yet Morneau finished second and Mauer finished fourth.
Let me just add that Mauer caught - not played in, not pinch hit in, not filled in defensively during, but caught - 137 games. That's value, especially with having to work with such a young pitching staff and getting good results from them.

As for Morneau, writers seem to have a hard on for him. We've had this fight before when Mauer gets passed over for his less-deserving teammate.

Pedroia however is becoming a perfect storm of media love and I don't think there's any way of stopping it. Scrappy? Check. White? Check. Short? Check. Gets dirty? Check. All of the Ecksteinian qualities are present. Add in some decent stats, and he should win the MVP of everything every season from now on.

Labels: dustin pedroia, joe mauer, MVP, redsox, rob neyer, twins

posted by Mr. Faded Glory @ 10:43 AM 1 comments


---
Tuesday, November 18, 2008
Regardless of what ESPN's "Experts" Say...
Dustin Pedroia should not be the AL MVP.

Joe Mauer should be the AL MVP, and here's betting he gets robbed again.

Here are ESPN's picks:

Pedroia: Jerry Crasnick, Peter Gammons (shock), Eric Karabell, Bob Klapish, Tim Kurkjian, Sean McAdam (double shock), Amy Nelson, Peter Pascarelli, Steve Phillips, Karl Ravech (shock x3), Phil Rogers, Enrique Rojas, John Shea, Jayson Stark
Mauer: Jorge Arangure Jr., Jim Caple, Rob Neyer, Larry Stone
F. Rodriguez: Howard Bryant, Pedro Gomez
Morneau: Orel Hershiser, John Kruk, Chris Singleton, Gene Wojciechowski
Cliff Lee: Jonah Keri
Grady Sizemore: Keith Law
Youkilis: Buster Olney

I'll go more into the "why" after the vote is announced, but the best choices above are Mauer and Sizemore.

With so much of ESPN again in the tank for the Red Sox, you know that they had some influence over voters... voters who sometimes don't even know who's eligible for awards.
posted by Mr. Faded Glory @ 9:49 AM 0 comments


---
Friday, November 14, 2008
Well This Completely and Totally Ruined My Day
A site that started up around the same time this did, and which is run by a bunch of really funny and truly nice guys with whom I've had numerous conversations, is closing its doors.

Thanks for the memories, FJM. You'll be sorely missed.
Labels: fjm, sad times on the intrawebs
posted by Mr. Faded Glory @ 10:52 AM 1 comments


---
Tuesday, November 11, 2008
I Told You Most Sportwriters Are Idiots
As it turns out, 3 writers voted for Edinson Volquez for the NL ROY even though he's not eligible because he wasn't a rookie in 2008 (thanks to the always well thought out Keith Law for the details).

Seriously, there is no excuse for this. Remember, the BBWAA denied Law and Rob Neyer membership because they don't write for traditional newspapers. Looks like the choices the BBWAA decided upon were much, much better. Do these guys even follow baseball? I mean, they're paid to do so, right?
Labels: awards, douchebag, edinson volquez, keith law, mediots
posted by Mr. Faded Glory @ 12:43 PM 1 comments


---
Monday, November 10, 2008
Looks like Beane Just Got His July Trading Chip
I must admit I'm surprised it cost them this much considering Holliday's home/road splits, but it appears Oakland will aquire Matt Holliday in exchange for outfielder Carlos Gonzalez, starting pitcher Greg Smith and closer Huston Street.

My guess is that Beane plans to flip Holliday at the deadline when the price for his services should go up, and traded Street because Beane never likes to overpay for closers.

He could net a haul in July if Holliday has a good first half.
Labels: a's, billy beane, trades
posted by Mr. Faded Glory @ 2:08 PM 2 comments


---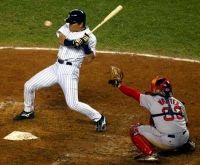 L I N K S
---

P R E V I O U S
P O S T S
A R C H I V E S
---

C O N T A C T

---

---

Subscribe to High and Tight via your favorite RSS reader: