An Off Day? How About a Video?
Abbott and Costello's classic routine... updated.


Labels: videos
posted by Mr. Faded Glory @ 4:04 PM 0 comments


---
Thursday, October 29, 2009
Great Job by the Umps Last Night
Not that it would have mattered in the outcome, but here's Robertson's four pitch walk to Jayson Werth

Labels: 2009 world series, david robertson, phillies, umpires
posted by Mr. Faded Glory @ 12:05 PM 1 comments


---
Wednesday, October 28, 2009
WhatIf Sports Predicts Yanks in Six
As you can see here, WhatIf Sports rant 10,001 simulations of the World Series and the Yankees won over 70% of them.

The computer likes the New York Yankees to defeat the Philadelphia Phillies in six games.

New York wins 72.3% of those series, with the most common occurrence being a six-game series win by the Yankees (21.3% of all series have this result - a seven-game New York victory is next at 19.0%). On average, the offensively-dominant Yankees have a 31-point higher average (.296 to .265), hit two more homeruns (9.9 to 7.8) and score 4.2 more runs (35.2 to 31.0). The Phillies only advantages appear to be in the "smallball" categories of speed and defense. Philadelphia averages 2.7 more steals (4.7 to 2.0) against the weak-armed Yankees' catchers and commits 2.1 fewer errors (2.4 to 3.1). As you can see below, the Yankees also appear to have the advantage in the starting rotation and the bullpen.

I also predict the Yankees in six, and think the MVP will be Alex Rodriguez (who got jobbed out of the ALCS MVP award).

Labels: 2009 world series, phillies, predictions, whatif

posted by Mr. Faded Glory @ 10:34 AM 1 comments


---
Thursday, October 22, 2009
ATTN: Mark Teixeira
This is a baseball:

This is a baseball bat:
Please try using the latter to hit the former. Thanks. 2-for-18 isn't cutting it in the three hole.
Labels: alcs, mark teixeira, playoffs
posted by Mr. Faded Glory @ 12:29 PM 2 comments


---
Tuesday, October 20, 2009
Angels Fans are Whining Babies
The Angels Blogosphere is rampant today with claims of Mariano Rivera using a spitball. Many seem to suggest that this is how Rivera has been so successful over the years.
This douchebag
takes screenshots of the game that suggest that Rivera spit directly on the ball. He goes on to suggest that FOX is in cahoots with Rivera.
Evidence offered: a "spit halo" on top of the baseball after it's been "spit upon":
Of course that's during the fade-in to Scioscia, where you can clearly see this "spit halo" is the fucking Magestic logo on Scioscia's jacket.
I would say this is pretty conclusive evidence of why Yankees pitcher Mariano Rivera is able to throw only one pitch that has unpredictable, yet precise movement.

He has mastered the Angels so far in the ALCS but has Major League Baseball gotten a look at how he "warms up" for his appearance on the mound? You be the judge...

With a tie game in the bottom of the 10th, the Yankees bring in Rivera.
After warming up, he has his back to home plate so the home plate ump can't see.
He looks down at the ball, then up to see if the 2nd base ump is watching.
He then looks back at the ball and appears to spit on it.
And when he tests clean for steroids they say he is not a cheater.

Total and complete nonsense. First of all, Rivera wouldn't look down at a baseball and drop spit directly from his mouth onto it. Secondly, he'd have to have been doing this for 15 years, and nobody noticed until now. Thirdly, baseballs get changed out so often, he'd have to do this 5-10 times per game.

Absolute nonsense, and even though the Angels won, total sour grapes by their fanbase.

By the way, here's a slowed-down video of the incident, which clearly shows the spit travels past Rivera's hand and the ball and travels to the ground. Funny that the Angels blogs decide to show misleading screenshots rather than the entire video:


Labels: alcs, angels, douchebag, mariano rivera, shitty blogs

posted by Mr. Faded Glory @ 8:11 AM 7 comments


---
Saturday, October 17, 2009
How to Drive to the World Series
Gas.


Break.


Clutch.
posted by Mr. Faded Glory @ 11:07 PM 4 comments


---
Thursday, October 08, 2009
Q: Name the Last Twins Pitcher to Win a Game in the Bronx
A: Johan Santana (2007)

Pretty crazy, huh?
Labels: johan santana, playoffs, twins
posted by Mr. Faded Glory @ 9:22 AM 4 comments


---
Tuesday, October 06, 2009
Brian Duensing is Starting Game One for the Twins
Brian Duensing has a 13.50 ERA and 2.25 WHIP against the Yankees.

God bless extra innings.
posted by Mr. Faded Glory @ 11:31 PM 0 comments


---
Jerry Manuel is Delusional
The Mets were an awful mess this season. What does manager Jerry Manuel think the reason for that was? Injuries? Poorly constructed lineups? Terrible pitching rotation? Nope, folks. It was baserunning.

First base coach Luis Alicea was fired and third base coach Razor Shines will have a different role next season. Bench coach Sandy Alomar also lost his job but will be offered another position in the organization, while son Sandy Alomar Jr. is likely headed for a promotion after serving as catching instructor this year.

Injuries robbed them of stars Jose Reyes, Carlos Delgado and Carlos Beltran for long stretches, but Manuel and the front office decided to change the base coaches.

"The traffic that we had on the bases probably to a lot of degree was not properly managed as well as we would've liked to have seen," Manuel said. "That was probably the biggest issue with us was one of the issue of baserunning. We didn't seem to have that perform at the level that we thought we need to to be a championship club."
Holy schnikes. The biggest issue was baserunning.

Way to totally dismiss your failures, buddy.

Labels: delusions, jerry manuel, mets

posted by Mr. Faded Glory @ 10:42 AM 0 comments


---
There's a Little in Swish.
Labels: nick swisher, pics
posted by Mr. Faded Glory @ 9:17 PM 2 comments


---
Thursday, October 01, 2009
There are Boston Douches in New York
This story proves it.


Baldwinsville family says teacher told fourth-grader to turn Yankee shirt inside out
By Elizabeth Doran / The Post-Standard
September 25, 2009, 11:20AM

Van Buren Elementary fourth-grader Nathan Johns thought his teacher was kidding when he instructed him to go to the bathroom and turn his Yankees T-shirt inside out.NYSHIRT.JPGJim Commentucci / The Post-StandardNate Johns of Baldwinsville poses with his shirt featuring the number of Yankee pitcher CC Sabathia.
The blue shirt read "New York No. 52" on the front and "Sabathia" for the New York Yankees' pitcher CC Sabathia, on the back.

" I thought to myself 'Is he serious or is he kidding,'" said Nate, 9, a student in Peter Addabbo's fourth-grade class. "But he had this look like he wasn't kidding at all."

Nate complied, and said he was later told to wear it that way until dismissal. At lunch, Nate said the fifth-graders made fun of him because he wearing his shirt inside out.

"It was such a horrible day." Nate said. "I don't ever want anything like to happen again."

Nate said he felt he was treated unfairly.

"Just because my teacher doesn't like the Yankees I should still have the right to wear a Yankees shirt," Nate said Thursday after school. The teacher has Boston Red Sox paraphernalia all over the classroom on display, he said.

Baldwinsville Schools Superintendent Jeanne Dangle said Friday morning the district is conducting an investigation into the incident, and has told the parents she will get back to them on the issue in a few days.

"We are investigating," Dangle said. "This is a personnel issue, and we will be following up and doing what's appropriate after we get all the information."

Dangle said the investigation includes asking other children who were present in the class for their observations.

"From a district perspective, we would never support something like that," Dangle said. "But we don't have all the facts yet."

Dangle said she was tied up in meetings most of Thursday and Thursday night, and that's why the district didn't respond at first to inquiries about the incident

Nate's parents said they were shocked when their son got home from school and told them what happened.

"I was stunned — absolutely flabbergasted," said James Garrett, Nate's dad. "I couldn't believe it. He was distraught. The school preaches all about not allowing bullying, and this really felt like he was being bullied."

The Garretts contacted Van Buren Principal Terry Bick on Wednesday and met with her Thursday. "She was very professional about this, and she seemed to take it as seriously as we did," James Garrett said.

Garrett said he believes the school handled the incident appropriately, but strongly believes his son's First Amendment rights were violated.
How do these people even get to be teachers? It's just a kid for chrissakes.
posted by Mr. Faded Glory @ 12:31 AM 0 comments


---
Sergio Mitre Sucks
That's all I really have to say about that. He sucks long, and he sucks hard.
Labels: guys who suck, sergio mitre
posted by Mr. Faded Glory @ 12:31 AM 2 comments


---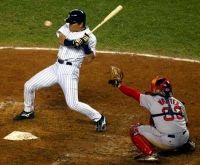 L I N K S
---

P R E V I O U S
P O S T S
A R C H I V E S
---

C O N T A C T

---

---

Subscribe to High and Tight via your favorite RSS reader: