Monday, September 29, 2008
This is One of the Coolest Things I Have Ever Seen
Some guy and a grade-schooler are creating a replica of Yankee Stadium (yes, the current one, not the new monstrosity) completely from Legos. The detail is fantastic. Check it out when you get a moment.
Labels: legos, toys, yankee stadium
posted by Mr. Faded Glory @ 2:15 PM 1 comments


---
QOTD
Ralph Nader, after he'd been told by Washington Post editors that the lack of coverage of his presidential campaign was because he had no chance of winning - "Then why are you covering the Nationals?"
Labels: politics are a joke, qotd, ralph nader
posted by Mr. Faded Glory @ 7:37 AM 2 comments


---
Wednesday, September 24, 2008
September, 1993: A Retrospective
Last night, something happened that hasn't happened since September of 1993: the Yankees were eliminated from post-season contention (there was no post-season in 1994, and the Yankees finished in first place, so there was no elimination).

To get some perspective of how long ago that was, and to take a look back, here are some stats, events, people and culture from that time.

Popular Music: The most popular songs of Sept. 1993 were "Can't Help Falling in Love" by UB40 and "Dreamlover" by Mariah Carey.

Television Debuts: The X-Files, Saved by the Bell: The New Class, Lois and Clark: the Adventures of Superman, seaQuest DSV, The Late Show with David Letterman, Mighty Morphin' Power Rangers, Ricki Lake, Late Night with Conan O'Brien, Frasier, Rocko's Modern Life, NYPD Blue, Boy Meets World

Cheers aired its series finale on NBC.

Movies: Schindler's List (Best picture), The Fugitive, What's Eating Gilbert Grape, What's Love Got to Do With It?, The Firm, The Nightmare Before Christmas, Jurassic Park, Groundhog Day, Mrs. Douubtfire, Sleepless in Seattle, Indecent Proposal, Free Willy, Tombstone, Wayne's World 2, Demolition Man.

Kevin Smith begins filming Clerks.


August 14, 1993: Reggie Jackson Day. Yankees oficially retire #44.

Reggie Jackson elected to Hall of Fame, chooses to wear Yankees cap.Yankees Manager:
Buck Showalter.
New Yankees in 1993:
Greg Cadaret, Paul O'Neill, Spike Owen, Jim Abbott, Jimmy Key, Wade Boggs.
Trading deadline deals:
July 30, 1993: Jon Habyan was traded as part of a 3-team trade by the New York Yankees to the Kansas City Royals. The Chicago Cubs sent Paul Assenmacher to the New York Yankees. The Kansas City Royals sent Karl Rhodes to the Chicago Cubs. August 31, 1993: Lee Smith was traded by the St. Louis Cardinals to the New York Yankees for Rich Batchelor.
Most Games by Position, 1993
C Mike Stanley (122)
1B Don Mattingly (130)
2B Pat Kelly (125)
3B Wade Boggs (134)
SS Spike Owen (96)
LF Dion James (91)
CF Bernie Williams (139)
RF Paul O'Neill (103)
DH Danny Tartabull (88)
SP Jim Abbott
SP Scott Kamieniecki
SP Jimmy Key
SP Melido Perez
SP Bob Wickman
RP Paul Assenmacher
RP Paul Gibson
RP John Habyan
RP Steve Howe
RP Rich Monteleone
RP Bobby Munoz
CL Steve Farr
1993 New York Yankees Uniform Numbers
#2 Mike Gallego
#12 Wade Boggs
#13 Jim Leyritz
#14 Pat Kelly
#17 Spike Owen
#18 Randy Velarde
#19 Dion James
#20 Mike Stanley
#21 Paul O'Neill
#22 Jimmy Key
#23 Don Mattingly
#24 Kevin Maas
#25 Jim Abbott
#26 Steve Farr
#27 Bob Wickman
#28 Scott Kamieniecki
#29 Mike Humphreys
#31 Hensley Meulens
#31 Frank Tanana
#33 Melido Perez
#34 Andy Cook
#34 Sterling Hitchcock
#34 Sam Militello
#35 Paul Gibson
#35 Andy Stankiewicz
#36 Gerald Williams
#38 Matt Nokes
#39 Mike Witt
#42 John Habyan
#42 Domingo Jean
#43 Paul Assenmacher
#43 Jeff Johnson
#45 Danny Tartabull
#47 Dave Silvestri
#47 Lee Smith
#51 Bernie Williams
#53 Neal Heaton
#53 Mark Hutton
#54 Bobby Munoz
#55 Rich Monteleone
#57 Steve Howe
1993 New York Yankees Salaries
Danny Tartabull $5,050,000.00
Jimmy Key $4,900,000.00
Paul O'Neill $3,833,333.00
Don Mattingly $3,820,000.00
Wade Boggs $2,950,000.00
Steve Howe $2,500,000.00
Matt Nokes $2,500,000.00
Melido Perez $2,450,000.00
Jim Abbott $2,350,000.00
Spike Owen $2,250,000.00
Mike Witt $2,166,667.00
Mike Gallego $1,575,000.00
Steve Farr $1,500,000.00
Randy Velarde $1,050,000.00
Mike Stanley $675,000.00
John Habyan $600,000.00
Kevin Maas $255,000.00
Neal Heaton $250,000.00
Rich Monteleone $250,000.00
Pat Kelly $160,000.00
Jim Leyritz $152,000.00
Scott Kamieniecki $150,000.00
Bernie Williams $150,000.00
Andy Stankiewicz $138,000.00
Jeff Johnson $125,000.00
Sam Militello $118,000.00
Bob Wickman $116,000.00
Mike Humphreys $112,000.00
Sterling Hitchcock $109,000.00
Gerald Williams $109,000.00
Dave Silvestri $10,900.00
Television Announcers:
WPIX:
Phil Rizzuto, Tom Seaver, Bobby Murcer
MSG:
Dewayne Staats, Tony Kubek, Al Trautwig
Radio Announcers:
WABC:
John Sterling, Michael Kay
I hope you all feel old now.
(Information compiled from Baseball Almanac, Baseball Reference, and various other sources.)
Labels: yankee history
posted by Mr. Faded Glory @ 9:16 AM 1 comments


---
Tuesday, September 23, 2008
George Brett Has Died of Dysentery
Well.. almost.
Labels: george brett, poop, royals
posted by Mr. Faded Glory @ 2:43 PM 0 comments


---
Monday, September 22, 2008
One Final Look


Just the 9th.
Labels: yankee history, yankee stadium
posted by Mr. Faded Glory @ 4:14 PM 0 comments


---
ESPN Got It Right
I'm usually the first to bash ESPN, but I have to hand it to them - they got the coverage of the final game at Yankee Stadium right. Of course you had to put up with Miller, Morgan and Gammons, but even Gammo can, from time to time, recognize history and put his biases aside.

The star of the evening were the many "lasts," and ESPN covered each one properly.


The entire pregame ceremony was broadcast.
The roll call was shown in three windows - one on the action, one on the bleachers, and one on the player whose name was being chanted. I'd never seen it presented this way on TV before, and I think it showed the proper respect. Of everyone, Johnny Damon certainly seemed to play to the crowd most of all, with his Elvis-style slide/point.
Yogi and Whitey were in the booth for a while, and an inning ended while Whitey was telling a story. Rather than cut him off, Miller allowed Ford to keep talking and finish the story before cutting to a commercial. That was classy. Plus, how cool was it to have both Whitey and Yogi there together?
Michael Kay - of whom I am no great fan - was in the booth to represent the Yankee broadcasters, who obviously lost the right to call the last game in the big ballpark in the Bronx. Rather than just having him as a guest, he was the play-by-play man for the half-inning. That was a classy move to let him call at least part of the last game.
Cameras were constantly finding former players walking through the stands... Cone, Wells, Martinez... it gave a good sense of what it would be like to be a fan in those seats.
Pre-recorded moments, such as those with Reggie out in the black seats, were spot-on and didn't distract from the game as it progressed.
When Mariano Rivera was summoned for the ninth inning - as everyone knew he would be, regardless of the score - ESPN had a cameraperson in the bullpen, following him out to the mound. No cut to commercial here - we saw Rivera make his last trip through the gates to the mound. Some people criticized FOX for cutting away during this moment at the All-Star game... personally, I understood the FOX move, but this was different because it was truly the last time that man would make that walk.
Jon Miller and Joe Morgan said very little during the bottom of the ninth, and let the stadium and game speak for itself.
ESPN stayed with the entire post-game, including the players' lap around the field.
I give ESPN a lot of shit most of the time, but really their coverage was very professional and classy, two adjectives I do not often see associated with that network.
Now if only they would Yankee-hating Jim Caple already, I'd be a happy camper.
Labels: espn, jim caple, yankee history, yankee stadium, yankees on tv
posted by Mr. Faded Glory @ 3:39 PM 0 comments


---
Tuesday, September 16, 2008
Leave it to PeteAbe
If you're a female who prefers calling herself a "chick" or "hottie" or "slut," and are willing to post cleavage pics on your incredibly boring Yankees blog, PeteAbe will be glad to feature you on his blog.

Of course I predicted this would happen.
Labels: peteabe, shitty blogs
posted by Mr. Faded Glory @ 10:59 AM 2 comments


---
Wednesday, September 10, 2008
No Wonder Francisco Rodriguez has 56 Saves
His strikezone is 3 feet wide and 5 feet high, according to the umpires.
posted by Mr. Faded Glory @ 3:41 PM 0 comments


---
Tuesday, September 02, 2008
Remember When Everyone Complained the Yankees were too Old and Mercenary?
They're just a group of All-Stars, not a "team." They're not in their primes, they're aging superstars. That's why they haven't won a Series in years, right?

Well, good thing Filip Bondy is here to now blame this year's failure on not being old or mercenary enough!

Yankees must get back to Steinbrenner's ways
Bombers' playoff run coming to end because they tried youth movement

Just look at that fucking headline for a moment. Yes, bring back Danny Tartabull. Raul Mondesi. Steve Trout. Tim Leary. Andy Hawkins. Dave LaPoint. Mel Hall. The playoff run is over because the Yankees tried to get younger.

The Yankees are dead. Long live the Mets.
The two have nothing to do with each other, the Mets play in a much easier division and league, and their bullpen is a fucking disaster, but sure, long live 'em!

In New York, nobody has much patience for non-playoff baseball teams — even those with 26 world championships, a 13-year postseason streak and a new, grandiose stadium on the horizon.

The Yankees are mired hopelessly in third place right now in the AL East, and all that's left is a postmortem analysis and a jolting prescription for the future, which is actually quite simple. The Yanks must remember again that they are the Yanks, and not the Oakland A's.
What about the Red Sox? Don't reporters get their panties in a wad waxing poetically about how King Theo re-enegergized a ballclub - nay, a city - nay, a Nation - with his youth movement? Why the comparison to Oakland, then? Besides what the A's have done with limited resources is nothing short of remarkable. They consistenly churn out talent from their minor leagues and acquire other team's quality prospects and build contenders. Don't shit on the A's for that.

It is no great mystery where things went wrong this season.
Yeah, everyone got hurt. Everyone. Right Fil (is that even the proper abbreviation)?

General manager Brian Cashman decided he wanted to be Billy Beane. And although it's a nice, feel-good notion to develop your own homegrown stars through the minor-league system, the Steinbrenner Yankees never did that before when it came to starting pitchers.
Oh. No, you see, the problem was that everyone got hurt. Let me try it this way, in a hypothetical coversation between myself and myself from 2007, who has magically travelled through time with the assistance of this blog to figure out what could have gone wrong with the team:

Me, 2007: Did Jeter get hurt?
Me, 2008: Everyone got hurt.
Me, 2007: Did Posada get hurt?
Me, 2008: Everyone got hurt.
Me, 2007: Did Wang get hurt?
Me, 2008: Everyone got hurt.
Me, 2007: Did Damon get hurt?
Me, 2008: Everyone got hurt.
Me, 2007: Did A-Rod get hurt?
Me, 2008: Everyone got hurt.
Me, 2007: Did Joba get hurt?
Me, 2008: Everyone got hurt.
Me, 2007: Did Kennedy get hurt?
Me, 2008: Everyone got hurt.
Me, 2007: Did Hughes get hurt?
Me, 2008: Everyone got hurt.
Me, 2007: Did Bruney get hurt?
Me, 2008: Everyone got hurt.
Me, 2007: Did Pavano get hurt?
Me, 2008: Ok, amazingly no. It's been like opposite land here.


From Catfish Hunter to David Cone to Roger Clemens, the club's aces were traditionally mercenaries, imported to get the job done for two or three years before retiring or moving elsewhere.
Or there's Whitey Ford. Or Ron Guidry, who simply had the very best season ever by a Yankee pitcher in order to lead them to the World Series in 1978. Or Andy Pettitte. Or Wang. Or... a host of others.

Going the youth route
Cashman, however, decided to change all that because he and the Tampa cabal experienced a troubled history recently while chasing outside talent pools. In direct competition with Theo Epstein of the Red Sox, Cashman signed the wrong former Marlin (Carl Pavano vs. Josh Beckett), the wrong former Japanese star (Kei Igawa vs. Daisuke Matsuzaka) and the wrong former Arizona Diamondback (Randy Johnson vs. Curt Schilling).
Nobody signed Beckett, he was traded. The Red Sox overpaid incredibly for Matsuzaka. If the Yankees paid $55M, you'd be ranting about how they're buying championships again. The Yankees tried to trade for Schilling, but Colangelo hates the Yankees and demanded Alfonso Soriano AND Nick Johnson, and instead preferred a package of used jock straps and a signed photo of John Henry from Boston.

Having been burned so many times before, Cashman went the youth route. He turned his back on Johan Santana, refusing in a proposed deal to give up the quintessential mediocre prospect, outfielder Melky Cabrera. Instead he dived headlong into the 2008 season with a projected starting rotation that included young arms Chien-Ming Wang, Phil Hughes, Ian Kennedy and swingman Joba Chamberlain.
Melky wasn't the reason the Yankees didn't trade for Santana. Don't play that game. If the Twins made Cabrera the centerpiece of that deal, Brian Cashman would have personally carried him to Minnestoa on a rickshaw.


What followed was an unmitigated disaster, and one that should not have been wholly unexpected. You place your chips on immature arms, no matter how promising, and a raft of injuries and setbacks are bound to follow.
Jesus Tapdancing Christ. I thought it was old pitchers who you shouldn't "place your chips on" (whatever the fuck that means) because they break down? Talk about revisionist history.


In New York, fans witnessed this sort of meltdown a dozen years ago with the Mets, when that organization figured Bill Pulsipher, Paul Wilson and Jason Isringhausen were the starting rotation of the future.
They got hurt. One year. Sheesh.

Going down
One by one, these young Yankee arms and tendons met similar fates. Each one went down for at least a large chunk of the season. And although Wang and Chamberlain retain substantial promise, nobody even knows whether Hughes (9.00 ERA in six starts) or Kennedy (8.17 in 10 appearances) owns enough talent to succeed at the major-league level.
ok, so Wang and Joba show a lot of promise, and the reason the Yankees aren't making the playoffs is because Brian Cashman should have forseen Wang getting a leg injury running home in interleague play.


This has left the Yankees in the uncomfortable position of slapping together makeshift rotations throughout the season. Even the unexpected resurrection of Mike Mussina wasn't sufficient to offset the disastrous starting situation. As of this writing, the Yankees owned a 4.33 ERA, 16th in the majors, despite mostly solid efforts out of the bullpen.
Everybody. Got. Hurt.
You can talk about the offense underachieving, and you'd be right there too. The Bronx Bombers were batting .273, sixth best in the majors, but their run production was ranked 13th. Alex Rodriguez had regressed into familiar non-clutch performances. Injuries to Jorge Posada and Hideki Matsui didn't help, and this was a team with too many DHs, too few Golden Gloves.
So, wait. It's the youth movement that is to blame. But also of course, A-Rod. Oh, and injuries.

Yet those were not the reasons the Yankees have dropped so far, so fast. They were goners because the starters collapsed and because the Tampa Bay Rays emerged from nowhere. They failed because Cashman threw money at position players, but not at starters.
Tampa emerged from nowhere thanks to a lot of free agent mercenary pitchers, as everyone knows.

From here, then, there needs to be a radical change of philosophy and course. Hank Steinbrenner needs to sit down with Cashman and tell him, flat out: We are not the A's. If you want to be general manager of a small market team, that can easily be arranged.
So in other words, Hank should usurp his brother's position, and single handedly become his father of 1984.

It's time to chase some free-agent pitchers again, to start making deals, to fill a rotation with 30 year-olds instead of 22 year-olds. The Yankees have a new, expensive stadium to fill, demanding outrageous ticket prices. They can no longer be outbid for the Santanas and CC Sabathias of the world.
Santana wasn't just money, it was money AND prospects. He was never a free sgent, and the Twins preferred to send him to the National League. Sabathia is a free agent, and I expect the Yankees to make a serious run at him.

The Yankees' dynasty of the late '90s was built around a largely homegrown cast of position players, and with talented temps on the mound. Somewhere along the way, things got reversed in the Bronx. The Yankees chased expensive sluggers, and fell in love with their starters in the farm system.
No. Stop that fucking fallacy. The loveable mid-90's Yankees were not "largely homegrown." You had Jeter and Bernie. O'Neill was a Red. Left field.. well, shit, there were a lot of left fielders, but I'll give you 1/2 credit for the Spencer/Ledee platoon. Brosius was an A. Knoblauch was a Twin. Girardi was a Cub. Boggs was a Red Sox. Fielder was a Tiger. Strawberry was a Dodger. Martinez was a Mariner. Posada came in at the end of the run, and really didn't establish himself as the everyday guy until 2000. So this "largely homegrown" team was Jeter, Bernie, and 1 to 1 1/2 years of Posada, with a random Spencer and Bellinger thrown in. Stop re-writing history.

That romance has failed. The sooner the Yankees remember their bullying, big-market roots, the faster their recovery.
No. RIdiculous contracts to players past their prime is what got them in this mess in the first place.

Labels: douchebag, filip bondy.

posted by Mr. Faded Glory @ 4:15 PM 1 comments


---
Do I Really Need To Make Another "DFA Ponson" Post?
I make one of these every five days, he keeps getting worse, and yet the Yankees keep him. It makes no sense. I'm not even going to bother posting stats again, just scroll back trhoughthe blog and add another level of awfulness to the previous ones.
Labels: lupe's bf, pitching rotation, pitching woes
posted by Mr. Faded Glory @ 4:03 PM 1 comments


---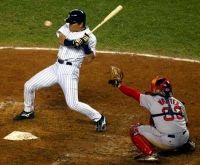 L I N K S
---

P R E V I O U S
P O S T S
A R C H I V E S
---

C O N T A C T

---

---

Subscribe to High and Tight via your favorite RSS reader: