The Best Players in NY
Saw this note on Yahoo! (who for once didn't post a ridiculous Jeff Passan "Yankees suck" article:

If you built one team from the guys who play in New York, Carlos Beltran(notes) would be your center fielder and Johan Santana(notes) your opening day starter. Yankees would be everywhere else. Maybe you platoon Nick Swisher(notes) and Ryan Church(notes) in right.
So.. is it accurate? Let's see.

SP: Santana edges Sabathia. Mets 1, Yankees 0.
CP: Rivera still has it over Rodriguez. Mets 1, Yankees 1.
1B: Even with a healthy Delgado, there's no doubt that Teixiera is the man here. Mets 1, Yankees 2.
2B: Cano over Castillo. No brainer. Mets 1, Yankees 3.
SS: Reyes was having a mediocre season even before his injury. Jeter edges him here. Mets 1, Yankees 4.
3B: What happened to Wright's power? The average is there but he doesn't seem to like Citi Field. A-rod hasn't been, well A-Rod yet this year, but for one season there's no doubt he's still the superior player... but this is still the closest call by far. You can't go wrong with either choice, but we'll give Alex the nod here. Mets 1, Yankees 5.
C: Posada over Schneider. Easiest choice so far. Mets 1, Yankees 6.
LF: Martinez or Sheffied? Doesn't matter. Damon's got them both beat. Mets 1, Yankees 7.
CF: Beltran is head and shoulders above Cabrera. Mets 2, Yankees 6.
RF: Swisher hasn't been as good lately as he was to start the season, but he's still got a .900+ OPS. Church is serviceable, but Swish beats him fairly easily. Mets 2, Yankees 7.

An argument could be made for Reyes I suppose and like I said, 3B is almost a coin flip, but it's really surprising that a team that shares a market with the Yankees can't even come close to competing by position.

Labels: comparisons, lineups, mets, tim brown, yahoo

posted by Mr. Faded Glory @ 3:19 PM 2 comments


---
Breaking News from Boston
RED SOX FANS BOO A-ROD


Boston fans were happy to stick it to A-Rod

While there are some in Boston who believe Mark Teixeira could rival Alex Rodriguez(notes) as the most hated member of the New York Yankees, Beantown fans did not miss on their chance to needle the All-Star third baseman, according to the Boston Globe.

According to the Globe, the booing Rodriguez received in the first was not over the top, but the crowd loved it when he popped out with Teixeira aboard, and then when he bobbled the glove-to-hand exchange and was late with a throw to second base that would have forced Mark Kotsay(notes) in the second inning. Rodriguez was charged with an error, which contributed to a four-run inning against A.J. Burnett(notes).

When Rodriguez came up in the fourth inning, the crowd seemed to be more into bashing him. A few "A-Roid" chants surfaced, as did the "Steroids! Steroids" cries. When Josh Beckett(notes) struck him out on a slider away, the crowd roared, the Globe reported.

Source: Boston.com
I don't know which is more odd... that this was a story written for the Boston Globe, or the fact that Yahoo! only reposted the parts about the booing and not the other half of the article which is about A-Rod's contributions since his return. I've said it before and I'll say it again, Yahoo! Sports is the biggest joke on the 'net.
posted by Mr. Faded Glory @ 9:56 AM 0 comments


---
It's Totally Not The Steroids Though
I guess David Ortiz's eyesight is fine and not the reason for his slump! (shock)


Slumping Ortiz's vision is fine, gets eye drops

BOSTON (AP)—David Ortiz's(notes) vision has checked out very well as the Boston Red Sox try to help him out of his season-long slump.

The designated hitter received drops for dry eyes Monday, team spokesperson Pam Ganley said. Ortiz has two homers and 22 RBIs with a .197 batting average in 51 games. He has been dropped from the third to the sixth spot in the lineup, but has hit better recently.

He has a six-game hitting streak with seven hits in 25 at-bats, raising his average from .185.

The Red Sox also said center fielder Jacoby Ellsbury(notes) is day-to-day after tests showed no structural damage in his right shoulder.
posted by Mr. Faded Glory @ 3:36 PM 0 comments


---
If They're Not Going to Axe YMCA at the Stadium...
... at least mix it up a bit. How about NMKY Sundays?



It's time the Yankees realized that YMCA was only popular in the mid 90's because it was ironically funny.
Labels: ymca sucks
posted by Mr. Faded Glory @ 10:40 AM 1 comments


---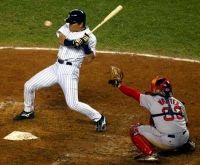 L I N K S
---

P R E V I O U S
P O S T S
A R C H I V E S
---

C O N T A C T

---

---

Subscribe to High and Tight via your favorite RSS reader: