Kruk: AL East is a One Team Race
Ravetch: John Kruk, Fact or Fiction: the AL East is a one team race?

Kruk: Fact. Look nobody is going to catch the Red Sox. It's impossible. It's not going to happen. This race is over and the wild card won't come out of the east either.

When/if the Yankees make the playoffs, I hope everyone spam bombs Krukie and reminds him that he's a douchebag for making a prediction like that in May.
posted by Mr. Faded Glory @ 7:33 PM 0 comments


---
It's Already Been Sung, But It Can't Be Said Enough
All you need is faith.

And Joe Torre has ZERO in young pitchers. Look, Clippard wasn't stellar tonight (4 IP, 6 H, 3 ER, 0 BB, 1 K), but he wasn't awful either. Torre decides to pull him after 76 pitches. If it were, say, Mike Mussina or Andy Pettite with the same line, don't you think they'd be out for the 5th?

Earth to Joe Torre: this is why your bullpen is burnt out. You can't keep going to the 'pen early in games for no reason other than your more than ample "gut" tells you so. You need to allow your starters to complete 6 innings if possible.

Look, if there were some sort of unreported injury, mea cupla. But I doubt it, because this is a continual pattern, and why Joseph Paul Torre is indeed one of the major reason the Yankees are performing so badly this season.
Labels: bullpen, joe torre, pitching woes, torre is dumb, tyler clippard
posted by Mr. Faded Glory @ 6:31 PM 2 comments


---
Big Hands, I Know You're the One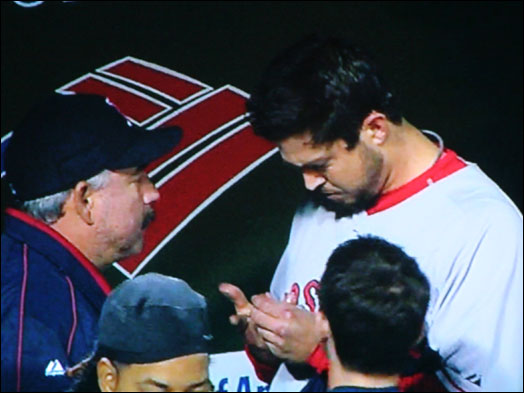 Labels: blister, injuries, josh beckett, redsox
posted by Mr. Faded Glory @ 1:23 PM 6 comments


---
Papelbon is Money
Or rather, Papelbon loves money:


"I'm here to get my fair share of money," he said. "My main priority is to stay healthy and be able to make money, not to go out and try and hurry up and win a championship this year (at the risk of injury). It's not like I'm hurrying up and going back to the closer's role because we have a good team this year and I'm going to blow (my arm) out and try and win as many games as we can (at any cost). No, it's not going to happen.
"I've got a lot of money to be made in this game, whether it's with Boston or not. My goal is to make sure I'm ready to play every day and to make money, and you can't make money if you're sitting on the bench. That's the way I look at it."


What a great guy. Good to see his heart's in the right place.
Labels: greedy ballplayers, papelbon, redsox
posted by Mr. Faded Glory @ 5:50 PM 4 comments


---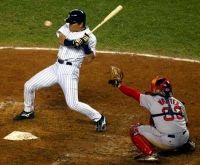 L I N K S
---

P R E V I O U S
P O S T S
A R C H I V E S
---

C O N T A C T

---

---

Subscribe to High and Tight via your favorite RSS reader: