If You Have Field Level Seats, Pay Attention
This is what you get if you spend your time at the Stadium not watching the game.


posted by Mr. Faded Glory @ 11:04 AM 2 comments


---
... How Is This Even Possible?
Is he the unluckiest guy ever, or what?


Mark Prior Injured Again
Former Cub takes line drive off pitching shoulder

Former Cubs pitcher Mark Prior, out of baseball after leaving the San Diego Padres organization a year ago, recently started throwing again in hopes of one more comeback.

But we hear that he recently took a line drive off of his pitching shoulder while throwing batting practice to a local team. He was shut down for three weeks although the injury is not considered serious.

He should call Kerry Wood and they should both just drive over to Dusty Baker's house and kick the shit out of him.

Labels: dusty baker sucks, injuries, mark prior

posted by Mr. Faded Glory @ 10:09 AM 1 comments


---
Optimizing the Lineup
I had a conversation last week with someone talking about lineups and who should hit where, so I thought I'd revisit the Optimum Lineup creation (sabermetrically) that one could form using the current Yankees.

There's plenty of math and discussion on the subject, from Beyond the Boxscore, Retrosheet, and Catfish Stew.
Here's the breakdown of the roles and slots:

1. The strongest OBP guy in the lineup. This could be your best overall hitter as well provided he leads the team in OBP, but essentially this spot boils down to whichever player gets on base the most.
2. Often (but not always) the team's best hitter. Usually the most balanced hitter on the team as far as OBP and SLG.
3. A balanced hitter but not traditionally the "three hole" guy. Usually the most balanced player left after the other assignments are made in regards to specific roles. Without a strong requirement, this spot is filled after most of the others (see the order below) but is usually a better hitter that doesn't have a specified role in the lineup.
4. The SLG guy. Essentially, he's the antithesis to the leadoff batter (although they could both be very good hitters). This is the fella most likely to drive the ball as far as possible, and the guy who (along with the #2 hitter) is usually the best on the team.
5. The next best hitter on the team (OPS-wise) who isn't already leading off or batting second or cleanup.
6. This position is reserved for the highest power guy who isn't an OBP machine. It may fall to this guy to drive in the guys on base should the four and five hitters not get it done, so it makes sense that his OBP isn't that important.
7. Usually a higher SLG than OBP from the remaining players. He's similar to the #4 hitter - like cleanup #2.
8. This is the hitter with the lowest OBP. If this is a National League lineup, the pitcher would hit here. Yes, Tony LaRussa was right.
9. Usually the second-worst hitter on the team. Power isn't important at all since he's hitting behind the worst hitter, but OBP is because the lineup is turning over. Kind of the opposite of the guy in the seven slot.

The lineup would be constructed by picking players for these slots in order:
1, 4, 2, 5, 6, 7, 3, 9, 8.

So if we look at the current 2010 Yankees, (judging stats by only their play so far in 2010 and only utilizing the current Yankee regulars) the ideal lineup for creating runs would be as follows (using their OPS and the formula established by Baseball Musings:
Runs/gm: 6.115
1. Gardner LF
2. Swisher RF
3. Jeter SS
4. Cano 2B
5. Posada DH
6. Granderson CF
7. Rodriguez 3B
8. Teixeira 1B
9. Cervelli C

Interesting. It's no doubt that Cano and Swisher have been the best hitters so far, and besides the "gut" feling that a speedy guy is a leadoff guy (this formula doesn't take speed into account at all) Gardner would make a fantastic leadoff hitter. It makes sense to see A-Rod as "second cleanup" and Cervelli in the 9-spot. Is anyone surprised to see Teixeira as the worst hitter so far? Didn't think so.

Assuming Johnson can come back and be healthy, this would be the Yankee lineup (again, based on 2010 stats):
Runs/gm: 6.117
1. Gardner LF
2. Swisher RF
3. Jeter SS
4. Cano 2B
5. Posada C
6. Granderson CF
7. Rodriguez 3B
8. Teixeira 1B
9. Johnson DH

It's nearly identical lineup to the one above - just slide Johnson into Cervelli's spot (and the increae is minimal). I still think Cashman is going to pick up a bat at the trading deadline, so this is probably moot.

This is the current lineup Girardi is running out there:
1. Jeter SS
2. Swisher RF
3. Teixeira 1B
4. Rodriguez 3B
5. Cano 2B
6. Posada DH
7. Granderson CF
8. Cervelli C
9. Gardner LF

The runs/gm for this lineup is 5.978. It's not a huge difference, but a run or so per week could equal a couple of wins at the end of the year. I can understand why Girardi wouldn't make a change like this - you've got egos to be bruised (Teixeira), idiots who would chastise the move non-stop (Franscesa), and it's easier to just go with tradition.
Labels: lineups, optimal lineups
posted by Mr. Faded Glory @ 9:51 AM 3 comments


---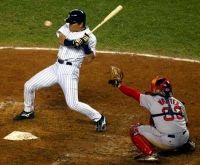 L I N K S
---

P R E V I O U S
P O S T S
A R C H I V E S
---

C O N T A C T

---

---

Subscribe to High and Tight via your favorite RSS reader: