Wednesday, January 18, 2006
Does Victor Zambrano have Naked Pictures of Omar Minaya?
First he trades Scott Kazmir, at the time probably the #1 lefthanded prospect in all of baseball for Mr. Mediocrity Zambrano. Now, after a.. less than stellar 2005, Zambrano gets a pay increase.

SI's Richard Deitsch lays it all out very well:


Zambrano, 30, was given a raise of $900,000 after going 7-12 with a 4.17 ERA in 27 starts and four relief appearances. For bad measure, Zambrano was among the National League leaders in walks (he had the ninth-highest total) and hit batsmen (he ranked third). Opponents hit a robust .264 against him. Last September, Zambrano was so ineffective that manager Willie Randolph relegated him to the bullpen. (It's irrelevant for this argument that the Mets acquired Zambrano for Devil Rays starter Scott Kazmir, who has seemingly limitless potential at age 22). People may complain about Alex Rodriguez pulling down the gross national product of Poland, but there's no question that Rodriguez produces at a rate as high as anyone in baseball. What should really offend your sensibilities is when someone like Zambrano gets a raise for performing like Aeon Flux at the box office.

posted by Mr. Faded Glory @ 6:53 PM 2 comments


---
A-Rod's All In

As has been mentioned here before, Alex Rodriguez likes poker.

Well, as would seem to make sense, he's now hosting his own poker tournament... or rather, endorising one. The 2nd Annual Dewar's 12 Texas Hold 'em Poker Tournament.



Over 300 revelers will spend the evening with an elite group of guests and one hundred of South Florida's poker champs will battle it out in a single elimination Texas Hold 'em tournament to take home the grand prize of a one year lease on a Mercedes-Benz C230WZ courtesy of Alex Rodriguez Mercedes-Benz.

Dewar's 12 celebrity players include Lucky 13 Alex Rodriguez, Michael Jordan, Shawn "Jay-Z" Carter, Lenny Kravitz, Vin Diesel, Glenn Rice and Gary Sheffield. Taking care of the emcee duties, World Champion of Poker star Phil Hellmuth will be on hand to show Miami how to really play the game.




Yankees. Scotch. Poker. You let me in there with Alicia Witt on one arm and Hudson Leick on the other and I will have officially entered heaven.

posted by Mr. Faded Glory @ 4:08 PM 0 comments


---
A-Rod Probably Pretty Sure He's Playing For US in WBC
Let's recount the saga.


He's not playing.
He's playing for the Dominican Republic.
He's playing for the US.
He's not playing at all so as not to offend any country.

His agent says he's playing for the US.
He denies he is playing.
Gene Orza says he doesn't think he will play.
Announces today he will play for the US.
The good part is that Eric Chavez and Chipper Jones are already on the squad so hopefully he won't play very much.

posted by Mr. Faded Glory @ 1:44 AM 0 comments


---
Tuesday, January 17, 2006
I've Picked My Horse in the WBC
As has been detailed here many times, I'm not a fan of the WBC. Baseball should have been left in the Olympics and maybe we wouldn't have this mess of $150+ seats to a meaningless exhibition tournament.

However, if I have to pick an allegiance, it's going to be to the Marco Scutaro "Unaffiliated Squad". As of now though they have to be massive underdogs.
posted by Mr. Faded Glory @ 3:25 PM 1 comments


---
Ken Davidoff is a Seer

It's nice to know that Newsday has hired the right people. People that will not only tell us what happened, but also - with certainty - what WILL happen:



The Yankees very much need a healthy Sturtze, given that Kyle Farnsworth is guaranteed to be a colossal flop and Octavio Dotel is no guarantee to get healthy.




Well, it doesn't appear that Ken is a big fan of the Farnsworth deal. Perhaps he could have done better. I also like that Dotel "isn't a guarantee to get healthy" but the Farns is "guaranteed to be" a flop. I'm marking this down, Ken. You should know better as a journalist than to predict in absolutes.

Of course if you're wrong there's no way you'll admit it, but I'll point it out here, just in case.

posted by Mr. Faded Glory @ 3:27 PM 0 comments


---
Fans of GoldenEye will Appreciate This
Oh N64. We hardly knew ye, with your trigger controller and no load times.

Probably my favorite Dugout ever.
posted by Mr. Faded Glory @ 3:58 AM 0 comments


---
Thursday, January 12, 2006
The 2006 "Hey You Kids Get Off My Lawn Award"...

.... goes to Furman Bisher, who considers relievers "part-pitchers."



I've never yet voted for a closer for the Baseball Hall of Fame, and I'm rather positive that I never shall. It's like voting for a guy who only putts as Golfer of the Year, or a guy who only shoots free throws for the Basketball Hall of Fame. He's only part-pitcher.

Having said that, let me join in the throng slapping Bruce Sutter on the back and say it's nice for him and his family, but it's only sending another loser to Cooperstown.



Oh don't you worry. There's plenty more "back in my day" wisdom in that article!

I can't be the only one who read the article like this, can I?:

"Me, I go back an age when pitchers often went both ways.
Start a game one day, go in and save one the next. I'm a Firpo Marberry guy. Now
there was a moose. Marberry came from Texas and was built like a sheriff.
His real name was Fred, but nobody called him that."
posted by Mr. Faded Glory @ 12:53 AM 1 comments


---
The Red Sox Front Office: Geniuses.

I seriously doubt this next piece has anything to do with the fact that the New York Times owns the Boston Globe which owns a good portion of the Boston Red Sox.

I encourage you all to read Murray Chass' wonderful treatise on why a team that is going into mid January without a shortstop, second baseman, and centerfielder is full of geniuses because they signed J.T. Snow to play first base.

I assure you, I am not making this up.



The Red Sox are smart enough, though, to know they have to fill those holes. If they cannot trade for a shortstop - Julio Lugo of Tampa Bay, for one - they are prepared to put Alex Cora at short. They don't have a Johnny Damon replacement in house, but they are confident they can trade for a center fielder.


Yes, the front office is very smart so everything will work itself out and there's no reason for Red Sox fans to worry. They are smart enough to put Alex Cora at short. Pure genius.

posted by Mr. Faded Glory @ 12:34 AM 1 comments


---
Wednesday, January 11, 2006
Real Quick:
Bruce
Sutter

Goose
Gossage

68-71

W-L

124-107

12

Years

22

300

SV

310

136

ERA+

126

1042.1

IP

1809.1

7.43

K/9

7.45


HOF Votes:
Sutter: 400
Gossage: 336

Maybe I'm missing something here, but I'm not sure how 64 writers felt that Sutter was good anough but Gossage didn't deserve it.

posted by Mr. Faded Glory @ 5:21 PM 0 comments


---
Anybody Got a Leit?

Haha, a play on Al Leiter's name! So original and hillarious!

Well he's back in pinstripes for 2006 after agreeing to a minor league deal:



"He'd be an insurance policy," GM Brian Cashman said. "He would come in to compete for the bullpen to get lefties out like he was doing in the playoffs. That is what we are talking to him about."

After seven seasons with the Mets, Leiter last year had a disastrous half-season with the Marlins, going 3-7 with a 6.64 ERA before being released. The Yanks picked him up when their rotation was in disarray. Leiter's final numbers as a Yankee were not pretty (4-5, 5.49). But he made a couple of critical starts and Joe Torre trusted Leiter enough to use him four times out of the pen in the five-game Division Series loss to the Angels.



Ok, for the record, he wasn't getting people out in the playoffs, and if he's competing to try and repeat that performance, there's trouble. Leiter's 2005 post season stats:
3.2 IP, 2 H, 3 ER, 1 BB, 7.38 ERA.

And yet he's going to compete with Myers and Villone?

posted by Mr. Faded Glory @ 9:30 PM 0 comments


---
Wednesday, January 04, 2006
A-Rod to Play in WBC; Proctor to Pitch for AAA

No link available yet (maybe this is the scoop right here) but Alex Rodriguez will definitely be playing in the World Baseball Classic this year. Apparently he has resolved his USA/Dominican Republic dilemma and agreed to play for the US. Details will be announced today. It's good to see another Yankee agreeing to play in a meaningless, contrived, useless tournament.

On the other hand, Scott Proctor will be playing in slightly more meaningful games than those exhibition tournaments this spring, but it won't be for the Yankees - it will be for the Clippers. According to the NY Post:



The Yankees are going to move Scott Proctor into the Columbus rotation, hoping he will refine his stuff and build value as insurance or as trade bait.



I'll file this under "Duh" since the Yankees already have 78 pitchers on the ML roster.

posted by Mr. Faded Glory @ 6:47 AM 3 comments


---
Freddie "Sez"...
posted by Mr. Faded Glory @ 9:00 PM 0 comments


---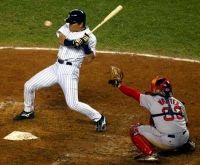 L I N K S
---

P R E V I O U S
P O S T S
A R C H I V E S
---

C O N T A C T

---

---

Subscribe to High and Tight via your favorite RSS reader: