True Yankee Update!
Courtesy of The Onion, obviously:

True Yankees, Regular Yankees To Now Wear Different Uniforms

April 27, 2010 | ISSUE 46•16

NEW YORK—The New York Yankees unveiled a new, lesser uniform at a press conference Tuesday in an effort to distinguish ordinary, run-of-the-mill Yankees from the "true Yankee legends who walk among us." "To have Javier Vazquez don the same pinstripes as Mariano Rivera or Jorge Posada is…well, it's unthinkable," Yankees general manager Brian Cashman said as Curtis Granderson modeled the sterile, black-and-white uniform with a large, boxy, non-interlocking "NY" stitched across the front of the chest. "The untrue Yankees will wear a blank, unfitted ball cap until they have their big Yankee moment. They'll wear their last names on the backs of their lesser uniforms as a badge of shame." When asked which uniform he was assigned, Alex Rodriguez cried for 10 minutes.
Labels: the onion, true yankee
posted by Mr. Faded Glory @ 11:40 AM 1 comments


---
Girardi's "Set Roles" Costs Another Game
The situation last night: Dave Robertson came into the game in the 7th inning and faced one batter and struck him out (the box score will show 0.2 IP but one of those was a failed steal attempt).

In a tie game in which you never know how many pitchers you might need, it made sense to send Robertson - who looked good and threw minimal pitches - out for the 8th. However, Robertson isn't the "8th Inning Guy™" so when the 8th started, Chamberlain was called upon. Besides the fact that it's an easy way to burn through a bullpen in a potential extra inning game, Chamberlain had terrible numbers against Kendrick who was due up in the 8th (.667 lifetime average).

When a guy is pitching well and there's no reason to yank him - don't. Girardi's set roles (using his 8th Inning Guy™ in the 8th in a tie or with a lead, regardless of how the game is going, using Rivera only for th e9th and only in save situations instead of high leverage situations) is going to cost the team more wins this year.

I wish for once a manager would grow some balls and manage intelligently and not just stick to "the book" so they don't have to be second guessed if it doesn't work.

This isn't second guessing either - I was yelling about it from the stands in Anaheim last night as soon as Joba came out from bullpen.
Labels: 8th Inning Guy, bullpen, bullpen roles, david robertson, girardi is an idiot, joba chamberlain
posted by Mr. Faded Glory @ 10:07 AM 0 comments


---
Wednesday, April 21, 2010
Another Amazing Play in the Bronx
If you haven't seen this yet, be prepared for a surprise.

The acrobatic player is Fordham University's Brian Kownacki.
Labels: Brian Kownacki, fordham, great plays, videos
posted by Mr. Faded Glory @ 7:42 PM 2 comments


---
This Makes the Signing Totally Worth It
Labels: chan ho park, poop, videos
posted by Mr. Faded Glory @ 4:54 PM 1 comments


---
Well, at Least Now We Know Why C-Grand is in Center
While Gardner clearly was the superior centerfielder based on all available metrics including the naked eye, Girardi chose to put Granderson in center on an everyday basis and shift Gardner to left.

It's become apparant that Girardi didn't want to move Granderson to center from left when he plays Thames against lefthanders, because for some reason, Girardi has decided to platoon Gardner and Thames in left.

Maybe Girardi isn't aware that Gardner isn't the one who needs to sit vs. lefties.

Gardner vs. righties .330/.358/.688
Gardner vs. lefties .311/.317/.628
Granderson vs. righties .367/.530/.897
Granderson vs. lefties .271/.343/.615

It's fairly obvious who the one with the problem via lefties is out of the pair. Yes, Thames destroys lefthanders, and if you're going to play him at all it would be vs. a tough lefthanded starter. However if you're going to bench someone, make it Granderson and not Gardner, unless the players prove otherwise.

This seems more like a salary-driven "proven vet" Torre-type move. Let's hope it doesn't continue.

Labels: brett gardner, c-grand, girardi is an idiot, lineups, marcus thames

posted by Mr. Faded Glory @ 10:53 PM 0 comments


---
2010 Season Predictions
It's that time of year again - let's make some educated guesses on the final standings for 2010. As usual, here are ESPN's guesses

National League:
NL East:
Phillies
Braves
Marlins
Mets
Nationals

NL Central:
Cardinals
Brewers
Cubs
Reds
Pirates
Astros

NL West:
Diamondbacks
Rockies
Giants
Dodgers
Padres

Wildcard:
Rockies

MVP: Hanley Ramirez
Cy Young: Roy Halladay
ROY: Jason Heyward

American League:

AL East:
Yankees
Rays
Red Sox
Blue Jays
Orioles

AL Central:
White Sox
Twins
Tigers
Royals
Indians

AL West:
Rangers
Mariners
Angels
A's

Wildcard:
Rays

MVP: Robinson Cano
Cy Young: Jon Lester
ROY: Neftali Feliz

World Series:
Yankees over Phillies (again)

Crazy Predictions:

Andy Pettitte will lead the AL in wins.
Kyle Blanks will lead the NL in home runs.
For the first time in years, more than one Yankee will have over five saves.
John Kruk will say something stupid.
Labels: predictions
posted by Mr. Faded Glory @ 10:35 AM 0 comments


---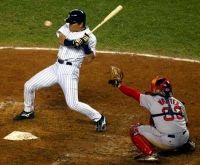 L I N K S
---

P R E V I O U S
P O S T S
A R C H I V E S
---

C O N T A C T

---

---

Subscribe to High and Tight via your favorite RSS reader: