Friday, February 13, 2009
Friday Fun Day
Slightly old, but still good.

Labels: funny stuff, videos, yankee stadium
posted by Mr. Faded Glory @ 4:48 PM 1 comments


---
Wednesday, February 11, 2009
Donnie California Has a Soul Patch
The soul patch is probably the most disturbing part of this clip of Donnie Baseball. Or Donnie Raquetball. Or Donie Baseball. Whatever.


(Tip o' the hat to regular Stan for the link)
Labels: commercials, don mattingly
posted by Mr. Faded Glory @ 9:35 AM 0 comments


---
Bruce Jenkins and the Sour Grapes of CC
I know we've been through this before - Bruce Jenkins of the San Francisco Chronicle is a homer and a douche. We know this.

What we didn't know before today was that he'd be the first HaT Douchebag of 2009.

Between taking potshots at the Yankees, he moans and whines about how much happier CC Sabathia would have been with the Giants. The frickin' Giants. Bruce, just enjoy your lovely


Sabathia saddled with an aging zoo

Bruce Jenkins
Wednesday, February 11, 2009

You can't help but wonder what CC Sabathia thinks of all this. He knew he was signing with a corporate bully, tossing money into the air like confetti, but he had no idea the Yankees' so-called Bronx Zoo would escalate into full-scale chaos so quickly.
Obviously, Giants owner Peter Magowan was showing fiscal restraint when he signed a completely overrated pitcher (Barry Zito) to the richest pitching contract ever (7 years/$126M). The money was not tossed into the air, it was placed gently on Zito's pillow, next to his guitar and stuffed animals. (Zito has been kind enough to repay Giants fans with ERA+ of 98 and 85 in his first two seasons).

For one thing, the Yankees' so-called powerhouse is hardly that. This is an old and terribly vulnerable team, starting with Derek Jeter, who turns 35 this summer and continues a gradual decline so evident, the stat guys are calling him the worst defensive shortstop in the American League.
I am not about to defend Jeter's defense here, and he had a down season with the stick in 2008. However, the three years prior his OPS+ were 125, 132, and 121 and he's still getting on base at an excellent rate. The Giants, on the other hand, have the youthful (34 year old) Edgar Renteria, who they just signed to a multi-year contract and who sported an OPS+ of 84 last season.

The aging catcher, Jorge Posada, is trying to recover from shoulder surgery. So is Mariano Rivera, the storied but 39-year-old closer. Hideki Matsui is coming off his second major knee surgery in two years. Center field, the position with all that Yankees history, has become a grim struggle between Melky Cabrera and Brett Gardner.
Posada is aging and is recoving, this is true. The Giants counter with the spry young Bengie Molina (34) who has had one (1) offensive season with an above average OPS+ (2005) and 8 seasons with a below average one.

Mariano Rivera is older and also recovering from injury. Compare this to the fantastic Brian Wilson closing for San Francisco, whose 4.62 ERA in 2008 surely inspired hope in Giants fans. I will personally guarantee that Rivera will outpitch Wilson in every statistical category in 2009. And, hell, for every year from now on until Mo retires or Wilson gets waived.

Yep, Matsui had knee surgery. However the offense doesn't revolve around Hideki flippin' Matsui. Besides, would you rather have Randy Winn or Fred Lewis? I'm not high on Matsui but he's a hell of a lot better than those schlubs.

Centerfield is the only place I might give SF the edge, but it's not like it's a good one. Aaron Rowand and his sub-100 OPS+ in three of the last 4 years may win awards for "grit and hustle" but those would be the only awards for which he'd be considered.

Nobody knows what to expect from Johnny Damon, Nick Swisher or Robinson Cano - or, for that matter, A.J. Burnett and Andy Pettitte in the rotation.
Nobody knows what to expect from any player, as no one can see the future. I know I would expect every single one of them to outperform their Giants counterparts.

There's no help coming from a farm system that hasn't produced an impact position player since Jeter - 14 years ago.
I could probably come up with much better examples of this, but just off the top of my head, how about Jorge Posada? Alfonso Soriano? Hell, Robinson Cano almost won a batting title. Does an "imapact" player have to be someone who's a lock for the Hall of Fame or what?

Alex Rodriguez, who has a rather fragile psyche anyway, will find that curiosity and skepticism accompany his every at-bat, now that 156 of his career home runs are officially tarnished.
Yes, this is as opposed to everyone embracing him wherever he went and treating him with kid gloves.

It's a good thing the Yanks picked up Sabathia and Mark Teixeira for $28.2 billion, or whatever it was, because this is one flawed outfit. And that's just on the field. The A-Rod circus and the residue of Joe Torre's book should make for some really fun times around the clubhouse, and that's a situation Joe Girardi, a manager who likes things nice and simple, won't be able to handle.
Any regular reader of this space knows one of my favorite things is when sportswriters make definitive statements of future events, like "Joe Girardi won't be able to handle these things" because they always wind up looking like idiots later.

Also, as we compared above, the Giants are terrible and won 72 games last year but Jenkins is still mad he didn't sign with a terrible franchise.

And to think, Sabathia's life would have been so much simpler if he'd signed with the Giants.
Yes it would, because he wouldn't have had to worry about playing in the post season or competing in a pennant race.
Don't give me this nonsense about "he had to do it" because of the money. He was either going to be an insanely rich Yankee or a ridiculously rich Giant. There are athletes who know the difference, who have settled for less in the name of lifestyle and common sense. CC just might wish he'd joined them.
Seventy-two wins.
E-mail Bruce Jenkins at bjenkins@sfchronicle.com.
Please do!

Labels: bruce jenkins, cc sabathia, douchebag, giants

posted by Mr. Faded Glory @ 9:22 AM 0 comments


---
Tuesday, February 10, 2009
Yankee Fans are Starting to Really Sound Stupid
I know it's only a sampling, but the Yankee fans used as "representative" of the whole are making everyone else look dumb.

Bronx native and Yankee fan Jose Santos, 31, almost choked on his beer listening to Rodriguez's whines.

"Bring back the team from '96 with Scott Brosius and Chuck Knoblauch," said Santos, referring to the World Series champion Yankee team.

"These guys played with passion. There's no steroid for passion and fire."
Nobody tell the esteemed Mr. Santos that Knoblauch was in the fucking Mitchell report.

For that matter, no one tell Edmund Demarche or Jennifer Fermino - two (!) writers clearly gifted with sports knowledge needed to write an article with a couple of quotes in it and little else - because they didn't call him on it.

"You have people like Hank Aaron, Babe Ruth and Derek Jeter. Then you have A-Rod, who might break records but will always be attached to an asterisk," said the tourist from Puerto Rico.
I'm pretty sure Ruth and Aaron were clean, but there is nothing to suggest Jeter is clean. A week ago, people were saying exactly the same things about Rodriguez, and it's not like Jeter's teammates didn't include a number of users.

Labels: dirty stinking cheaters, dumbass fans, yankee fans

posted by Mr. Faded Glory @ 11:17 AM 3 comments


---
Friday, February 06, 2009
On Leitch, Bissinger, and Costas
As has been discussed before in this place, Will Leitch, a friend of this blog, had an interesting confrontation on Bob Costas' HBO show last year with one Buzz Bissinger.

Will's book, God Save the Fan (now out in paperback), details the meetings leading up to the event and the aftermath of the televised debacle. New York Magazine, Leitch's new home, has printed an exerpt covering those events, and it's a pretty damned funny read, especially if you've ever dealt with paper-printed journalists who don't understand the intrawebs.

Just in case you've never seen this before - or want to watch it again - here's the HBO broadcast:


Labels: bob costas, buzz bissinger, internet, will leitch
posted by Mr. Faded Glory @ 11:13 AM 0 comments


---
Boras is Delusional
First he had Jason Varitek turn down arbitration and then had him re-sign for a much lower amount.

Now he's having Andruw Jones decline spring training invites in order to look for a guaranteed major league contract.

The Yankees are a marquee team where Jones would have a chance to enter into the spotlight of New York if he performed well and could earn himself a huge payday.

Jones had an OPS+ of 88 in 2007, and 34 - thirty-four - in 2008. 34 is so colossally bad that Jones should be happy anyone has even called him.

Oh, also the Dodgers are still cutting him checks for $3.7M per year until 2014.

I think Boras is once again sacrificing what's best for his client in exchange for what's best for the agent's image (my clients don't accept invites, my clients don't accept arbitration, you have to negotiate with me, and so on).
Labels: andruw jones, scott boras
posted by Mr. Faded Glory @ 10:41 AM 0 comments


---
Monday, February 02, 2009
Thanks, Moose...
... for setting people straight on Joe Torre.


"Joe has started something that a lot of people are going to have to answer to," Mike Mussina said by telephone on Thursday. "Joe's going to have to answer to it too, but it won't be as bad for him because he's with the Dodgers now. But it's going to be bad for the guys he left behind."

Mussina said, "it's not just what goes on in the clubhouse, it's sitting on the bus, or if you're out having lunch. As a ballplayer you need to know who you have to watch out for and who you can trust. First and foremost, you should be able to trust your manager.

"I mean, people knew that Brown was out there, and that Randy was ornery all the time. And Pavano is whoever he is. But if you're their manager, you can't go out and write about them like that."

Mussina's point can be boiled into a single indictment: you can't just be the manager of the good soldiers, Derek Jeter and Jorge Posada and Mariano Rivera. You have to lead them all — including the disturbed and unreliable ones. Actually, it was Torre's mandate to especially act as a higher authority to players like Brown, Pavano, A-Rod and Gary Sheffield.
Labels: joe torre, moose, torre is dumb
posted by Mr. Faded Glory @ 12:22 PM 4 comments


---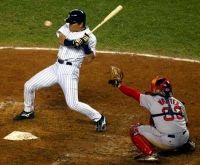 L I N K S
---

P R E V I O U S
P O S T S
A R C H I V E S
---

C O N T A C T

---

---

Subscribe to High and Tight via your favorite RSS reader: