Wednesday, January 13, 2010
Dumbest Statement of 2010 (So Far)
Peter Pascarelli of ESPN:

McGwire was entirely oine-dimensional, a 260 hitter whose OBP was a negative because it made you so sick watching him trying to run
Let's think about this. Getting on base is BAD if you are slow. GETTING ON BASE IS BAD.

It boggles the fucking mind.

Labels: espn, mark mcgwire, peter pascarelli, steroids

posted by Mr. Faded Glory @ 9:35 AM 7 comments


---
Tuesday, January 12, 2010
Worst Team Slogan Ever
The Padres 2010 team slogan is..... "SD" STANDS FOR SAN DIEGO.

I guess too many people thought it referred to fellatio.

S my D, Padres!
posted by Mr. Faded Glory @ 5:36 PM 1 comments


---
Thursday, January 07, 2010
Huge Move by the Padres
Yep, the Padres, who up until now have not made any sort of transaction to help their ballclub since about 2008 (unless you count dumping Peavy for a bucket of baseballs a "help") are interested in acquiring superstar Jerry Hairston, Jr.

It's too bad the San Diego Padres traded Scott Hairston(notes) to the Oakland Athletics back in July, because it is looking like his older brother, Jerry Hairston Jr.(notes), will be joining the team, according to MLB.com.

The 33-year-old infielder-outfielder is a career .271 hitter in the National League and can play pretty much anywhere you put him. He had 10 homers last year and 39 RBIs in stints with the New York Yankees and Cincinnati Reds. That versatility is extremely attractive to GM Jed Hoyer, who has a lot of holes left to fill on his roster.

Hoyer is obviously not expecting Hairston to fill all those holes. He is hoping that the patience that he has shown this off-season is going to soon pay off with lower prices on free agents who are concerned that they won't have jobs when Spring Training rolls around.
After seeing the nightmares that the divorces of the Moores and McCourts have cause for the Padres and Dodgers, this is just a reminder that if you're going to own a baseball team, make sure you've already got a pre-nup.

Labels: jerry hairston, padres

posted by Mr. Faded Glory @ 12:51 PM 1 comments


---
Wednesday, January 06, 2010
Congratulations Andre Dawson
You're now one of the worst outfielders in the Hall of Fame.

Was it the lifetime .279 BA or the .323 OBP that had writers swooning (Dawson is now, by the way, the outfielder with the lowest career OBP of any outfielder ever inducted into the Hall).

Dawson's 119 OPS+ for his career speaks to a good player, but not an all-time great.

Most of the defense of Dawson comes from contemporaries who say he was "scary to play against" or a "gamer" or a "hard worker."

Someone enshrine Brett Gardner immediately.

I really don't get it. Usually you can look to RBI for a reason BBWAA members overrate a guy, but Dawson only drove in 100 runs 4 times in a 20-year career.

This isn't to say he didn't deserve some All-Star appearances in his career, but Hall of Famer?

Robbie Alomar of course was one of the best second basemen, both offensively and defensively, of all time. He didn't make the cut.

Tim Raines deserves to be in, far ahead of Dawson. Besides the steals (and more importantly one of the best stolen base percentages of all-time) he has higher career BA (.294), OBP (.385), and OPS+ (123). Yet Rock didn't even come close.

The BBWAA has gotten better in recent years in letting folks like Rob Neyer and Keith Law in, but you can tell there are a lot of knuckleheads still with votes.
Labels: andre dawson, bbwaa, hall of fame, keith law, rob neyer, roberto alomar, tim raines, undeserving hall of famers
posted by Mr. Faded Glory @ 3:03 PM 5 comments


---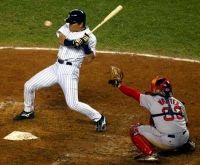 L I N K S
---

P R E V I O U S
P O S T S
A R C H I V E S
---

C O N T A C T

---

---

Subscribe to High and Tight via your favorite RSS reader: