Friday, February 29, 2008
Terrible News
Nothing else really to be said about this:


Murcer faces new brain cancer
Feb 29, 1:57 am EST

NEW YORK (TICKER) —Former New York Yankees outfielder Bobby Murcer's battle with brain cancer may have taken a turn for the worse, according to the New York Daily News.

In an emotional e-mail sent to friends and the Daily News on Thursday from Murcer's wife, Kay, the Yankees broadcaster will undergo a brain biopsy on Monday in Houston after an MRI exam revealed an "area that doctors are concerned about."

"Please pray that it will be determined to be necrosis (scar tissue from the radiation), and not another cancerous tumor," Murcer's wrote in her e-mail to the Daily News. "It's one of the two."

Murcer, 61, played with the Yankees from 1965-74 and again from 1979-83. He has been a broadcaster with the team since his retirement in 1983.

In December 2006, Murcer began experiencing headaches and a loss of energy, and subsequently was diagnosed with brain cancer on Christmas Eve after an MRI revealed a malignant tumor.

Despite the possible setback, Murcer remained upbeat when reached by the Daily News at his home in Oklahoma City.

"I've gotta go back to Houston on Monday for more tests, which means I'm going to have to miss the first two spring training games," Murcer said. "I still hope to be in Tampa in time for the third game (on March 7) and I'm still planning on doing my full schedule of games for the regular season."

Murcer also played with the San Francisco Giants and Chicago Cubs during his 17-season career.
Labels: bobby murcer
posted by Mr. Faded Glory @ 4:05 PM 0 comments


---
Thursday, February 21, 2008
The "How Many Days Will it Take the Media to Throw A-Rod Under the Bus" Contest is Now Over
Whoever had picked "1," please contact me to collect your prize.
posted by Mr. Faded Glory @ 4:46 PM 1 comments


---
Can I Tell Lisa Swan that I Love Her Too?
Because I do.

Hit me up next time you're on the west coast, Lisa!
Labels: dailynews, lisa swan, shameless self promotion
posted by Mr. Faded Glory @ 4:15 PM 1 comments


---
Attn: Animal Lovers
If you have a few seconds, help out my friend and the Humane Society's efforts to help spay and neuter animals.

The Humane Society is running a contest in efforts to raise awareness for spaying and neutering, and is offering prizes to pets with the top votes as well as donations made to help defer spay and neuter costs in the winners' names.

If you want to click here and vote it will only take a few seconds.

Thanks!
Labels: charity, shameless self promotion
posted by Mr. Faded Glory @ 2:24 PM 0 comments


---
Friday, February 15, 2008
I Wonder if Senator Geary Made the Clemens Hearing
Is it just me, or did Clemens at times conjure up memories of another famous hearing before Congress?


"When the Commissioner asked me to get myself together to go out there, and the league asked me to put USA on my chest and represent my team, my country, I did everything I could do to get ready. They pushed my date up to try get me ready sooner.
I told them, I could shake hands and wave flags and sell tickets for you if you want me to do that, but if you want me on the field it is going to take longer to get this body going. And I did, and I went out there and I did the best I very -- I could probably do. And I was proud to have the USA on my chest.
When a player went down in the All-Star Game in Chicago, I happened to be on my All-Star break with my youngest son at a lake house about an hour north of my house in Houston. They found me. This player was hurt, he didn't want to pitch -- collect his bonus, but did not want to pitch. They asked me if I would come pitch an inning in this game. I told them, let me talk to my family. But they found me. When all this happened, the former President of the United States found me in a deer blind in south Texas and expressed his concerns, that this was unbelievable, and to stay strong and keep your -- hold your head up high." - Roger Clemens, appearing before Congress, 2008.
"In the hopes of clearing my family name, and in the sincere desire to give my children the fair share of the American way of life, without a blemish on their name and background, I have appeared before this committee and given it all the cooperation in my power. I consider it a great dishonor to me personally to have to deny that I am a criminal. I wish to have the following noted for the record: that I served my country faithfully and honorably in World War II and was awarded the Navy Cross for actions in defense of my country; that I have never been arrested or indicted for any crime whatsoever; that no proof linking me to any criminal conspiracy whether it is called "Mafia" or "Cosa Nostra" or whatever other name you wish to give has ever been made public. I have not taken refuge behind the 5th amendment, though it is my right to do. I challenge this committee to produce any witness or evidence against me. And if they do not, I hope they will have the decency to clear my name with the same publicity with which they now have besmirched it." - Michael Corleone, apprearing before Congress in The Godfather, Part II, 1974
Wrap yourself in that flag, Rocket.
Also if you look carefully behind Clemens, you can see the guy who played him in
Roger Clemens 2057
.
Labels: mitchell report, roger clemens
posted by Mr. Faded Glory @ 10:27 AM 0 comments


---
Thursday, February 14, 2008
I'm Kind of About Respecting the Buffet
Another example of why I love overconfident jerks.


Belly bulge belies buffing up by Beckett

Six-pack? Red Sox ace Josh Beckett isn't even sporting a one-pack!

Beckett, working out at the Sox' Minor League complex yesterday, looks like he spent the winter eating barbecue and drinking beer down there in South Texas.

But calm down, Red Sox Nation. Our Florida spies say that Josh hasn't gone Schilling, circa spring 2007, and he isn't actually as flabby as this photo makes him look.

In fact, Beckett arrived in camp with his personal trainer who helped build a gym for Josh inside his Texas compound and, word is, No. 19 is in better shape than he was last year at this time.


You have to appreciate the spin at the end... sure, he's in better shape than last year.

BTW, here's "Much Worse Shape" Blister Boy from Feb. 2007:

Labels: blister, josh beckett, kind of about respecting the game, redsox
posted by Mr. Faded Glory @ 7:54 PM 5 comments


---
Wednesday, February 13, 2008
Let the Witch Hunt Begin
America has troops fighting and dying in Iraq, Afghanistan, and elsewhere abroad. Our economy is in poor shape, and the president is considering sending every citizen a check as a "stimulus" package. American children keep falling behind the rest of the world in education. The infrastructure of the country is in desperate need of attention, as has been evidenced by lax and corrupt policies in regards to the levees in New Orleans and the bridge collapse in Minneapolis. Luckily, we have Congress on our side to concentrate huge amounts of time, money, and energy on figuring out whether one individual did hGH or not.

While Congress would have you believe this is somehow about "children" and protecting "children" that is so far from the truth as to be laughable.

There were a total of 89 players and former players listed in the Mitchell report. Out of those 89, how many did Congress summon for this hearing designed to "protect children"? Three: Roger Clemens, Andy Pettitte, and Chuck Knoblauch. Clemens is the big name, of course; Pettitte is an All-Star pitcher in the big leagues. Knoblauch hasn't smelled a ball field in over 5 years and has nothing to do with baseball. Why choose these three and only these three? Simple: Congress is simply out to "get" Roger Clemens, so they're picking his teammates who also had contact with McNamee. Their goal as a committee is to be able to say they "got" someone and most likely to attempt to bring him up on perjury charges at one point.

Kirk Radomski, whose name appears more often than any other in the report and who is personally responsible for about 80% of the information and accusations contained therein, was excused from the hearing and allowed to simply give a deposition. Why, if this is truly about "truth" and "protecting the kids" was the guy who has the most information and in exchange for speaking with a baseball investigator was granted freedom from prison, not asked to appear in public?

This is a witch hunt, pure and simple, and Clemens is wearing the pointed hat. Don't be fooled into thinking that this is anything else.

Did Clemens use steroids or hGH? I don't know, I wasn't there. It's certainly possible and there is ample evidence to suggest as such. That, however, is irrelevant to this discussion. Whether or not he used or not, the Mitchell Report was an incomplete study with the majority of the evidence coming from two people facing serious jail time. Congress is simply choosing the "biggest name" from the report in an effort to make a big splash on the front and back pages of newspapers.

Hopefully, it will keep buried reports from Iraq, studies of failing grades in public education, and stories crumbling bridges in the midwest. I mean, we elect people to federal government to focus on retired athletes as priority one, right?
Labels: andy pettitte, douchebag, mitchell report, roger clemens
posted by Mr. Faded Glory @ 9:28 AM 3 comments


---
Tuesday, February 12, 2008
Joba Most Likely To Spend Season in Bullpen
Yes, I know the Yankees are trying to limit Chamberlain to 140 innings, so some time spent in the bullpen would help to keep him under the innings cap. However, let's suppose there are no injuries to the starters, and the Yankees are winning, Chamberlain is the best setup man on the team, and we're hitting mid-season?

Barring a major deal for some setup help, I can't imagine the Yankees would take Chamberlain out of the 'pen and insert him mid-season into the rotation. In the bullpen, Joba only uses his fastball and slider. How is he to adjust to starting, and attempting to throw all four of his pitches, especially when he hadn't had a chance to develop the other two? Would the Yankees really deplete their bullpen by moving him out? If he stays the entire season in the bullpen, he'd get nowhere near 140 innings (an abusive Joe Torre isn't at the helm anymore) so adding the 30 or so innings to his totals like they had planned would seem unrealistic.

80 innings of Chamberlain is less valuable than 140. Barring some unforseen circumstance, my guess is that's all we'll see from him, however.
Labels: bullpen, joba chamberlain, lineups
posted by Mr. Faded Glory @ 9:56 AM 0 comments


---
Sunday, February 10, 2008
Keep Watching It Over, and Over and Over Again On Your Spycam
posted by Mr. Faded Glory @ 2:27 AM 3 comments


---
Friday, February 08, 2008
Pedro Martinez is a Reprehensible Human Being
Of course Pedro himself will only fight old men with bum knees.

Warning: this video is not for the squeamish.


Labels: mets, pedro martinez, scumbags
posted by Mr. Faded Glory @ 10:00 AM 0 comments


---
Wednesday, February 06, 2008
I Love New York Fans
Ripped from a parade-side interview from the Howard Stern show. Some language is graphic.

boomp3.com
Labels: nfl audio
posted by Mr. Faded Glory @ 5:42 PM 0 comments


---
Friday, February 01, 2008
Superbowl Matchup and Predictions
In direct rebuttal to PeteAbe's similar post

Coaches: Tom Coughlin's changed attitude has been all the talk this season. Bill Belichick plays juvenile games with the NFL injury report and has yet to prove he could have gone undefeated without the benefit of breaking the rules. However, the referees will have his back as always.

Last meeting: The Giants were up by 12 points on the vaunted Patriots in the 4th quarter. Yes, they scored a touchdown on special teams. Should we just discount special teams? Is that not a part of the game? This would be like saying that defense doesn't count in baseball. It's a part of the game. The Giants were rolling until Sean O'Hara got hurt, then two muffed snaps and poor blocking caused the offense to shut down. One could easily make the case that if O'Hara remains healthy, the Giants score another touchdown.

The quarterbacks: Tom Brady is great in his execution. There is no denying that. Part of it has to do with the system, of course, but Brady's got the record for TDs in a season. Montana comparisons are silly, of course, because the game has changed greatly since the Montana days.. back then 35 TDs was considered a great year. Eli Manning was Alex Rodriguez earlier in the season. The media liked to put all of the blame for anything that went wrong with the Giants on him, and he hadn't won in the postseason. He became the easy target, and back page whipping boy. He was "too robotic" and "didn't show enough emotion." Manning's numbers suffered in the end of the Patriots game once backup guard Gary Ruegamer was forced into duty.

Key matchup: Giants C Sean O'Hara vs. Patriots NT Vince Wilfork. If O'Hara can handle Wilfork without having to constantly double-team him (and avoid getting his eyes gouged) it will free up guards Chris Snee and Rich Seubert to handle the Pats linebackers Junior Seau and Tedy Bruschi. Both Bruschi and Seau are "downhill" linebackers who love to dart in and attempt to stuff the run. Freeing up the guards will open up more lanes in the soft middle of the Patriots defense for Manning to hit receivers like Kevin Boss and Steve Smith on crossing patterns, as well as open up holes for running backs Brandon Jacobs and Ahmad Bradshaw. The Pats safeties will also be forced to fill the middle and open up single coverage on Buress and Toomer. All of this centers around O'Hara's ability to contain Wilfork.

How the Patriots can lose: Brady gets hurried, hit, and sacked.

How the Giants can lose: Inability to establish the run.

Intangibles: The Patriots have been making "fake funny news stories" for their resident cheerleaders in Bristol all week. Brady's been to New York to visit his famous girlfriend (no word if they got margaritas) and despite what the Patriots will say, has a hurt ankle. Should the Giants hit him early and often, they can take away his plant foot and force the Patriots to become a run-only one-dimensional offense.

If you hear this guy's name a lot, the Patriots should win: Randy Moss. If Moss is getting lots of catches, the Giants aren't executing on defense and are in big trouble.

If you hear this guy's name a lot, the Giants should win: Brandon Jacobs. If the Giants' big back is getting a lot of carries, New York isn't concerned about quick scores and is controlling the clock and able to move the ball down the field. This also would mean the play-action pass - a major Manning weapon - is in play.

Biggest Patriots question mark: How good is that ankle, Tom?

Biggest Giants question mark: How are the nagging injuries, Plaxico?

Final score: This Super Bowl reminds me of the 2001 World Series. The Patriots are the Yankees. They're a powerful, seemingly flawless team facing a scrappy bunch of underdogs. This is the game to cement their dynasty, as they've recently won three world championships. Like the Diamondbacks, the Giants have done well to get as far as they did. When it all comes down to one game, anything can happen. Giants 28, Patriots 24.
Labels: nfl, predictions
posted by Mr. Faded Glory @ 3:45 PM 2 comments


---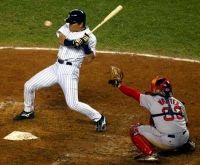 L I N K S
---

P R E V I O U S
P O S T S
A R C H I V E S
---

C O N T A C T

---

---

Subscribe to High and Tight via your favorite RSS reader: